Evan Rachel Wood has submitted court documents denying that she pressured a former Marilyn Manson accuser into making allegations against Manson, saying the woman initiated contact with her through social media.
Last week, Ashley Morgan Smithline, who had sued Manson and publicly accused him of abuse, filed a declaration of support for Manson in Los Angeles County Superior Court in his defamation case against Wood. Smithline said in the document that she publicly accused Manson of sexual assault and sexual battery only because she was pressured by Wood.
Manson, whose legal name is Brian Warner, filed a defamation suit last year accusing Wood of having "secretly recruited, coordinated and pressured" women to accuse him of abuse.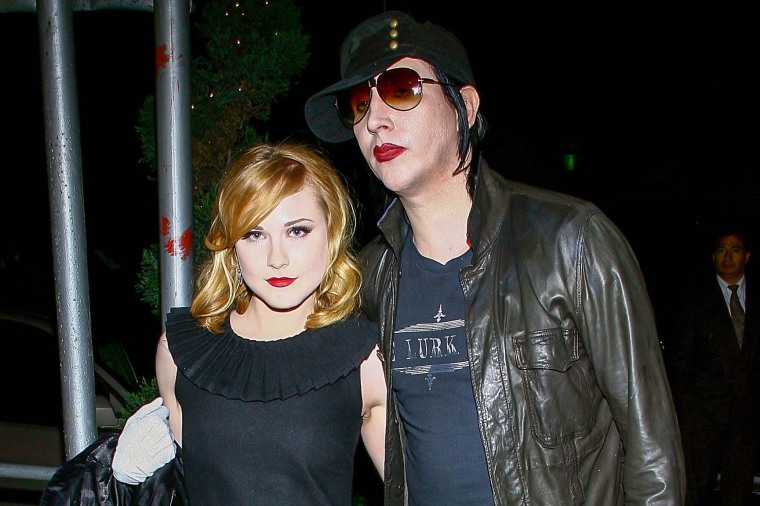 Wood has said Manson "horrifically abused" her for years.
He has denied any wrongdoing and vowed to fight the accusations.
In the latest legal filing, Wood also denied ever having coerced or pressured women to make claims against Manson. She said Smithline first made contact with her in 2019, more than a year before Smithline alleges Wood reached out to her to meet with fellow accusers.
Communicating on social media
Wood, who denies that she pressured Smithline to make accusations, included in the filing what she says is a screenshot of Instagram comments made by Smithline.
"Specifically, on March 11, 2019, I posted an Instagram post with quotes about being a survivor of domestic violence from a podcast on which I had appeared," Wood said in the filing. "At that time, I had spoken publicly about being a survivor of abuse — including in testimony before the United States Congress — but I had not yet publicly named Mr. Warner as my abuser."
An account that Wood said was Smithline's said Wood's post had hit her "hard."
"when he had me captive in the stupid ballet studio, i cringed hearing him brag about replaying that scene from rules of attraction to you... i thought no one would ever talk about this..." the comment read, according to the court filing.
Wood also included screenshots of direct messages with Smithline on Instagram, but the account no longer appeared identifiable, as the messages seemed to come from just "Instagram User." It's unclear whether the account was deactivated or whether Wood was blocked.
But in screenshots of the May 2021 messages that Wood says came from Smithline, the user asks Wood how she is doing and then says: "I can't breathe. I have no reason to make this up."
Wood responded and encouraged Smithline to "sit" in her truth and not to let anyone get to her.
In her declaration of support, Smithline said she felt "manipulated" into accusing Manson after having met with other women in October 2020. She said in the legal document that she denied being abused when she spoke with Wood in 2020.
"When I said, no this did not happen to me and this was not my experience, I recall being told by Ms. Wood that just because I could not remember did not necessarily mean that it did not happen," Smithline said in her filing.
Wood said in her opposition declaration that she had met Smithline in person only once, in the October 2020 meeting filmed for her HBO documentary "Phoenix Rising." The only other times Wood says she had spoken to Smithline were in direct messages over social media, including after Smithline went public about her allegations in a magazine interview.
"Prior to that meeting, I had never spoken to Ms. Smithline on the phone," Wood said. "During the October 2020 meeting, Ms. Smithline described abuse that she claimed Mr. Warner inflicted upon her. Ms. Smithline has always told me that she was abused by Mr. Warner."
Manson's attorney has called the accusations against his client "a coordinated campaign of #MeToo lies."
Smithline's public accusations
Smithline publicly accused Manson of physical, sexual and psychological abuse in a May 2021 interview with People magazine. She filed a federal lawsuit in 2021 accusing Manson of sexual assault, human trafficking and unlawful imprisonment.
Manson was accused of whipping Smithline, carving his initials into her body, penetrating her while she was unconscious and other conduct. The People report included a photo of Smithline in a towel, showing what appeared to be a scar on her thigh, which she referred to in the interview and alleged was caused by Manson.
A judge dismissed Smithline's lawsuit without prejudice in January after her attorney, Jay Ellwanger, withdrew and Smithline failed to respond to the court's request for a decision about new representation.
Wood's attorneys alleged in the filing against Smithline's testimony that Manson's attorneys reached out to Smithline to turn her against Wood and other accusers.
Wood's attorneys cite voice messages Smithline sent to a friend in June and allege that Manson's lawyer tried to pressure Smithline to speak one on one with Manson, "no lawyers."
Smithline was alleged to have told the friend, whom Wood's attorneys did not identify, that she thought Manson's lawyer saw her as a "weak link" and that he "might want to settle with me to turn on the other girls and say that it was all, like, a ruse."
"Given that Plaintiff's attorneys apparently had no scruples about contacting Smithline when she was represented by counsel, it should come as no surprise that they continued to pressure Smithline after her counsel withdrew and her federal lawsuit was dismissed without prejudice," Wood's attorney said.
Manson's response
Manson's attorney said in a statement Tuesday that it was not shocking that Wood was fighting Smithline's testimony's being admissible in the defamation case and that Smithline "has told the truth."
"I never discussed Ashley Smithline's claims against Brian Warner until after she had reached out to me and terminated her counsel," attorney Howard King said. "Moreover, when Ms. Smithline recently spoke with me for almost two hours, we taped the conversation in full and that recording proves that every single thing in her declaration was taken from her words, not mine."
A representative for Smithline did not immediately respond to a request for comment. Smithline told Rolling Stone that Wood was "full of s---."
"That's my comment," Smithline said. "She's saying anything she can to discredit me."