Impasse. I-M-P-A-S-S-E. Impasse.
That's what a spelling bee in Kansas City, Mo., came to over the weekend, when organizers ran out of words after 66 rounds without a winner.
Highland Park fifth grader Sophia Hoffman and Frontier School of Innovation seventh-grader Kush Sharma brought their A-to-Z game on Saturday, trading correct spelling after correct spelling until officials were forced to declare a temporary tie, said Ilker Yilmaz, the principal of Principal Frontier School of Innovation.
"It was overall really mentally and physically challenging," Kush told NBC News, adding that the bee lasted four hours.
Most spelling bees don't exceed 20 rounds, Yilmaz said, and organizers were forced to crack open a dictionary after they used all of the words on their prepared list.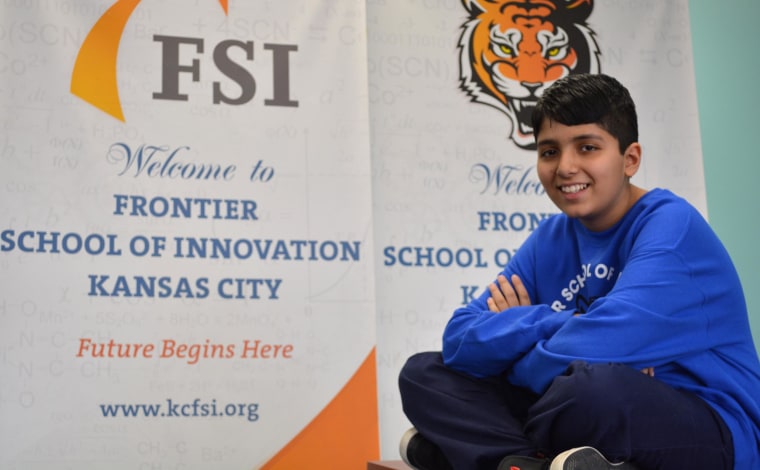 At that point, Kush said, "We just kept on challenging each other with words that we hadn't even heard of, but we could spell them for some reason."
Officials worried that using the dictionary would result in an unfair round — with one competitor getting an easy word — and eventually postponed the competition in order to prepare a new set of words, the Kansas City Star reported.
Plus, "The organizers were out of gas," while "the students were ready to continue," Yilmaz said.
Kush admitted he and Sophia "were both freaking out," when the vast dictionary replaced the pre-determined words.
One of the words that proved a challenge for Kush was "herbaceous," and he said his opponent was presented with equally challenging words. "There were some words that there was no doubt in my mind that she was going to slip up, but she didn't," he said.
A rematch is scheduled for early March, and the stakes are high, as the winner will proceed to the National Spelling Bee in Washington, D.C., which Kush has dreamed of since his dad bought him a Children's Webster's dictionary when he was about 8-years-old.
Kush's strategy for the tiebreaker in a couple of weeks: "learn the etymology of the words," he said, and he advised his competitor to do the same.
"Prepare yourself," Kush cautioned Sophia, although, he added, "for a fifth grader, she really scares me."
— Elisha Fieldstadt