After a Minnesota police officer fatally shot an unarmed woman, a fellow officer instructed him to "keep your mouth shut."
The exchange was caught on bodycam footage showing the chaotic aftermath of the July 15, 2017, shooting of Justine Ruszczyk Damond, 40, who had called police to report a possible rape behind her home.
Ex-Minneapolis police officer Mohamed Noor was found guilty in April of third-degree murder and second-degree manslaughter in her death.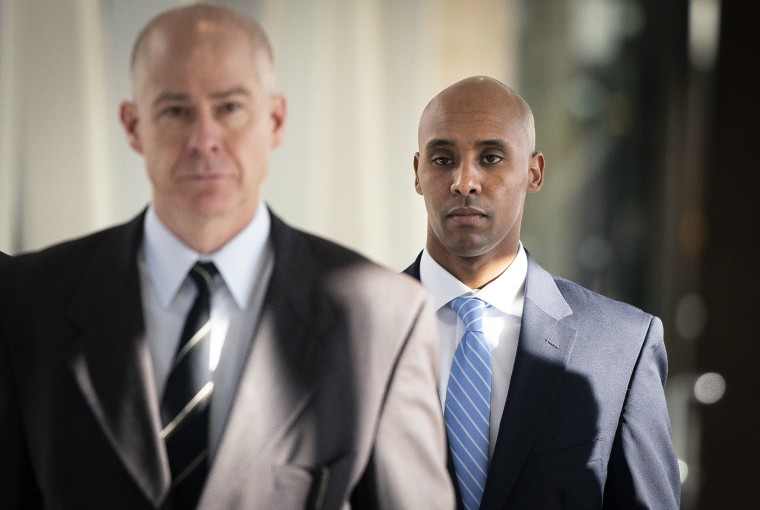 Neither of the officers' body cameras were turned on when Noor shot Damond, but evidence released Thursday and obtained by NBC affiliate KARE showed the aftermath of the shooting.
"What's happening, sir?" asked a teen who recorded as he rode by on his bike.
"Just back up for us," Noor responded. "You can videotape, just back up."
Other officers who responded to reports of shots fired were not told that a colleague had fired the shot, and initially believe they were searching for a shooter.
"At first, I thought maybe he shot somebody," said responding Officer Robert Lewis when he arrived.
"He did," another officer replied.
"Oh, he did?" Lewis said. "So he hit the person?" Lewis said. When he's informed the person was shot in the stomach, Lewis replied: "Shut up."
When Officer Jesse Lopez encountered Noor at the scene, he was less confused.
"You all right, kiddo?" Lopez asked. "Keep to yourself. Keep your mouth shut," he instructed Noor before telling him to turn off the camera in his car.
Officers also turned their body cameras on and off while they were at the scene.
Sgt. Shannon Barnette testified during trial that she meant to have her body camera on when she captured what prosecutors said was Noor demonstrating how he fired his gun.
Officers didn't realize for hours that the person who originally called police was the person who was shot.
Barnette even called Damond from the scene.
"Say, I know you called in on the unknown trouble call, the woman screaming," Barnette said in a voicemail message. "And I have a question for you. It's pretty important. If you can call me back when you get this please."
The family of Damond, a dual citizen of the U.S. and Australia, reached a $20 million settlement with the city of Minneapolis after filing a $50 million federal lawsuit against Noor, Harrity, the city and police leaders.
Noor is due to be sentenced on June 7. He faces up to 15 years in prison.