A former "Inside Amy Schumer" contributor generated a social-media firestorm by calling out some women for making allegations of sexual assault about a fellow comedian but not reporting them to police.
"Guys I have just heard some disturbing news, this guy Jiff Dilfyberg is a rapist!" writer-comedian Kurt Metzger wrote on Facebook over the weekend after learning that the New York-based Upright Citizens Brigade banned comedian Aaron Glaser — the target of the anonymous accusers. "I know because women said it and that's all I need! Never you mind who they are. They are women! ALL women are as reliable as my bible! A book that, much like a women, is incapable of lying!"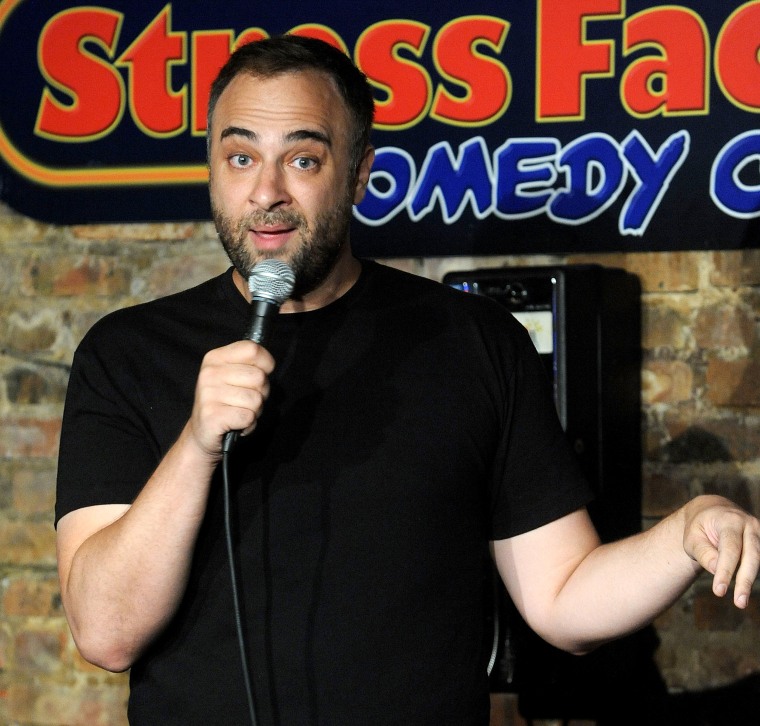 Metzger then sarcastically argued that the alleged rape victims are afraid to report the assaults to authorities because they are "too brave" and that would be "tooooo rapey."
Now Metzger is being accused of victim-blaming the women in a series of social-media posts.
His comments were reportedly inspired by the Upright Citizens Brigade's decision to ban Glaser, who had been accused by several anonymous female fellow performers of sexual assault. Glaser, who has not been charged with a crime, has confirmed that he was banned and denied the allegations in Facebook posts that have since been removed.
NBC News reached out to UCB for comment on the alleged ban and its fallout but did not receive a response.
When a barrage of online posts went after Metzger for being what they called an apologist for alleged rapists, he continued to lash out and antagonize his critics (who he has referred to as "crazy" and "the stupidest people alive").
Metzger collaborator and noted feminist, Amy Schumer, was drawn into the fray.
After several social media users demanded she weigh in and claimed she blocked them for chiding her, Schumer tweeted Wednesday: "I am so saddened and disappointed in Kurt Metzger. He is my friend and a great writer and I couldn't be more against his recent actions."
Related: Amy Schumer Joins Chuck Schumer to Call For Tighter Gun Background Check System
Almost two hours later, Schumer said: "Kurt does not work for me. He is not a writer on my show. Please stop asking me about it. His words are not mine." Then in a twist that only exacerbated the controversy, Metzger said in a Facebook post that Schumer only distanced herself from him specifically because he "told her" to.
For her part, Schumer clarified that Metzger "isn't a writer for my show because we aren't making the show anymore. There are no writers for it." On Thursday, Schumer walked back her remark, saying "Inside Amy Schumer" isn't canceled and still has a "wonderful home" at Comedy Central.
Schumer reiterated in a Charlie Rose interview set to air Friday that Metzger didn't represent her or her views, but she called him a friend and said she loved him and found him to be a valuable part of the writer's room even if they rarely agreed.
"One of the reasons he's such a great writer and such a great contributor to our television show is because his views are so different from that of mine and most of the other writers in the room," Schumer told Rose. "Especially Jesse Klein, who's the head writer of the show," she said. "We butt heads. We get in fights because he infuriates us."
Meanwhile, in a slightly more contrite social-media post, Metzger explained: "It was never my intent to antagonize victims or their supporters ... I stand by the points I made, but I sincerely apologize for using inflammatory language to make them."
Despite his admittedly harsh rhetoric, Metzger's rants have raised some complex conversations about rape culture (and whether it even exists) and the world of comedy, which has been under a microscope in recent years for its purported climate of misogyny.
In the comedy community, where being irreverent and politically incorrect is often celebrated, there is real concern about whether the fallout from the Metzger comments, as insensitive as they may be, represents a slippery slope of potentially inappropriate behavior or jokes being self-policed.
"It seems like a lot of male comedians do agree with Kurt, but not the crass way that he said it," stand-up comedian Camille Theobald told NBC News. "They are scared that one day that could be them. What if that one time they made an advance on another comedian ... is she going to get mad and tell everyone that it was more than it was. But there is no reason a female comedian would do something like that unless it was really serious."
Theobald, herself a survivor of a sexual assault, has said she has had to "put her foot down countless times" with male colleagues who tried to cross the line with her. But in her six years in the business she has begun to see a gradual change in the wake of the Bill Cosby scandal.
"People became more aware of how famous comedians get away with a lot and nobody says anything," she said.
Stand-up comic Sarah Hartshorne thinks it's "a very confusing time" for many male comedians, who are used to dominating the field, having a lot of control and doing virtually whatever they want with impunity.
"People get precious about comedy and they want to feel that it's special," she told NBC News. "We spend all our time time trying to make serious things funny and there is nothing more serious than sexual assault."
But she says that dichotomy can provide a space for some really funny and thought provoking conversations as well as an opportunity to raise awareness of the pervasiveness of sexual assault.
"The idea of a sexual gray area is terrifying to people but it's something we need to talk about," she said. "And it's especially scary to men." From her perspective, while Metzger has the First Amendment right to say what he did, the women of UCB, or in any professional venue, shouldn't be forced to share a space with someone who threatens them or be chastised for how or if they formally reported their alleged abuse.
But do men have a legitimate gripe about being presumed guilty until proven innocent when it comes to allegations of sexual assault? Or have decades of patriarchy and a justice system that has historically failed female accusers kept our society conditioned to be suspicious of alleged victims' motives and stories?
"We're so far from that, from men being the victims," said Hartshorne. "Every women in America could falsely accuse a man and there would still be more unsolved, unacknowledged, unseen cases of sexual assault than false accusations."
"When you change a long established way of looking at an issue like sexual violence it brings up a lot of emotions in people," Terri Poore, the policy director of the National Alliance to End Sexual Violence, said. "I think we have just scratched the surface. Sexual assault is rarely straightforward. It's this really complex issue."