Two former Arkansas deputies seen on video in August appearing to punch a man who was restrained on the ground have been charged with civil rights offenses, federal prosecutors said Tuesday.
The video, recorded Aug. 21 at a gas station near Mulberry, sparked outrage. The deputies, Levi White and Zackary King were fired.
White, 32, and King, 27, were arrested Tuesday after they were indicted on one count each of deprivation of rights under color of law, according to court documents.
They struck a man multiple times while he was on the ground during his arrest, the U.S. Attorney's Office for Western Arkansas said in a statement.
White and King pleaded not guilty Tuesday, according to court records. They are free on bond, the records show.
"The allegations in the Indictment are not true and we will prove this at trial," their attorney, Russell Wood, said by email.
The deputies were responding to a disturbance call when they encountered Randal Worcester, 27, state investigators have said.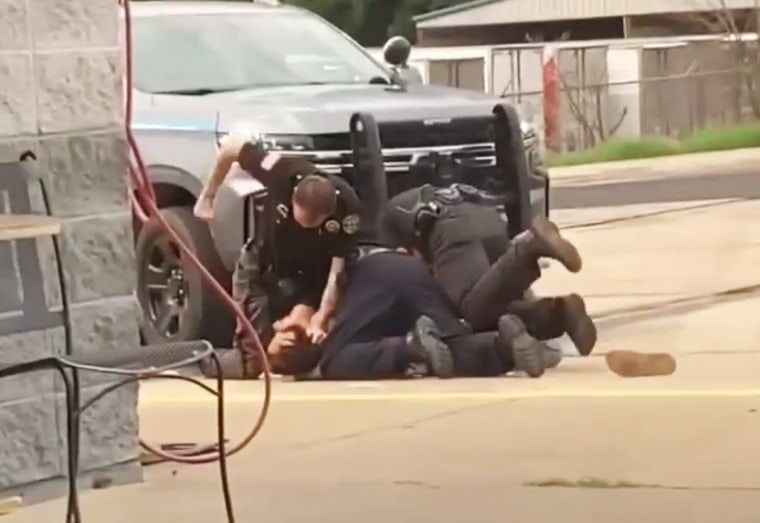 A bystander recorded a 34-second video showing the arrest of Worcester, in which he is repeatedly struck, including in his head.
Then-Gov. Asa Hutchinson, a Republican, said at the time that "that is reprehensible conduct in which a suspect is beat in that fashion."
A civil lawsuit against the former deputies and others says Worcester was compliant when the officers aggressively tackled him to the ground. It says White slammed his head into the concrete pavement.
Former Crawford County Sheriff Jimmy Damante has said that the deputies were seeking to question Worcester about a gas station employee who had been threatened with a knife and that Worcester attacked officers, allegations Worcester's attorneys have disputed. A new sheriff was sworn in on Jan. 1.
Attorneys for Worcester argued in the civil suit that he had been at a gas station and asked for water and that the clerk had angrily told him to leave. The suit says he had a small pocketknife but handed it to officers before the physical confrontation.
The federal criminal indictment alleges that White and King deprived Worcester of his constitutional rights to be free from unreasonable force by law enforcement and that each deputy struck him multiple times while he was on the ground.
The charge carries a maximum of 10 years in prison.
A third officer involved in the arrest, Mulberry Police Officer Thell Riddle, was not named in the Justice Department announcement about charges Tuesday. He has been under paid administrative leave during an investigation. Mulberry's police chief did not immediately respond to a request for comment Tuesday night.
Mulberry is a city of around 1,500 in western Arkansas, about 20 miles from the Oklahoma border.