An ex-employee of the Badlands National Park posted a series of messages about climate change Tuesday, a park service official said. The act was seen by many as a protest against President Donald Trump's position on climate change.
The three tweets that referred to climate change, an issue that Trump has called a hoax, were unauthorized and the park removed them without being asked after realizing the account was compromised, a National Park Service official who did not want to be named said.
The messages posted to the Twitter account of the South Dakota park comes after the Department of Interior was reportedly ordered to cease using Twitter after retweeting side-by-side photos comparing the crowd size of Barack Obama's first inauguration to Trump's.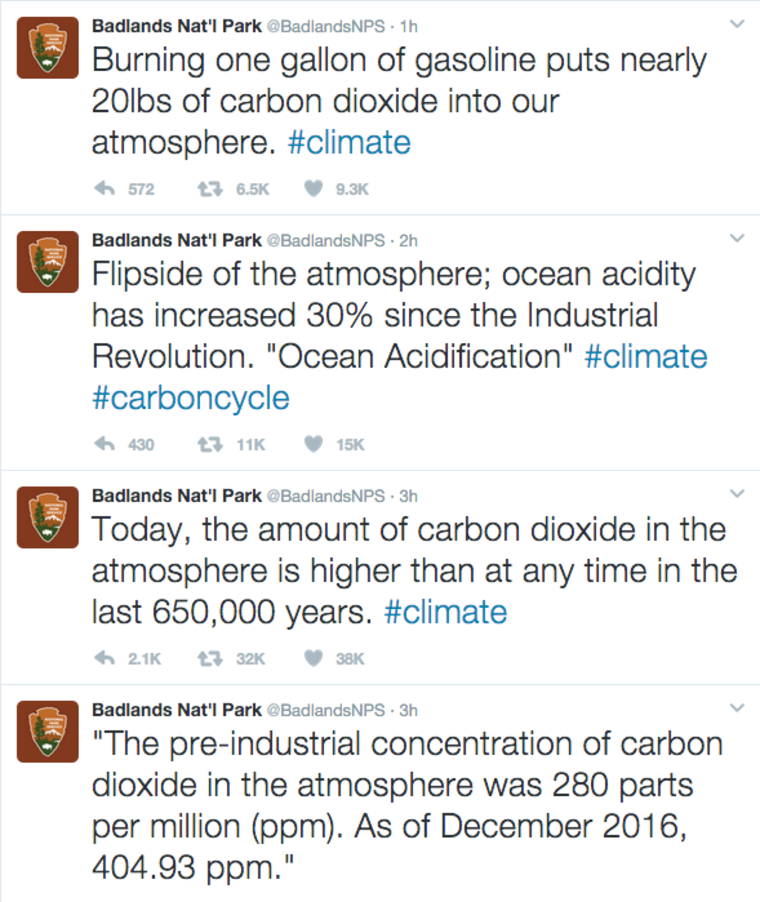 "The pre-industrial concentration of carbon dioxide in the atmosphere was 280 parts per million (ppm). As of December 2016, 404.93 ppm.," a tweet on the Badlands park account said.
Another read, "Today, the amount of carbon dioxide in the atmosphere is higher than at any time in the last 650,000 years. #climate."
At roughly 5:30 p.m. on Tuesday, the tweets disappeared from the Park's Twitter account.
Some celebrated what they believed was a rogue park service employee. The twitter account BadHombreLands NPS — apparently named after Trump's comment about "bad hombres" during a discussion of immigration and border security in a presidential debate — was created to house some of the deleted tweets.
President Donald Trump on the campaign trail rejected the idea of climate change as a hoax.
The newly revamped White House website does not have a climate change section under its issues, but an energy plan page says Trump is committed to ending "harmful and unnecessary policies" including the Climate Action Plan.
The page says Trump is in favor of shale oil and gas development, but adds "our need for energy must go hand-in-hand with responsible stewardship of the environment." It does not mention climate change.
There are no tweets on the Badlands account from Thursday until Saturday. The Washington Post reported that the Interior Department was ordered by the Trump administration to stop using Twitter after the park service retweeted photos comparing the inauguration crowd sizes.
The National Park Service tweeted on Saturday, saying it regretted the "mistaken" retweet.
There appeared to be some confusion over the Twitter ban over the weekend. Mount Rainier National Park said Friday that road condition updates were moving to its Facebook page until further notice.
Saturday morning it said Twitter would be used only for essential information, like road conditions, and later in the day said "We will be resuming our normal activity on Twitter."
The Parks official said social media employees have been encouraged to use Twitter to post safety and road conditions, but not anything related to national policy.