Two former BP employees were charged Wednesday with manslaughter in the 2010 Gulf spill disaster, while BP itself was blocked from bidding for U.S. government contracts until it shows it no longer lacks "business integrity". BP responded by saying it was working with the Obama administration to do just that.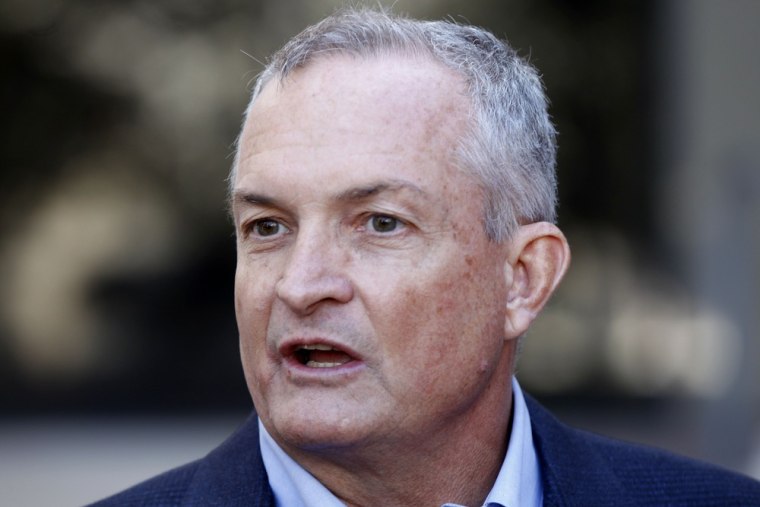 In New Orleans, a BP rig supervisor said he is innocent of manslaughter in the deaths of 11 workers in the 2010 explosion on the Deepwater Horizon offshore drilling rig that started the spill disaster.
"I think about the tragedy of the Deepwater Horizon every day," Robert Kaluza told reporters just before his arraignment. "But I did not cause this tragedy. I am innocent and I put my trust, reputation and future in the hands of the judge and the jury."
Kaluza and Donald Vidrine, both BP well site leaders, were indicted earlier this month on manslaughter charges. The federal indictment accuses them of disregarding abnormal high-pressure readings that should have been clear indications of trouble just before the explosion.
Kaluza's attorney, Shaun Clarke, said the men are scapegoats.
"Bob and Don did their jobs," Clarke said. "They did them correctly and they did them in accordance with their training."
BP announced earlier this month that it will plead guilty to manslaughter, obstruction of Congress and other charges and pay a record $4.5 billion in penalties to resolve a Justice Department criminal probe.
Attorneys for BP and the Justice Department are scheduled to meet Dec. 11 with a federal judge to discuss a date for BP pleading guilty.
The Deepwater Horizon oil rig, owned by Transocean Ltd. but operated on behalf of BP, was drilling in the Gulf of Mexico off the Louisiana coast on April 20, 2010, when it was rocked by an explosion.
The bodies of 11 workers were never recovered.
Former BP executive David Rainey was charged separately Wednesday with concealing information from Congress about the amount of oil that was leaking from the well. Millions of gallons of crude oil spewed from BP's well for months.
Also Wednesday, the Environmental Protection Agency banned BP from new federal contracts over its "lack of business integrity".
BP and its affiliates must demonstrate they can meet federal business standards, the EPA said. The suspension is "standard practice" and BP's existing U.S. government contracts are not affected, it said. 
In a statement, BP said it has been in "regular dialogue" with the EPA, and that the agency has informed BP that it is preparing an agreement that "would effectively resolve and lift this temporary suspension." The EPA has notified BP that the draft agreement will be available soon, BP said.
The U.S. government could use the suspension as leverage to pressure BP to settle civil charges, which could top $20 billion if BP is found to be grossly negligent for the spill under the U.S. Clean Water Act. 
The Justice Department says it intends to prove in a court case set to get underway in February that BP was grossly negligent, a claim the company has adamantly refuted.
BP and the U.S. government likely worked out a deal on the timing of the suspension before BP agreed to sign off on the Nov. 15 criminal plea deal, said Samuel Buell, a Duke University Law School professor and former federal prosecutor. 
"It's just inconceivable to me that BP's lawyers, that their board of directors would have entered into that agreement last week without the issue of a suspension or debarment having been addressed," Buell said.
One long-time critic of BP applauded the decision. 
"After pleading guilty to such reckless behavior that killed men and constituted a crime against the environment, suspending BP's access to contracts with our government is the right thing to do," U.S. Rep. Edward Markey, a Democrat from Massachusetts, said in a statement.
The Associated Press and Reuters contributed to this report.
More content from NBCNews.com: