A former Miami Dolphins cheerleader claims that she was discriminated against by the team and the NFL for talking about her Christian faith — and mocked after she admitted that she was a virgin.
Kristan Ann Ware, who cheered on the Dolphins for three years, charged in a complaint filed with the Florida Commission on Human Relations that the workplace turned hostile after she told some of her fellow cheerleaders that she was waiting until she was married to have sex.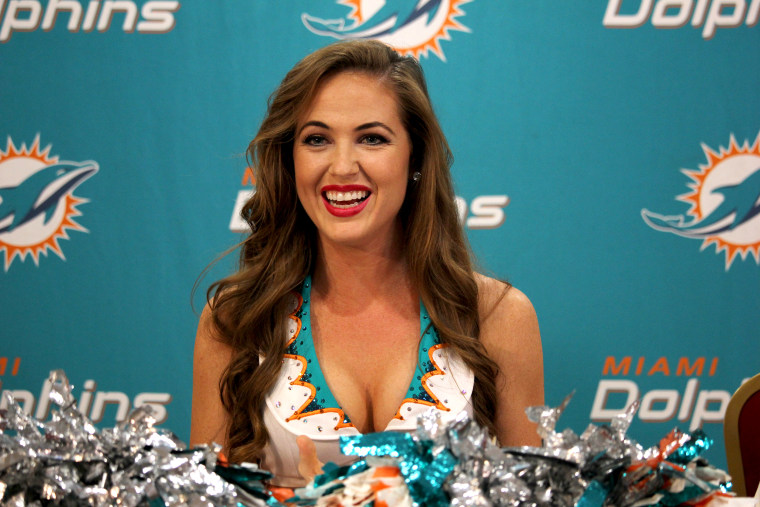 It got even worse, Ware charged, when she posted an image of her baptism along with a Bible verse on social media.
"Let's talk about your virginity," cheerleader director Dorie Grogan allegedly said when Ware arrived for an interview for returning dancers in April 2016, according to the complaint. "As far as we are concerned you have taken something that was once upon a time pure and beautiful and you've made it dirty."
Ware, who is no longer with the Dolphins, is now seeking arbitration from the Florida commission and a meeting with NFL Commissioner Roger Goodell. She said female cheerleaders should be allowed to express their faith publicly the way the male players do.
"I loved my job," Ware said Thursday in an emotional interview with NBC affiliate WFLA. "It was great, but after that things just started to change. ...It became unbearable."
A team source told NBC News that the team was aware of the incident Ware described and that Grogan has already been reprimanded.
"In 2016, we were made aware of an incident with our cheerleaders that fell short of our standards and expectations," the source said. "We immediately addressed the issue and reprimanded the supervisor, who subsequently apologized to the entire team."
But Grogan, who is a former Dallas Cowboys cheerleader, is still on the team.
Brian McCarthy, a spokesman for the NFL, said he can't comment on Ware's complaint because he has not seen it. He said cheerleaders work for the teams, not the NFL.
"The NFL and all NFL member clubs support fair employment practices," an NFL statement read. "Everyone who works in the NFL, including cheerleaders, has the right to work in a positive and respectful environment that is free from any and all forms of harassment and discrimination and fully complies with state and federal laws."
Ware is now 27 and lives in South Carolina. Her lawyer, Sara Blackwell, insisted that Ware never proselytized on the job and only spoke about her virginity because she was asked about it and "because she's too honest to lie."
"She never once witnessed to anyone, she never once asked anyone if they believed in Jesus," Blackwell told NBC News. "She is the friendliest person you will ever meet. If she talked about her faith in God, it's because that's who she is, not because she is trying to convert anyone."
Ware's secret spilled out in October 2015 while on a bus ride in London, where the Dolphins were playing the New York Jets at Wembley Stadium. The other dancers were talking about their "sex playlist" and Ware "was pushed to give her playlist."
"Kristin told her teammates that she was waiting until she was married because of her personal relationship with God," the complaint states. "She was sensitive to everyone around her having different beliefs and ideals so she further stated that it was her personal conviction."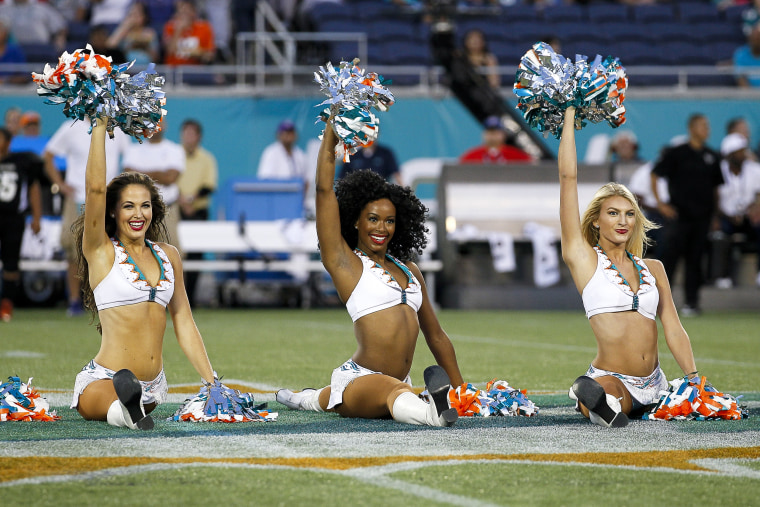 Ware said she complained to the team's human resources department but continued to be ridiculed by Grogan and other members of the cheerleading team.
At a 2016 rehearsal for a fashion show, during which the cheerleaders walked the runway in bikinis, Ware said she was teased by being made to don a big set of "angel wings." And when she wrote a "Motivation Monday" story for the Dolphins' blog describing her cheerleader audition, her references to God and Christ were edited out.
Ware said she was also falsely accused of "groping a fan's breast and butt at an appearance."
Blackwell also represents former New Orleans Saints cheerleader Bailey Davis, who has filed a federal discrimination lawsuit against the team after it fired her for posting a photo of herself in a lacy bodysuit on her private Instagram account.
Ware said she was motivated by Davis' example to come forward and rid herself of "the chains of silence."
"I still love football," she said. "I am still a fan."
All but five NFL teams — the Chicago Bears, Buffalo Bills, New York Giants, Green Bay Packers and Pittsburgh Steelers — have cheerleading squads, McCarthy said.