The former commander of Naval Station Guantanamo Bay was convicted Friday of hindering an inquiry into the 2015 death of a civilian who had confronted the commander about a possible extramarital affair with his wife.
John Nettleton, 54, of Jacksonville, Florida, was convicted in federal court of obstructing justice, concealing information, falsifying records and making false statements, the Department of Justice said in a statement.
He was indicted in January 2019 and accused of concealing details about the drowning of Christopher M. Tur, the 42-year-old loss-prevention safety manager at the naval station's Naval Exchange.
Nettleton did not show emotion as the verdict was read, and the Tur family held hands and wept, NBC affiliate WTLV of Jacksonville reported.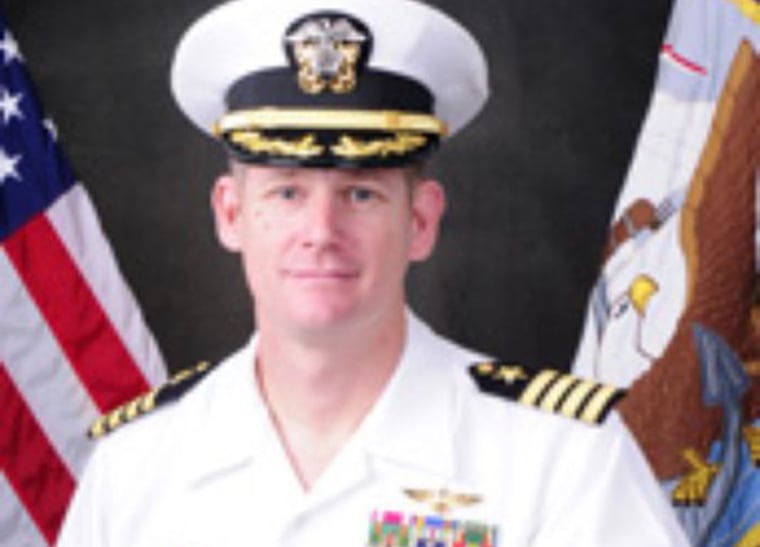 "We miss him every day," Tur's sister, Aline Byrnes, said after the court proceeding, according to the station. She said the matter "has been an emotional, draining and traumatic time for our family."
The family still has unresolved questions, she said.
Nettleton was fired by the Navy in January 2019.
He was accused of misleading investigators after he got into a fight with Tur, who was found drowned in the waters off Guantanamo Bay on Jan. 11, 2015.
The incident kicked off at a party at the Guantanamo officers' club, where Tur yelled at his spouse and Nettleton, accusing them of having an affair, according to an indictment filed in the case.
Nettleton, on the advice of a colleague, returned home. Not long after, an allegedly drunken Tur showed up at Nettleton's house, sparking a drawn-out fight. Tur was injured in the altercation, the indictment says.
But when questioned by investigators, Nettleton falsely claimed that he last saw Tur at the officers' club, prosecutors said. Nettleton said nothing about the fight at his house or the allegation that he was having an affair with Tur's wife, according to prosecutors.
"Captain Nettleton dishonored his oath and impeded the investigation into a civilian's tragic death, preventing much-needed closure for the family and friends of the deceased," Brian A. Benczkowski, assistant attorney general for the Justice Department's criminal division said in a statement.
"Today's verdict demonstrates the department's steadfast commitment to holding accountable those who abuse their positions of public trust and obstruct justice," Benczkowski said.
The Department of Justice statement said that a sentencing date has not yet been scheduled. He faces a maximum sentence of 75 years in prison under the charges, but sentencing guidelines are far lower than that, WTLV reported.
Emailed requests for comment from attorneys listed in court records as representing Nettleton were not immediately returned Friday night.