Gymnastics doctor Larry Nassar, 54, has pleaded guilty in a Michigan court to three more charges of first degree criminal sexual conduct with children under the age of 16 — one of whom was younger than 13. His patients included some of the most accomplished athletes at the highest levels of the sport.
Clutching his hands, Nassar, who is accused of molesting more than 130 former patients, looked sullen in an orange jail jumpsuit on Wednesday in Eaton County Circuit Court as he entered his eighth, ninth and 10th guilty pleas as part of an agreement with the Michigan attorney general.
Nassar's former patients include Team USA Olympic gold medalists Gabby Douglas, McKayla Maroney and Aly Raisman. He was employed by USA Gymnastics and Michigan State, both of which subsequently fired him after the number of public allegations grew.
When asked if he had penetrated the victims with an ungloved finger between 2009 and 2011 for his own purposes on Wednesday, Nassar sighed, "yes." Throughout his pleas, a judge had to repeatedly ask the soft-spoken Nassar to raise his voice as he admitted guilt to the three charges.
Related: McKayla Maroney Says Dr. Larry Nassar Molested Her in #MeToo Post
In exchange for the guilty pleas, prosecutors dropped four additional charges against Nasser, who is facing a minimum of 25 years behind bars and a maximum sentence of life.
The judge said his sentencing for the three guilty pleas will take place at the end of January.
On Nov. 22, Nassar pleaded guilty to criminal sexual conduct with seven girls, three of whom were under the age of 13, in an Ingham County Circuit Court.
During that case, the former doctor also admitted then that he had penetrated girls with ungloved fingers between 1998 and 2015, under the guise of medical exams.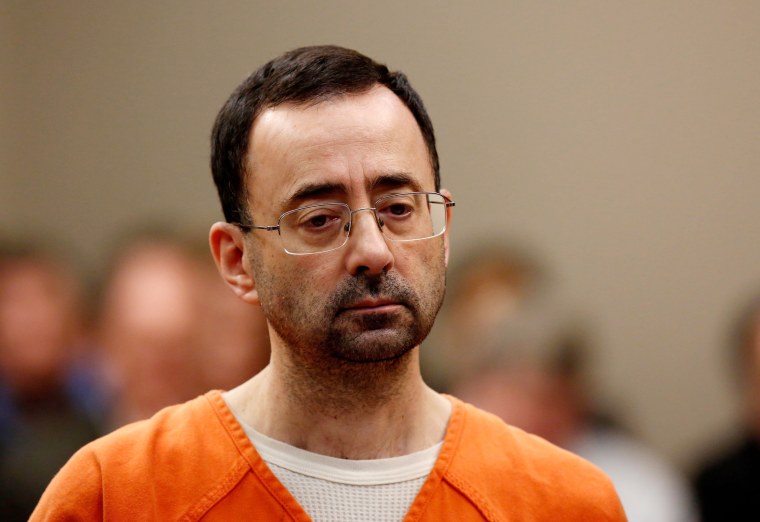 The slew of claims against Nassar began when gymnast Rachael Denhollander took her allegations to the Indianapolis Star more than a year ago, prompting a torrent of subsequent accusations from some of the most well-known names in the gymnastics world.
As a slew accusers came forward, Nassar claimed his "procedures" were legitimate medical practices, but his defenders dwindled after federal authorities charged him with possession of child pornography. He pleaded guilty earlier this year in federal court on the child pornography charges.
Nassar's sentencing in the federal case, as well as the Ingham and Eaton county cases, will take place over the next two months.
Prosecutors said they will not oppose concurrent sentencing in the state cases and they will not prosecute Nassar for any of the other women who have filed complaints against him with police in Michigan.
Related: FBI Says Gymnastics Doctor Larry Nassar Recorded Abuse on Go Pro
However, Nassar, along with USA Gymnastics and Michigan State, still face lawsuits from scores of former patients or their parents.
USA Gymnastics, which quietly fired Nassar in 2015 after learning of allegations, has been accused of failing to protect gymnasts from predators. Its president resigned under fire earlier this year, and the organization has recently strengthened safety policies — but some say a clean sweep of leadership is needed.
CORRECTION (Nov. 29, 2017, 11:45 a.m. ET): An earlier version of this article misspelled the last name of a gymnast. Her name is Rachel Denhollander, not Danhollander.