Former House Speaker Dennis Hastert plans to plead guilty in his hush-money case to resolve charges he lied to the FBI about bank withdrawals — money allegedly used as payoffs to keep sexual misconduct accusations under wraps.
The politician, who was not in the Chicago federal courtroom where the agreement was announced Thursday, will appear on Oct. 28 to enter a plea, assuming the deal does not fall through, his attorney said.
It's unclear whether the deal calls for Hastert, 73, to serve prison time. It will, however, let him avoid an embarrassing public trial with new details of his alleged misdeeds as a high-school wrestling coach in the 1960s and '70s.
"I'm really thrilled," said Jolene Burdge, a Montana woman who claims Hastert sexually abused her now-deceased brother when he was a student at Yorkville High School.
"This solidifies the fact that he is guilty ... that he abused his position," Burdge added.
"In a way, I would have preferred it went to trial, but I never thought it would. This is as good as it's going to get from him."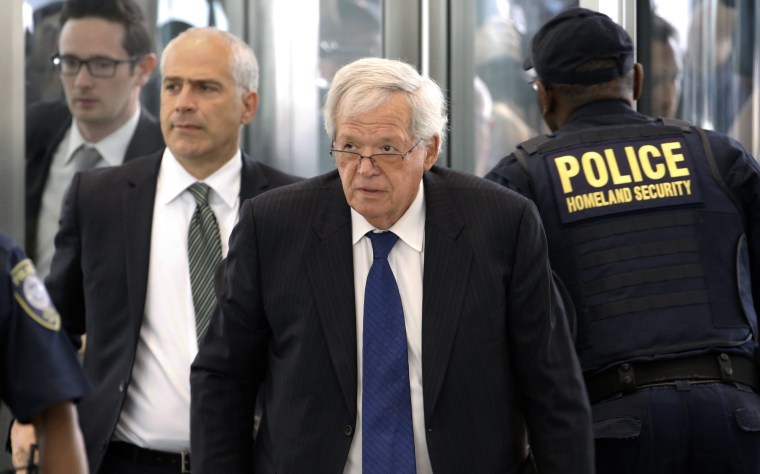 Hastert, who led the House for eight years before retiring in 2007, has not been charged with any crimes in connection with Burdge's allegations, and his indictment did not accuse him of sexual abuse.
Instead, he was charged with structuring bank transactions to avoid triggering red flags and then lying about those cash withdrawals to the FBI. Court papers say he took out the money because he agreed to pay a mystery man identified only as "Individual A" some $3.5 million in hush money to conceal "prior misconduct."
Federal law enforcement sources have said "Individual A" was a student at Yorkville High while Hastert was a teacher and coach there, and that the misconduct was sexual in nature.
Shortly after Hastert was indicted in May, Burdge came forward with claims that Hastert had abused her brother, Steve Reinboldt, a Yorkville grad who died in 1995 of AIDS complications.
In June, a friend of Reinboldt told NBC News on condition of anonymity that Reinboldt — who is not Individual A — also confided in him years ago that he had sexual contact with Hastert.
"I was hanging out at Steve's house in December 1974, I seem to recall we went for a drive and he told me that he was gay. He also said that his first sexual encounter was with Denny Hastert," the friend said.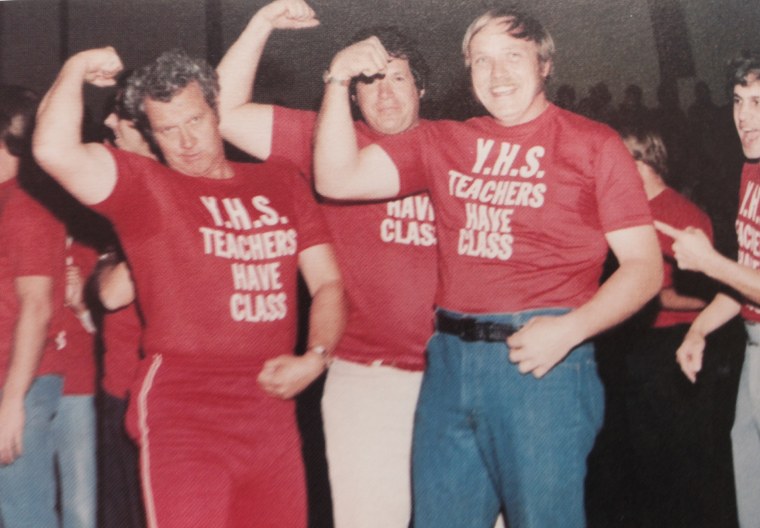 But many of Hastert's former students still defend him.
Jeff Jerabek, who was on the Yorkville wrestling team in the 1970s, said that even with the announcement of a guilty plea, he finds the accusations "hard to believe."
"I looked up to him as a coach and a teacher," Jerabek said. "I never saw or heard anything like that."
He said he wanted to hear more about what Hastert was admitting to before passing judgment. "I've never seen positive proof of anything," Jerabek added. "[The accuser] might have been lying."
William Loftus, who was on the 1970 wrestling team, said he believes Hastert is pleading guilty just to put the scandal behind him.
"My opinion hasn't changed. I still think Denny Hastert is the victim in this," he said. "It's very confusing, and I don't know all the details but I know Denny and I know what he's done. I look at him as a great man."