Former New Orleans Saints star Will Smith was intentionally gunned down by a "rageful" driver who ignored his wife's pleas to leave the couple alone and then shot them over and over without remorse, the family's lawyer said Wednesday.
The Orleans Parish coroner confirmed Wednesday that Smith suffered eight gunshot wounds — seven in the back and one in the lateral chest wall. Toxicology results aren't expected for six to eight weeks.
Suspect Cardell Hayes "actually stood over Will Smith's dead body as his wife, who had crawled away because she couldn't walk, was cowering and hiding," Peter Thomson, an attorney for the Smith family, told reporters Wednesday as he recounted his version of the slaying in New Orleans' Lower Garden District.
Smith's wife, Racquel, remained hospitalized Wednesday with non-life-threatening injuries.
But Hayes' lawyer, John Fuller, ridiculed Thomson's remarks and refused to rule out that his client was the victim of a cover-up.
"The rules of professional conduct prohibit lawyers from speaking ill of other lawyers, but there are some things I heard that I question," Fuller said Wednesday evening, adding: "My client is legally not guilty, and the ballistics in this case will be very important — especially in light of what their lawyer said."
Asked whether he believed whether evidence in the case had been tampered with or covered up, Fuller responded: "I'd rather keep my thoughts on that to myself. ... In terms of a cover-up, I'm going to keep those thoughts to myself."
Fuller originally had said he would be withdrawing from the case because he was about to become a judge. But in his remarks Wednesday, he said he was giving up the judgeship to stay on Hayes' case.
Thomson's account of Saturday's shooting was the first from the family's side after Fuller earlier suggested that Hayes, 28, may have been trying to protect himself during a volatile situation following an apparent hit-and-run with Smith, 34.
Thomson said the encounter began after the Smiths and two others left a restaurant in the football star's Mercedes G63 SUV and pulled up behind Hayes' Hummer H2 at an intersection.
Related: Loaded Gun Found in Slain New Orleans Saints Player's Car: Police
The Hummer stopped suddenly, forcing Smith to hit the brakes. Thomson said the couple didn't believe they struck the car and didn't see any damage.
Smith wasn't inebriated based on "evidence" Thomson said he had seen. He denied that the couple was in a "hit-and-run" and said the worst that may have occurred at that point was a "gentle bump."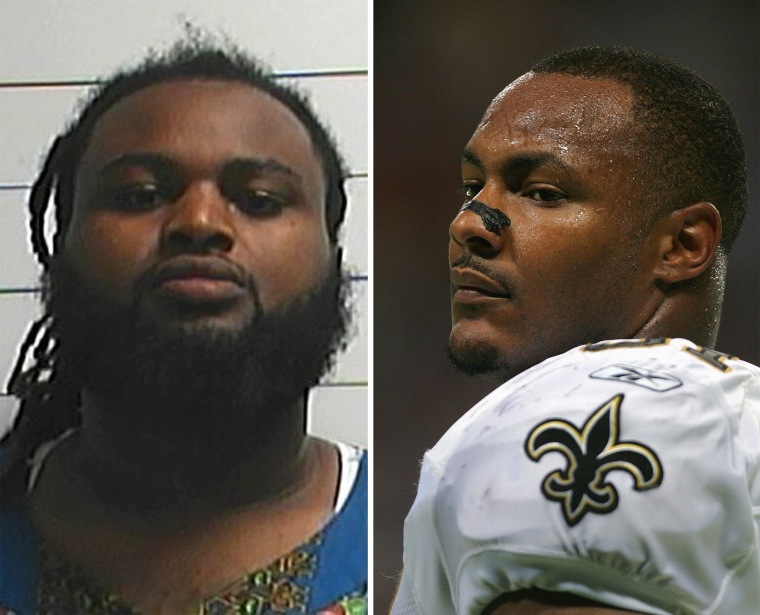 "Like you might bump into someone when you park," Thomson added.
Surveillance video taken from a nearby restaurant shows the moment Smith's SUV apparently tapped the back of the Hummer, and then the Hummer pulled over.
Thomson said the Smiths felt uneasy about the incident and weren't sure why the larger vehicle with tinted windows had stopped so suddenly — and even questioned whether it was on purpose.
Smith decided not to pull over, prompting the Hummer to chase after the SUV.
Thomson said the driver of the Hummer "violently rammed the back of their car," causing the rear windshield to shatter, the occupants' heads to whip back and Smith to slam into another car.
"Will checked first to make sure everyone in the car was OK. They were afraid. They don't know what's going on," Thomson said. "They see a large man coming at the Hummer."
That's when Smith decided to approach the two men in the Hummer.
Hayes "was enraged, and he is yelling and cursing, and he had his hands up shaking them and making signals" Thomson said.
Racquel Smith, 33, and another person tried to defuse the situation and persuaded Will Smith to return to the car.
Thomson said Racquel Smith begged for Hayes to "leave us alone," adding that she put her hands up to him and said: "Go back to your car. We have children. This is not worth this."
As the couple headed back to their SUV, Thomson said, Hayes brandished a .45-caliber handgun.
He said the gunman shot Racquel Smith first: once in the right leg, fracturing her femur, and once in her left leg, with the bullet passing through her thigh.
Related: Video May Show Hit-and-Run Before Shooting Death of NFL Star
Then the gunman turned to her husband, who had his back toward him, and struck him eight times, Thomson said. Smith reportedly died with his feet on the ground and his body inside his car.
"My understanding is no bullets entered the front of Will," Thomson said. "The killer, we have evidence, showed no remorse whatsoever."
He also addressed reports that Will Smith had a gun, saying he had a state license to carry a concealed weapon. But he said a firearm — described by police as a fully loaded 9 mm handgun — was stashed inside a compartment of the SUV and never taken out.
Hayes was arrested at the scene on suspicion of second-degree murder and remains held on $1 million bond. A second gun was found unused in his Hummer, police said.
Fuller, Hayes' attorney, seized on that report to raise questions about the investigation, saying Wednesday night: "I just find it odd that in a homicide ... that a gun supposedly isn't recovered until days after the incident."
None of the occupants in the Smiths' car were identified. Former Saints teammate Pierre Thomas suggested in an Instagram post Tuesday that he was at the scene when the Smiths were shot.
"I witnessed a close friend, teammate and a man that I thought of as one of my big brothers in the NFL shot to death OVER A [expletive] FENDER BENDER!!!!" Thomas wrote.
The occupant of Hayes' vehicle, Kevin O'Neal, said he believed Hayes saved their lives because Smith had a gun and was the aggressor.
"In my mind, this is justifiable homicide," O'Neal's attorney, Tanzanike Ruffin, said Tuesday.
Smith, a former first-round pick who played 10 seasons with the Saints as a linebacker and defensive end, had made New Orleans his home and started a nonprofit foundation to help women and youth.
A visitation for fans is planned for Friday, with a private funeral service Saturday.