An ex-NFL player was house hunting for his mother-in-law in Southern California when he was arrested on suspicion of burglary after a neighbor called police, authorities and the former tight end's representative said Saturday.
Kellen Winslow Jr., 34, who played as a tight end for the Cleveland Browns and other teams, was arrested Thursday afternoon in the northern San Diego County beach city of Encinitas and booked on suspicion of burglary, according to a statement from the San Diego County Sheriff's Department.
A person called the sheriff's office at around 2:39 p.m. local time and reported a possible residential burglary. The caller reported that a black man and had walked into a neighbor's residence, and the caller confronted the man because she "did not recognize him as being the resident who lived there," according to the sheriff's department.
Winslow left after being confronted, the sheriff's department said, but was stopped by deputies as he drove nearby and he was arrested.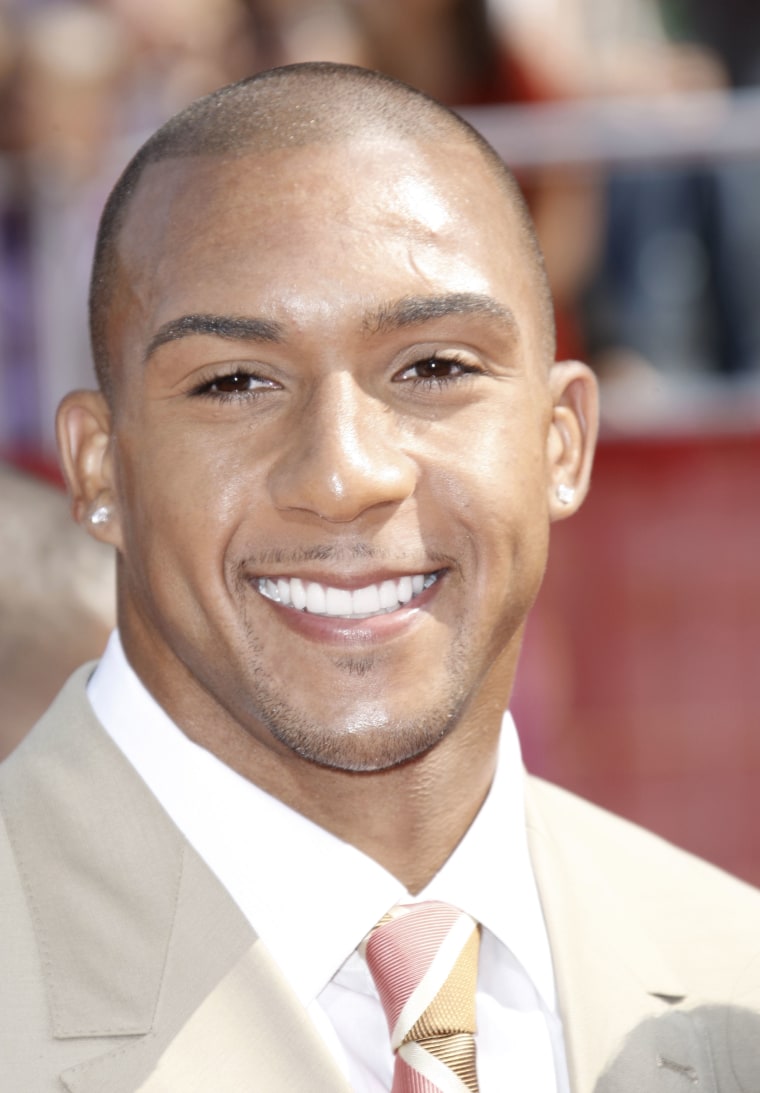 Representatives for Winslow vigorously dispute the allegations. Winslow was home shopping for his mother-in-law, he never went inside, and the residence in question belongs to friends who attend church with his wife, spokeswoman Denise White of EAG Sport Management said via email.
"An overreactive neighbor called police after she saw Kellen walking around a mobile home," White said in an email to NBC news on Saturday.
A neighbor told a local television news station that when confronted, Winslow said he was looking for his red dog, Clifford.
White said that Winslow does indeed have a red dog named Clifford, but that he was being "sarcastic when answering her questions about what he was doing there."
"The owner said he never went inside the home or took anything, nor was anything taken, touched or moved," White said.
Winslow's attorney, Harvey A. Steinberg, said in a statement that the former pro "emphatically denies committing any burglary. He would have no need to burglarize or steal anything from anyone at a trailer park."
"He looks forward to being vindicated once this matter is fully investigated and adjudicated through the court system," Steinberg said in a statement.
Winslow spent five hours in a North County jail before posting bail, NBC San Diego reported.
Los Angeles social justice activist and journalist Jasmyne Cannick said Winslow's arrest could be the result of another case of neighbors or other bystanders calling police on African-Americans.
In one of those recent incidents, the coffee chain Starbucks closed more than 8,000 stores for racial-bias training last month following the arrest of two black men after the white manager of a Philadelphia store called police on them as they waited for a business associate. Starbucks changed its policies, and Philadelphia police on Friday announced changes to their policies.
"You could be doing the most harmless thing and people will call the police on you," Cannick said. "Black people — we've moved up in the world. When people move up they move out to nicer neighborhoods. In those neighborhoods they get looked at as if they don't belong."
The sheriff's office statement does not specify the race of the person who called authorities.
Winslow is the son of Pro Football Hall of Fame member Kellen Winslow, who played for the San Diego Chargers. He grew up in San Diego and attended high school in tony Scripps Ranch.
Sheriff's officials were encouraging anyone with information in the incident to call the sheriff's department.