Ex-NFL quarterback Erik Kramer shot himself Tuesday night in a suicide attempt, but survived, law enforcement sources and his former wife said.
Los Angeles County sheriff's deputies were called to a motel in Calabasas at around 8 p.m. for a welfare check, sources told NBC News. When deputies arrived they found Kramer with a gunshot wound that was described as not life-threatening, a source said.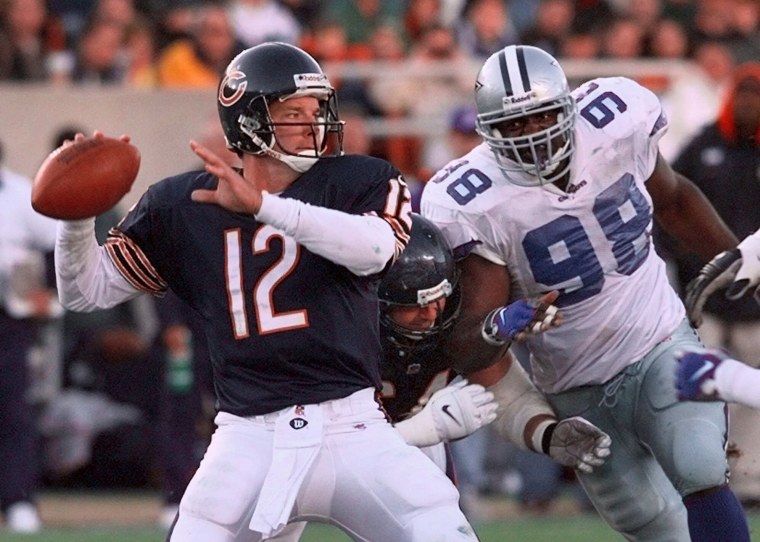 Kramer's former wife, Marshawn Kramer, told NBC News Wednesday night that it was a suicide attempt, and said Kramer suffered years of depression that she believes was the result of his time in the NFL.
"He is a very amazing man, a beautiful soul, but he has suffered depression since he was with the Bears," Marshawn Kramer said in a telephone interview. She said of Kramer's decision to apparently obtain a gun and shoot himself, "I can promise you he is not the same man I married."
Kramer, 50, helped lead the Detroit Lions to a 12-4 record and an NFC Championship game appearance in the 1991 season. He later joined the Chicago Bears, where he spent five seasons and threw for 29 touchdowns during the 1995 season, according to NFL statistics. Kramer ended his career with the San Diego Chargers in 1999.
Marshawn Kramer said Erik Kramer's sister told her the injury is more serious than law enforcement sources said. The sister, Kelley Kramer, was travelling to California from her home in Las Vegas Wednesday, she said. A number was left but a call had not been returned Wednesday night.
The suicide attempt comes amid fierce debate over the possible lasting mental health effects of NFL careers in which players endure hard hits to the head. Former NFL stars Junior Seau and Dave Duerson were posthumously diagnosed with the brain condition chronic traumatic encephalopathy after they committed suicide.
The NFL and the NFL Players Association did not immediately return emails seeking comment.
Marshawn and Erik Kramer officially divorced in 2010, in part due to conflicts caused by Erik's depression, she said. "I know Erik and I would still be together if not for his football injury," she said. It was an amicable split, she said, and they live in the same California city, not far from each other.
In 2011, their 18-year-old son, Griffen, then a Thousand Oaks High School quarterback, died from a drug overdose.
The couple has another son, 17-year-old Dillon. Marshawn Kramer said Erik Kramer is a wonderful father who adored his son.
"He's such a good dad and he would not do this to his son," she said. "This is brain injury."