A former police officer accused of killing "Big Boy" — a huge elk beloved by a Colorado community — was convicted Tuesday of all nine counts against him.
A jury in Boulder County found Sam Carter guilty of illegal taking of big game, attempting to influence a public official, forgery and tampering with evidence, among other charges, said Boulder County prosecutor Stanley Garnett.
The elk's death and Carter's arrest had sparked outrage in Boulder, along with marches and prayer vigils.
"I saw him almost every day for three years," Mary Lee Withers of Boulder told NBC News. "It was the highlight of my walk with my dog."
Withers, who runs PC's Pantry for Dogs and Cats, a Boulder pet store, said she's raising money for a memorial sandstone bench to be placed near the site where Big Boy died.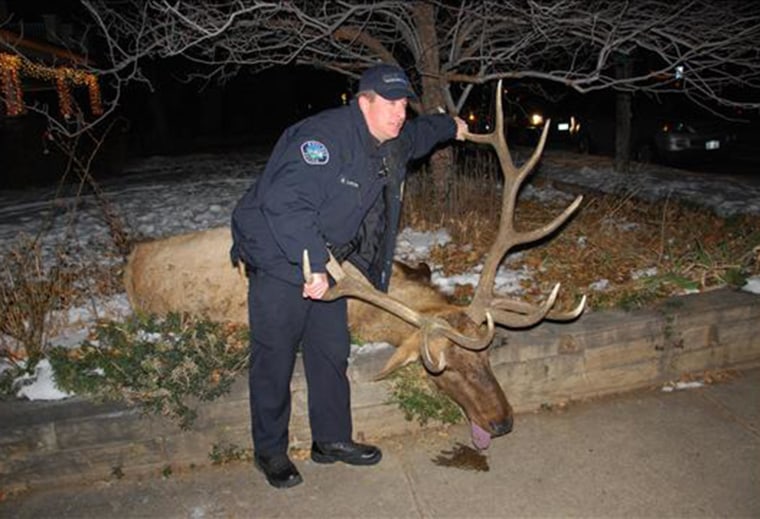 Carter was accused of killing the elk as it ate crabapple leaves on Jan. 1, 2013, in the Mapleton Hill area of Boulder. Prosecutors said he shut off the GPS in his squad car when he shot Big Boy, then forged a tag to try to pass the elk off as road kill, The Associated Press reported.
They said Carter got fellow officer Brent Curnow to help him cart off the body in a pickup and butcher it.
The officers swapped text messages about "hunting" for "wapiti," the Shawnee word for elk, the AP said. Before Carter began his shift that day, he sent a text saying: "He's gonna die."
Both men resigned from the Boulder Police Department. Curnow pleaded guilty to tampering with evidence and other charges.
It wasn't just the killing of the animal that had people in Boulder upset, Garnett said.
"The fact that somebody would use the uniform and badge of a police department in such a case was equally disturbing to the community," he told NBC News.
Carter is scheduled to be sentenced Aug. 29. Garnett said that because the convictions include four felonies, Carter could receive up to six years in prison, but that he hadn't decided what sentence he would seek.
Carter's attorneys had argued that Carter killed the elk because it had become dangerously domesticated and aggressive. Withers said that wasn't true.
"The day he was shot, I was walking at Eighth and Mapleton, and he was at a house eating leaves," Withers said. "My dog barked at him. He looked at us, then turned back to eating leaves."
— Gil Aegerter