Former Ohio State University students who say they were molested by Dr. Richard Strauss pushed back Tuesday against a statement by Rep. Jim Jordan, a former wrestling coach at the school, that he was exonerated by an independent investigation into the scandal.
Their lawyers also demanded that Ohio State name the anonymous coaches and university officials cited in the 180-page report into Strauss that was compiled by the Perkins Coie law firm and which concluded the disgraced doctor "sexually abused at least 177 male student-patients." The report did not name Jordan.
"Jim Jordan was at Larkins Hall where they trained at, can't speak to what he knew," former student Ron McDaniel said at a press conference. "But he knew."
Jordan has repeatedly denied knowing about the abuse and said the allegations against him were politically motivated.
McDaniel played on the Ohio State tennis team in the early 1980s.
Steve Snyder-Hill, who said he was molested by Strauss during a visit to a student health center in the mid-1990s, said he too doesn't buy Jordan's statement.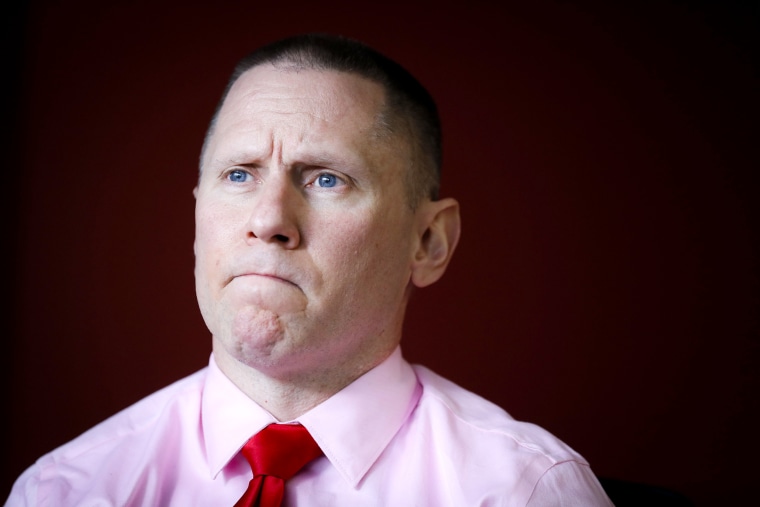 "Anyone who says they're vindicated, I think anyone at OSU is culpable," he said.
The Perkins Coie report, which was released Friday, flatly stated that "students openly discussed Strauss' examination methods or complained about his loitering presence in the shower and locker room, including in front of coaches and other Athletics Department staff."
But the report only identified a handful of officials by name. Jordan's name was not in there.
"Why are they anonymous," attorney Ilann Maazel told reporters. "Why is OSU hiding this information from the public."
Perkins Coie said they withheld some names from its report of people who were not directly responsible, but insisted it did not change its conclusions.
Maazel also demanded the Ohio State release the total number of male students that Strauss, who worked at the university from the mid-1970s to the late 1990s, examined.
"It's not anywhere close to 177," Maazel said. "We can't fix the problem until we know the scope of the problem."
Jordan, who was an assistant wrestling coach at the university from 1986 to 1994, was dragged into the scandal last July after Michael DiSabato and two other former Ohio State wrestlers accused him of turning a blind eye to what Strauss was doing.
Since then, the powerful Republican congressman insisted repeatedly that he knew nothing about what Strauss was doing and had not even heard any locker room talk about the abuse.
After the Perkins Coie report was released, Jordan's communications director insisted the report absolves Jordan.
"The investigators concluded what we have said from the beginning: Congressman Jordan never knew of any abuse, and if he had he would have dealt with it," Ian Fury said in a statement.
Jordan also told reporters on Capitol Hill the report "confirms everything I've said before. I didn't know about anything. If I would've, I'd have done something."
The Perkins Coie investigators, however, said in the report that "survivor accounts" and interviews with university staffers suggested that coaches knew.
"Many of the students felt that Strauss' behavior was an 'open secret,' as it appeared to them that their coaches, trainers and other team physicians were fully aware of Strauss' activities, and yet few seemed inclined to do anything to stop it," the report said.
NBC News reached out to Jordan's spokesman on Tuesday for comment. He did not respond.
Nor was there any new response from Ohio State, although the school's president Michael Drake issued an apology after the Perkins Coie report was released on Friday.
Four Strauss accusers have spoken to NBC News, one saying he spoke to Jordan directly about Strauss.
Strauss, who signed on at Ohio State as an attending physician in September 1978 and served as the team physician in the athletics department from July 1981 to June 1995, died in 2005.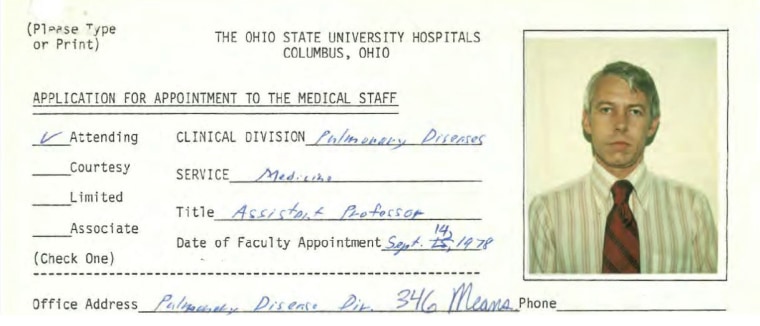 Strauss' abuse ranged from groping under the guise of a medical examination to "fondling to the point of erection and ejaculation," the report stated.
One athlete told the investigators that Strauss took him out to dinner and later performed oral sex on him. Others reported that Strauss "solicited them to participate in private, individualized photography shoots." according to the report.
Strauss also routinely showered alongside the athletes at Larkins Hall, an athletic facility on the campus, according to the report.
In a statement obtained by The Columbus Dispatch, Strauss' family stated: "Our family continues to be shocked and saddened by this tragedy. No one should ever be subjected to this type of abuse. It is heartbreaking to read of the pain and anguish so many people have suffered over these decades. Our deepest condolences go out to the abuse survivors and their families for the trauma they have endured."