A former Oklahoma City police officer accused of raping more than a dozen women while on duty was found guilty of a slew of charges by a jury Thursday.
The guilty verdicts against Daniel Holtzclaw were returned shortly after 8 p.m. local time (9 p.m. ET), at the end of a fourth day of deliberations.
Holtzclaw, 29, hung his head and began sobbing and rocking back and forth as the verdicts were read. The jury found him guilty of 18 counts of sexual battery, rape and other offenses.
Holtzclaw was charged with 36 counts of rape, forcible oral sodomy, burglary and other charges.
The sentences recommended by the jury along with each guilty verdict add up to more than 260 years, NBC affiliate KFOR reported. Hotzclaw is scheduled to be sentenced in January. District Attorney David Prater said he will ask the sentences be served consecutively.
"We're gonna ask the judge to make sure that this defendant never sees the light of day," Prater said.
Assistant District Attorney Gayland Gieger told the court that Holtzclaw preyed on vulnerable women — all African American, most with police records — he stopped while on patrol.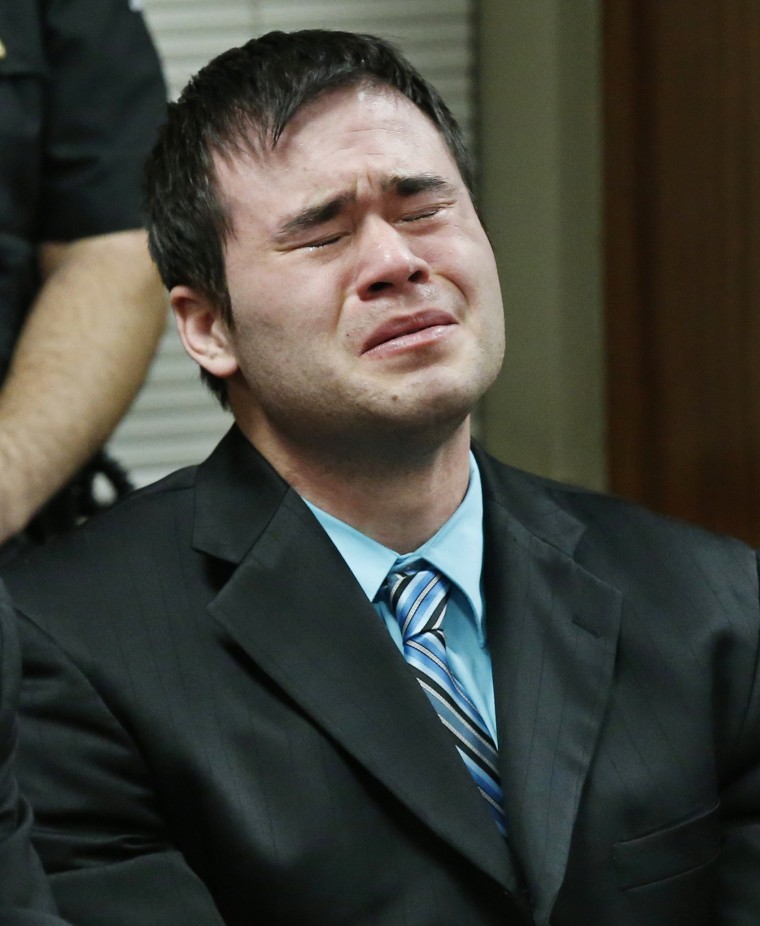 The case had racial overtones, and attracted the interest of the Black Lives Matter movement. The jury was made up of eight men and four women, all of whom appeared to be white.
Some supporters of the victims sang "Happy Birthday" — Holtzclaw turned 29 Thursday — outside court after the verdicts were read, KFOR reported.
The lead detective in the case, Kim Davis, said after the verdict: "I feel horrible for his family. It's brutal, but I think justice was served," The Associated Press reported.
Thirteen women took the stand and told strikingly similar stories — Holtzclaw coerced them into having sex after threatening to arrest them on outstanding warrants or for possessing drug paraphernalia.
Most didn't dare report what allegedly happened to them to police. "I didn't think anyone would believe me," one woman testified. "I'm a black female."
It wasn't until a black woman in her 50s — identified in court papers as J.L. — came forward and told police what allegedly happened after Holtzclaw stopped her on June 18, 2014, that an investigation was launched.
Holtzclaw was fired before the trial began. The Oklahoma City Police Department said in a statement after the guilty verdicts were reached that it "is pleased with the jury's decision."
"It is obvious the jury took their responsibilities very seriously and considered every piece of evidence presented to them," the department said. "We are satisfied with the jury's decision and firmly believe justice was served."
During the trial Holtzclaw's defense attorney, Scott Adams, questioned the accusers' credibility and whether they were high on drugs when they encountered the officer. Holtzclaw did not testify.