A gymnastics doctor accused of molesting more than 130 former patients — including Olympic gold medalists Gabby Douglas, McKayla Maroney and Aly Raisman — pleaded guilty Wednesday to criminal sexual conduct charges in a deal that will put him behind bars for at least 25 years.
Wearing an orange jail jumpsuit, a grim-faced Larry Nassar admitted to abusing seven girls, three of them when they were under the age of 13. Under the terms of his plea agreement with Michigan prosecutors, he agreed to a sentence range of 25 to 40 years.
"Guilty as stated, your honor," Nassar told the judge, a hangdog expression on his face, agreeing that he had penetrated girls with ungloved fingers under the guise of medical exams and treatments between 1998 and 2015.
In a surprise statement to the court, Nassar, 54, said he was pleading guilty to help the community "move forward."
"I pray the rosary every day for their forgiveness," he said. "I have no animosity for anyone. I just want healing. It's time."
Any of Nassar's victims can speak at his sentencing on Jan. 12. For now, Ingham County Circuit Court Judge Rosemarie Aquilina delivered a message to Nassar on their behalf.
"You used your position of trust that you had in the most vile way, to abuse children," she said.
She said it could take many years for some victims to heal "while you spend your lifetime behind bars thinking about what you did in taking away their childhood."
"You were trained as a healer, and what you did was harm them," the judge added.
While the plea hearing was taking place, Raisman — a member of the 2012 and 2016 Olympic teams — tweeted that she was "disgusted" that Nassar, who has lost his license, was referred to as a doctor.
"Larry is disgusting. Larry is a MONSTER not a doctor," she wrote.
No victims spoke during the hearing, but several held a press conference afterward to blast USA Gymnastics, which appointed Nassar team doctor, and Michigan State University, where he had his sports-medicine practice until the scandal erupted.
Rachael Denhollander said she was "grateful" for his guilty plea and "the army of women who has stopped a pedophile."
"Today we heard the truth from Larry," she said. "But we have yet to hear the truth from ... officials who kept Larry in power for decades."
Denhollander was the first of Nassar's patients to go public with allegations, telling the Indianapolis Star 15 months ago that he had assaulted her while she was a club-level gymnast in Michigan.
Over weeks and months, more and more women — some of them the biggest names in the gymnastics world — came forward to say Nassar had also preyed on them. He was such a respected figure in the gymnastics world that some didn't realize they had been abused until he was arrested.
At the start of the scandal, Nassar maintained that his "procedures" were legitimate medical practice. But his defenders dwindled after federal authorities charged him with possession of child pornography — thousands of images found on computer equipment he had thrown in the trash.
RELATED: Gymnastics Doctor Faces Accusers in Court
Even as Nassar pleaded guilty in the federal case, he was still fighting sexual assault charges leveled in two county courts. That changed last week when plea hearings were scheduled in Ingham County and Eaton County. Nassar pleaded guilty to seven counts in Ingham on Wednesday; he is scheduled to appear in Eaton next week. Nassar is due to be sentenced next month in the federal case.
Prosecutors said they will not oppose concurrent sentencing in the state cases and they will not prosecute Nassar for any of the other women who have filed complaints against him with police in Michigan.
Nassar, along with USA Gymnastics and Michigan State, still faces lawsuits from scores of former patients or their parents.
One of them, Kaylee Lorenz, spoke publicly for the first time on Wednesday. "I am tired of being labeled as Jane Doe," the 18-year-old said.
She thanked Denhollander for her bravery in being the first accuser and Raisman and Maroney for adding their voices. "It helped up to get to where we are today," she said, calling for the institutions that hired Nassar to be held accountable.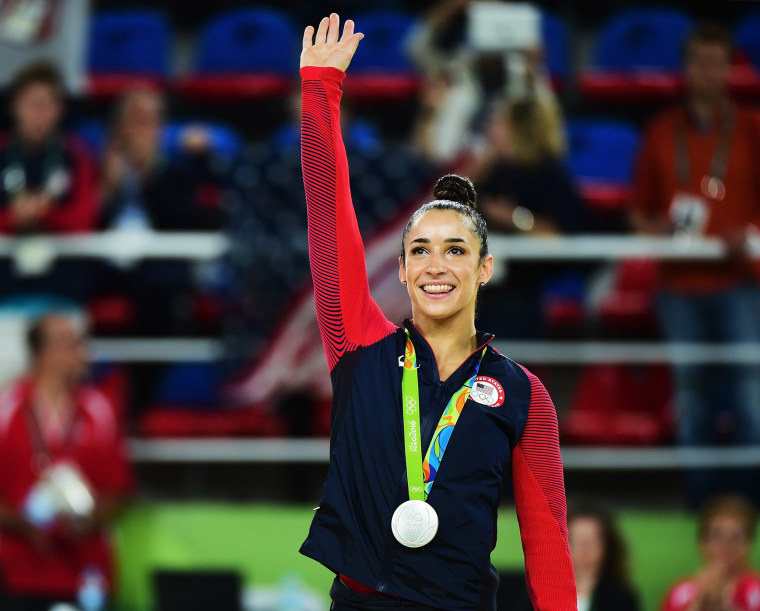 USA Gymnastics, which quietly fired Nassar in 2015 after learning of allegations, has been accused of failing to protect gymnasts from predators. Its president resigned under fire earlier this year, and the organization has recently strengthened safety policies — but some say a clean sweep of leadership is needed.
Critics also say Michigan State mishandled complaints against Nassar before the scandal became public and it fired him. The university has said it investigated any allegations brought against Nassar.
In a statement on Wednesday, Michigan State said Nassar's conviction "represents another important step toward justice for the victims. As President Simon has said, we recognize the pain sexual violence causes and deeply regret any time someone in our community experiences it. It takes tremendous courage for victims of sexual violence to come forward."