A Pennsylvania priest pleaded guilty Wednesday to sexually abusing two boys over many years — and often after Sunday Mass.
The Rev. David Poulson, who was identified in a recent grand jury report as one of 301 "predator priests" who preyed on more than a thousand boys and girls, now faces a maximum of 14 years in prison when he is sentenced. No date has been set, but Poulson will have to register as a sex offender for at least a decade.
"Poulson assaulted one of his victims repeatedly in church rectories," Pennsylvania Attorney General Josh Shapiro said Wednesday at a news conference in Harrisburg. "He made that victim go to confession and confess the abuse — to Poulson. This was the ultimate betrayal and manipulation by Poulson. He used the tools of the priesthood to further his abuse."
Poulson also sexually assaulted this victim and another boy at a remote hunting cabin the priest owned with a friend in Jefferson County.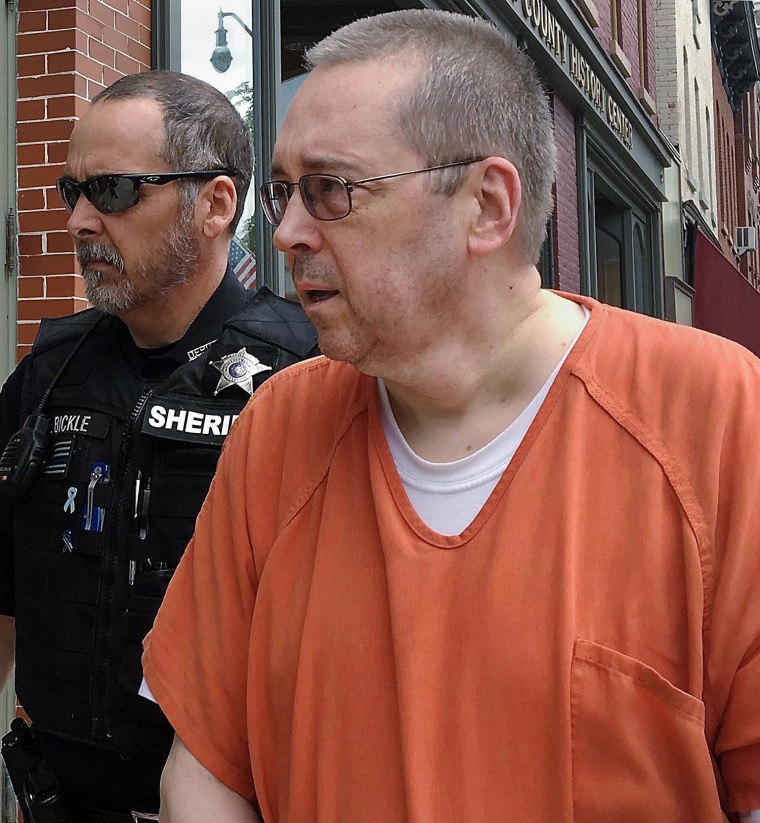 Shapiro said the cabin was off the grid and 10 miles from the nearest road, and Poulson would often watch horror movies on his laptop with the boys before he assaulted them.
The assaults happened between 2002 and 2010, Shapiro said.
The announcement came as the Pennsylvania legislature was considering reforms to the state's statute of limitations law, which is the reason why just two of the priests identified in the grand jury report have been charged with crimes.
Currently, the statute of limitations law in Pennsylvania allows victims of child sex abuse to come forward with criminal allegations until they are 50 years old. The age cutoff for filing civil claims is 30.
"It's up to Scarnati," Shapiro said, referring to Senate President Pro Tempore Joe Scarnati, a Republican with ties to the Pennsylvania Catholic Conference, which has lobbied against earlier attempts to reform the statute of limitations law.
Poulson, 64, of Oil City, Pennsylvania, has been a priest in the Erie Diocese for four decades, Shapiro said. He was charged with indecent assault, endangering the welfare of children and corruption of minors — and three of the charges are felonies.
The boys were assaulted about 20 times at St. Michael's Catholic Church in Fryburg and Saint Anthony of Padua Catholic Church in Cambridge Springs, Shapiro said.
The Diocese of Erie knew since at least May 2010 that Poulson was a predator, Shapiro said. But it did not report him to the authorities until September 2016 — after it had been served with a subpoena, Shapiro said.
It was a military chaplain at Fort Hood, Texas, who is now 23, who blew the whistle on Poulson, Shapiro said.
The other priest named in the grand jury report who was charged with a crime, the Rev. John Thomas Sweeney of the Greensburg diocese, pleaded guilty to indecent assault this summer and is awaiting his sentencing.
Standing behind Shapiro was Jim VanSickle, who claims he was molested by Poulson more than three decades ago. He had been in the Jefferson County courtroom when Poulson pleaded guilty earlier Wednesday.
"I waited 37 years of my life for this day in court, although it's not my day in court," VanSickle told The Pittsburgh Post-Gazette. "At the end when he stood up and walked out, I made sure I stood up so that he could see me."
Following Shapiro's announcement, Diocese of Erie Bishop Lawrence Persico said in a statement he was "saddened by every aspect of this situation."
"Many hearts have been broken, particularly those of the victims and their loved ones," said Persico, who vowed to contact police with all reports of sexual misconduct and cooperate with any investigations.
While Poulson still retains the title of priest, "he is completely forbidden to function as a priest," Anne-Marie Welsh, a spokeswoman for the Diocese of Erie, said in a statement.
CORRECTION (Oct. 16, 2018, 5:30 p.m. ET): A previous version of this article misstated the status of David Poulson in the title of an accompanying video. He is still a priest; he is not a former priest.