LAS VEGAS — On an evening in August, Kenneth Dorsey received a long-awaited notice in the mail from the Clark County Election Department: his voter registration card.
It was a surreal moment. Dorsey, 61, spent 11 years in prison for several burglary and theft felonies. He was released in 2013 and placed on lifetime parole, which made him unable to vote in Nevada.
But on July 1, a new state law went into effect that automatically restored the voting rights of people who had been released from prison, without any conditions, enabling them to register to vote. It was retroactive, and it applied to Dorsey.
"It gave me a sense of citizenship," Dorsey said. Since his prison release, Dorsey said he had stayed sober and found steady work as a maintenance manager at an apartment complex. He also fell in love and got married, and started a nonprofit called Planet Mike Earth, which helps keep kids out of trouble by promoting artistic and musical expression.
But voting seemed like an opportunity Dorsey would never receive. "Now, I feel more like a regular person," he said.
Officials estimate that 77,000 Nevadans, like Dorsey, who have been released from prison will have their voting rights restored.
As of 2016, Nevada ranked ninth among states with the most disenfranchised voters, with about 4 percent of its voting age population unable to vote because of felony convictions. Some who were released from prison before the law could regain the right to vote in the state, but the process was complicated, and it depended on certain factors, including the crime, how long the person had been out of prison and parole status.
"It was Byzantine," said Blair Bowie, a lawyer with the Campaign Legal Center, who worked on changing the law in Nevada last year. The Washington-based organization has been leading a nationwide campaign to restore voting rights to the formerly incarcerated.
Since 1997, more than two dozen states have amended their laws to expand such voter eligibility. At least six states, including Nevada and Colorado, have expanded voting rights to some or all people on parole or probation.
At the same time, some states, including Florida, have changed their laws to make it more difficult for felons to vote, requiring that they pay fines or restitution fees first. Seven other states have similar requirements.
Getting the right to vote is just the first step. Getting formerly incarcerated people to register and then to vote is more difficult than with the general population, advocates say. To address this, Nevada Attorney General Aaron Ford has launched a public information campaign, and local organizations have begun reaching out to former prisoners to register them. These efforts include recruiting them to pass the message on.
"It's really about lifting up people who are directly impacted and them actually leading and being in the front lines when we are out there reaching our people," said Leslie Turner, lead organizer for the Mass Liberation Project, a campaign that lobbies for criminal justice reforms. Those who have been incarcerated can more personally make the case for registering to vote, and their voices are essential to the cause, said Turner, who spent several days in jail for minor traffic violations two years ago.
Turner's campaign — an initiative of the Progressive Leadership Alliance of Nevada, a nonprofit dedicated to social justice and environmental issues — helped sponsor a voting rights block party in August in the parking lot of an Asian and soul food restaurant in Las Vegas. That's where Dorsey, along with 60 other former prisoners, registered to vote. Dorsey heard about the event through Jovan Jackson, 27, another formerly incarcerated man, who had volunteered to help promote it.
"We should help claim our community," said Jackson, who registered to vote on July 1, making him one of the first people to sign up under the new law. "When you have a struggle that you have experienced, it's important to tell people that you are not alone."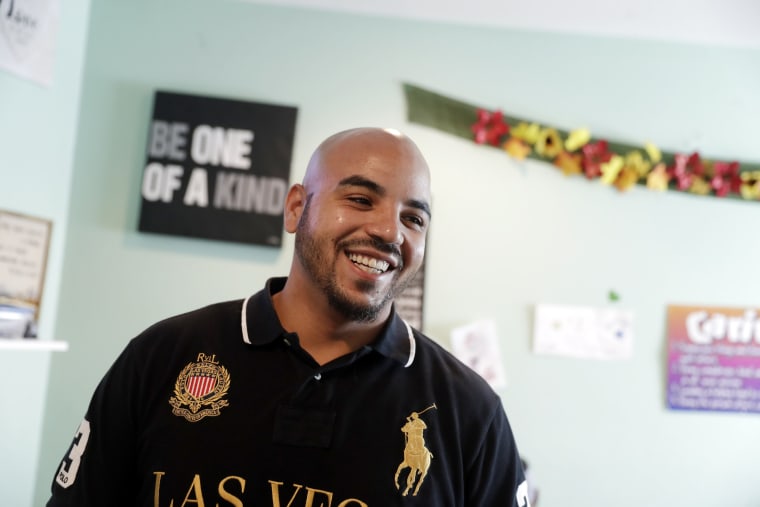 Jackson spent about two years in a Nevada prison on a robbery-related conviction. In 2018, after his release, he began volunteering with local organizations that helped needy families in Las Vegas and working with his mother at her mental health service agency. He's going to college, pursuing a degree in social work, and he started his own nonprofit, Better Minds, Better Communities, which focuses on helping Las Vegas' homeless population.
It was when he began looking into getting his criminal record sealed that Jackson said he became more interested in his right to vote. He learned that a law passed in Nevada in 2017 had shortened the time he'd have to wait to apply to seal his record from 15 years to five. Jackson said that made him realize that being able to vote for state legislators who supported such measures could directly affect his future. It's a point he stresses to other formerly incarcerated people when he talks to them about registering to vote.
"We need to inform people, if you don't like the justice system, now you have the opportunity to choose your judge, now you have the opportunity to choose your sheriff, now you have the opportunity to choose your DA," he said.
If tens of thousands of formerly disenfranchised voters do turn out to the polls, they could play a role in deciding local and state races, said David Damore, a political science professor at the University of Nevada, Las Vegas.
"A competitive race in Nevada is usually won by 30,000 to 40,000 votes," said Damore, who has studied Nevada elections for 20 years. "So hypothetically, if you captured a third of that new population of voters, that's another 25,000, and 80 percent of those vote Democratic, then yes it could impact a state race."
Formerly incarcerated people do tend to vote for Democrats, election and criminal justice experts say, but they also tend to vote in lower numbers than the population as a whole. A 2008 study of formerly incarcerated people eligible to vote in five states found an average turnout of about 22 percent, below the national average of about 60 percent.
Damore noted that strong mobilization efforts will be crucial, because those who have spent time in prison may have been disenfranchised for years. To reach them, civic groups are working with organizations that provide social services to formerly incarcerated people, with the goal of not just registering them but also helping with jobs, housing and other more urgent needs, said Emily Zamora, executive director of Silver State Voices, a nonprofit civic engagement organization, which lobbied for the change in voting rights.
"Yes, the goal is that we are registering in this community, but it cannot just be a transactional thing like register to vote and talk to you later," said Zamora, whose organization helps oversee Let Nevadans Vote, a growing coalition working to register formerly incarcerated Nevadans. "We see this as a holistic approach."
For Dorsey, having his voting rights restored make him feel like he could have an opinion about politics and elections. In the past, he didn't bother learning much about political races.
"Now I feel like I can spend time learning about that stuff and actually talking to people," Dorsey said.
His wife, Melody Dorsey, 52, said that she used to talk to her husband about how she cast her ballot each Election Day and why she made her choice, but she noticed that it made him uncomfortable, so she stopped. Now, the couple is looking forward to sitting at their dinner table and talking about the 2020 election and how they'll each vote.
"He can feel just like me and he knows that his opinion matters," she said. "He can go check off that ballot the way he wants to."