The two ex-Boy Scout leaders who high-fived and cheered as they toppled over an ancient rock formation in Utah were sentenced Tuesday to a year of probation and a fine — but dodged jail time.
Glenn Taylor, 45, and David Hall, 42, pleaded guilty to lesser misdemeanor charges in Utah's 7th District Court, The Salt Lake Tribune reported.
Taylor, who was captured on video pushing over the boulder — estimated to be about 170 million years old — pleaded guilty to criminal mischief. Hall, his cohort, pleaded guilty to attempted criminal mischief.
The men faced as many as five years in prison for their costly stunt last October in Goblin Valley State Park. Instead, Judge Douglas Thomas sought to punish the men financially.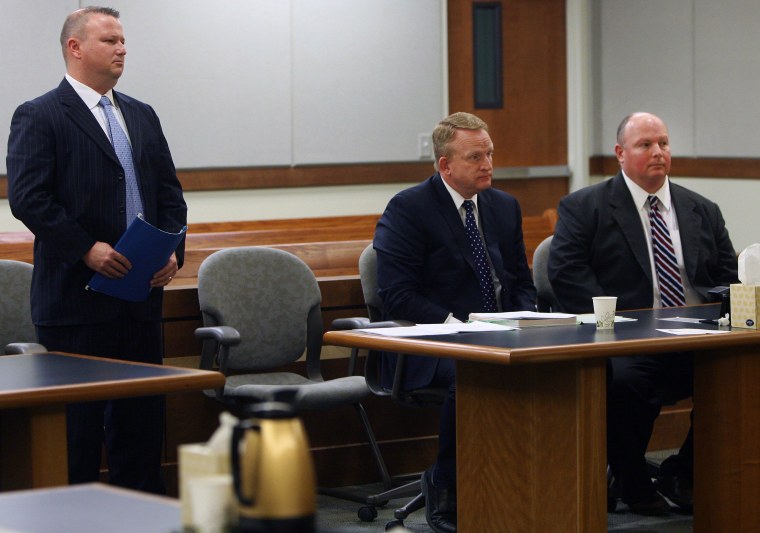 Although an exact restitution figure has yet to be determined, they could fork over thousands in fines — money that would go toward putting warning signs in the state park, The Tribune reported.
They also must pay $925 in court fees and split a $1,500 investigative cost after engineers had to assess damages to the 2,000-pound sandstone formation, also known as a hoodoo.
After boasting online of the incident, the men told NBC News they had good intentions when they knocked the rock over, saying they were preventing it from hurting anyone.
"We did something right the wrong way," Taylor said.
They were later removed from their leadership positions with the Boy Scouts.
— Erik Ortiz