Lawyers for jailed former Subway pitchman Jared Fogle in legal papers are blaming the parents of a girl who was secretly filmed in a child porn scheme — accusing them of being responsible for the emotional distress that she suffered.
Fogle, 39, was sentenced in November to 15-and-a-half years in prison for receiving child pornography and traveling to engage in sexual conduct with a minor.
Fogle's lawyers filed the motion in response to a lawsuit against him that involves a girl who was one of several minors secretly filmed changing clothes or while bathing during stays at the home of the man who ran Fogle's charity between 2011 and 2015. Images and videos of the kids were sent to Fogle, prosecutors say.
The lawsuit against Fogle accuses the former charity foundation executive, Russell Taylor, of causing the girl personal injuries and emotional distress.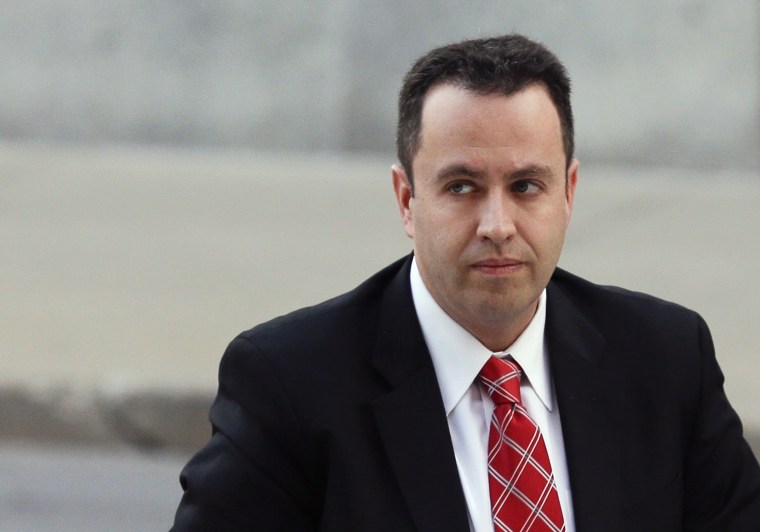 But the motion filed by Fogle's attorneys Thursday argues the girl's divorced parents "maintained a hateful and abusive relationship toward each other" — and that, as well as fights and abuse, caused the girl emotional and psychological damage before the secret recordings were discovered.
The girl is referred to as "Jane Doe" to protect her privacy. Court papers do not say how old she was at the time she was secretly filmed.
Related: Ex-Subway Pitchman Jared Fogle's Victims Get at Least $1 Million
The motion was filed in a federal court in Indianapolis. It seeks permission to file a third-party complaint against the parents, and that they be held liable for the injuries alleged in the civil suit.
A federal appeals court panel in June upheld Fogel's prison sentence, rejecting arguments that the judge mistakenly believed the ex-pitchman produced the child pornography.
Taylor pleaded guilty and was sentenced to 27 years in prison.