INDIANAPOLIS — Ten victims of former Subway pitchman Jared Fogle have received a total of $1 million in restitution since he agreed to plead guilty to child pornography and sex crime charges, and his four other victims could get their checks before he's sentenced next month.
The $100,000 checks were hand-delivered to each of the 10 victims or their parents over the past several weeks, with each signing a form saying that they had received the money and that it is intended to benefit that particular victim, Assistant U.S. Attorney Steven DeBrota told The Associated Press on Thursday.
Three adults and seven minors had received their checks as of Thursday, said DeBrota, who said he's handled only one other case in which restitution was paid to victims before sentencing in nearly a quarter-century of prosecuting child porn cases.
DeBrota said that by the time a federal judge sentences Fogle on Nov. 19 to a minimum of five years in prison, prosecutors expect to have either presented checks to Fogle's four other victims or to have plans in place to disburse those funds to them.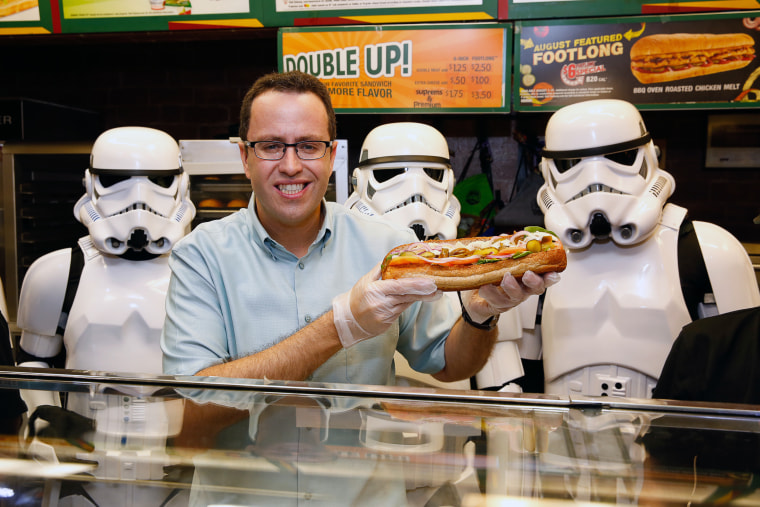 That money will pay for mental health counseling, medical care and other needs the 14 victims might have now or in the future to help them recover from the trauma.
DeBrota said that money will help them "go on with their lives and put them where they should have been had none of this happened."
Fogle, 38, a father of two, agreed to plead guilty Aug. 19 to one count each of traveling to engage in illicit sexual conduct with a minor and distribution and receipt of child pornography. Prosecutors have agreed not to seek a sentence of more than 12½ years in prison, and Fogle agreed not to ask for less than five years.
Fogle became a Subway spokesman more than 15 years ago after shedding more than 200 pounds as a college student, in part by eating the chain's sandwiches. Subway ended its relationship with Fogle after authorities raided his suburban Indianapolis home in July.
Related: Subway's Challenge: How to Erase Jared Fogle From Its Brand
Court documents detailing the charges against Fogle say that he had sex at New York City hotels with two girls under age 18 —one of whom was 16 at the time - and paid them for that sex.
Fogle's attorneys didn't respond to a request for comment.