The ousted leader of a small American Indian tribe in northeastern California wore a bulletproof vest to her first court appearance Tuesday on charges she shot and killed four people and tried to murder two others at a meeting to evict her from tribal housing.
Cherie Lash Rhoades, 44, was in Modoc County Superior Court in Alturas, Calif., for arraignment on four counts of murder and two counts of attempted murder. The charges carry a potential death penalty due to the multiple victims.
Judge David A. Mason agreed to continue the arraignment until Monday at the defense's request, said District Attorney Jordan Funk.
Defense attorney Antonio Alvarez told The Associated Press he had just gotten the case and had no comment.
Rhoades, of Cedarville, Calif., has been held without bail at an undisclosed location since her arrest Thursday outside the headquarters building in Alturas.
The Cedarville Rancheria Tribal Council was meeting that afternoon to consider her appeal of her eviction from tribal housing, tribal attorney Jack Duran has said
Rhoades had been suspended as tribal chairwoman just three weeks earlier, pending a federal investigation into allegations that she embezzled at least $50,000 from the tribe. Her brother Rurik Davis, 50, was serving as interim tribal chairman.
During the hearing, Rhoades opened fire with a 9 mm semi-automatic pistol fire, killing Davis, two other Tribal Council members and a tribal administrator, court documents allege.
The slain council members included Rhoades' 19-year-old niece, Angel Penn, who was holding her newborn baby on her lap when she was killed, Duran said. The baby wasn't hurt and was being placed with a family member.
After running out of bullets, Rhoades grabbed a kitchen knife, police said. She was stabbing someone in the parking lot when officers arrested her, court documents say.
Rhoades was later transferred to an undisclosed location because the husband of one of the victims works at the county jail, authorities said.
Also killed in the shooting were Rhoades' nephew Glenn Calonicco, 30, another council member; and tribal administrator Shelia Lynn Russo, 47.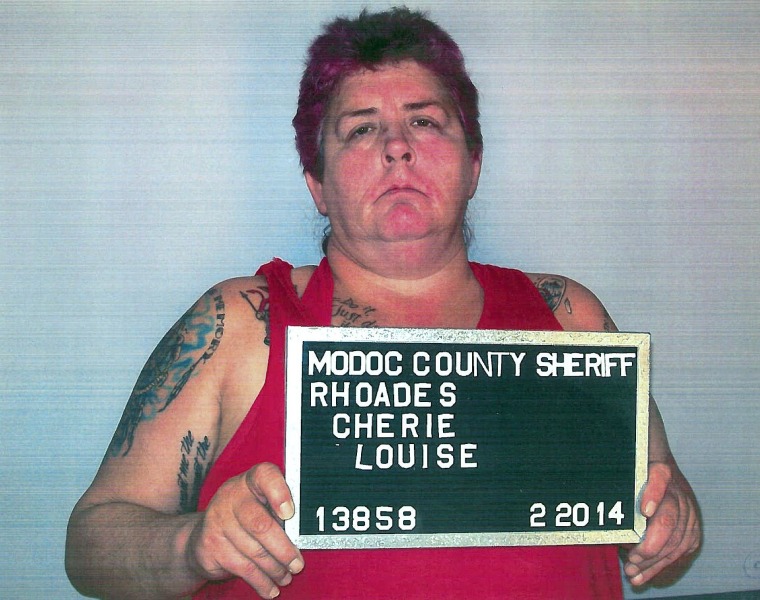 — The Associated Press