/ Source: Associated Press
TULSA, Okla. — A white former Tulsa police officer who resigned after being acquitted of manslaughter in the fatal shooting of an unarmed black man is going to work for the sheriff's office in a neighboring county.
Rogers County Sheriff Scott Walton told reporters in Tulsa that Betty Shelby will work for his office. He did not say what her duties will be, but he has scheduled a news conference for Thursday morning.
Shelby, 43, was found not guilty in May of manslaughter in the September shooting death of Terence Crutcher. Shelby was on patrol Sept. 16, 2016, when she shot Crutcher as he stood near his SUV in the middle of a Tulsa street.
She returned to the Tulsa Police Department in an administrative position, but resigned in July, saying she felt isolated from other officers.
Walton is a former Tulsa police officer and a vocal supporter of Shelby as she awaited trial.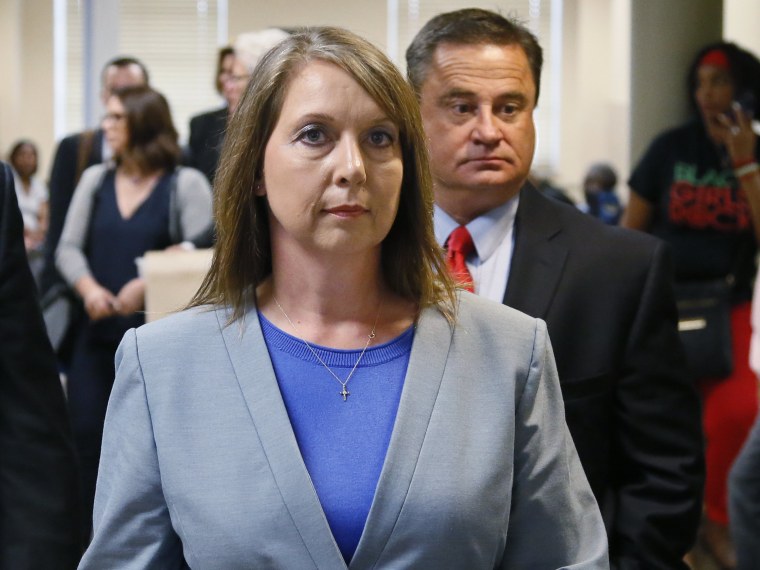 Shelby testified that she was scared because Crutcher appeared to be under the influence of drugs, didn't obey her commands and looked like he was reaching inside his vehicle. Prosecutors told jurors that Shelby overreacted, noting that videos from a patrol car dashboard and a police helicopter showed Crutcher had his hands in the air.
Crutcher's family filed a wrongful death lawsuit in federal court in June against Shelby and the city of Tulsa. The lawsuit seeks at least $75,000 in damages and calls for widespread reform in the Tulsa police department, including mandatory training for officers on managing suspects with mental health or substance abuse issues.