The ex-wife of former NBA player Lorenzen Wright on Thursday admitted that she planned his 2010 slaying and will spend between eight and 30 years behind bars.
Sherra Wright pleaded guilty in a Memphis court to facilitation to first-degree murder, and facilitation to attempted murder on an earlier attempt to kill the 13-year pro basketball player.
Prosecutors have said Sherra Wright conspired to kill her ex-husband in July 2010. Lorenzen Wright's bullet-riddled, 6-foot-11 body was found in the swampy outskirts of Memphis, 10 days after he was reported missing.
Wearing an orange jail top, Sherra Wright answered a long series of questions from Shelby County Criminal Court Judge Lee Coffee, confirming that she's agreed to give up her right to a trial so she could plead guilty.
In exchange for pleading guilty, a first-degree murder charge against her was dismissed. That top charge could have carried a prison term of 51 to 60 years behind bars.
The player's mother, Deborah Marion, when given the chance to address Sherra Wright in court, was remarkably civil to the woman who planned her son's slaying.
Marion thanked Sherra Wright for raising her six grandchildren and was looking forward to having them move in with her in Tennessee.
"It's OK to talk to grandma," Marion told Wright. "We still love them. That is all I want is my grandkids. That's it. I just hate what happened to my child. But he has some nice looking kids for his grandma. They want to see me, I want to see them."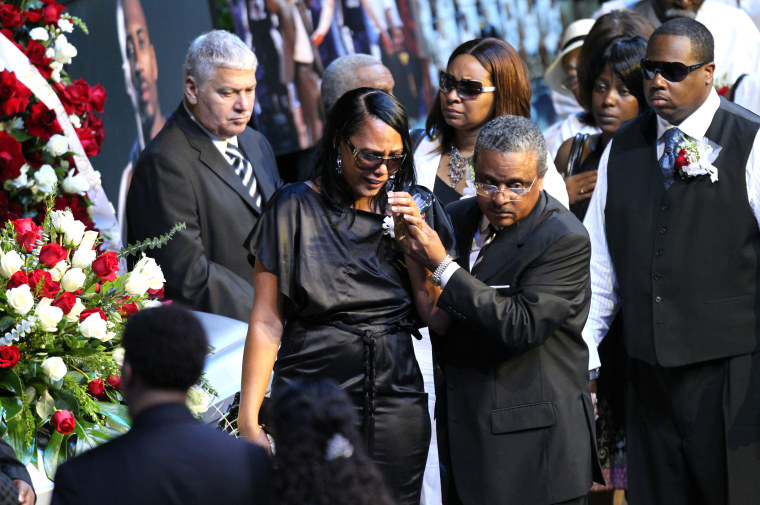 In the plea bargain, Sherra Wright would be eligible for parole in eight years.
"There'll be parole hearings," prosecutor Paul Hagerman said. "That doesn't mean that they'll be granted."
And Marion promised to fight Wright's parole at future hearings.
"My son is serving life," she said outside court.
It wasn't immediately clear how Thursday's court action will affect the upcoming trial of Sherra Wright's co-defendant, Billy Turner, who prosecutors say is a co-conspirator in the murder of Lorenzen Wright.
"She had a role in the first-degree murder of Lorenzen Wright," Hagerman said. "We still have a co-defendant pending. He has trial date in September."
Sherra Wright's defense lawyer Juni Ganguli said had this gone to trial, he would have put witnesses on the stand to testify that Lorenzen Wright regularly beat his wife and kids for years, even after their divorce.
"She feared that Mr. Wright would never leave her alone and she recruited Billy Turner to kill Mr. Wright because she was sick of getting beaten and that's a very flawed battered woman syndrome defense," Ganguli told reporters outside court.
But even with that "scorched earth" defense, Ganguli said the threat of a first-degree murder conviction was too much of a threat.
"But in the end, it might lead to a first-degree murder conviction and that's not something I could risk," Ganguli said.
A lawyer for Turner could not be immediately reached for comment Thursday.
Turner, a landscaper in the Memphis suburb of Collierville, and Sherra Wright knew each other from attending the same church.
Wright, 34 when he died, grew up in Memphis and played college basketball at the University of Memphis. His 13-year NBA career included stops with the Memphis Grizzlies, Los Angeles Clippers, Atlanta Hawks and Sacramento Kings.