A secret NSA map obtained exclusively by NBC News shows the Chinese government's massive cyber assault on all sectors of the U.S economy, including major firms like Google and Lockheed Martin, as well as the U.S. government and military.
The map uses red dots to mark more than 600 corporate, private or government "Victims of Chinese Cyber Espionage" that were attacked over a five-year period, with clusters in America's industrial centers. The entire Northeast Corridor from Washington to Boston is blanketed in red, as is California's Silicon Valley, with other concentrations in Dallas, Miami, Chicago, Seattle, L.A. and Detroit. The highest number of attacks was in California, which had almost 50.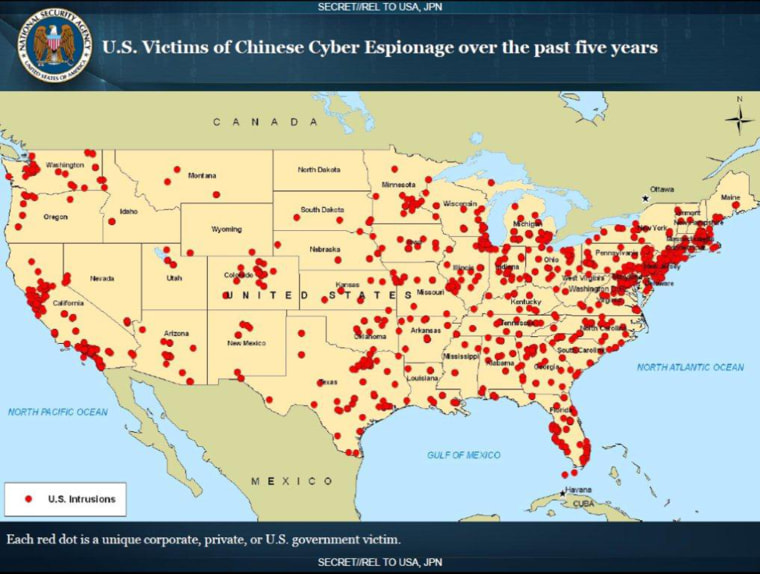 Each dot represents a successful Chinese attempt to steal corporate and military secrets and data about America's critical infrastructure, particularly the electrical power and telecommunications and internet backbone. And the prizes that China pilfered during its "intrusions" included everything from specifications for hybrid cars to formulas for pharmaceutical products to details about U.S. military and civilian air traffic control systems, according to intelligence sources.
The map was part of an NSA briefing prepared by the NSA Threat Operations Center (NTOC) in February 2014, an intelligence source told NBC News. The briefing highlighted China's interest in Google and defense contractors like Lockheed Martin, and in air traffic control systems. It catalogued the documents and data Chinese government hackers have "exfiltrated" -- stolen -- from U.S. corporate, government and military networks, and also listed the number and origin of China's "exploitations and attacks."
The map suggests that NSA has been able to monitor and assess the Chinese cyber espionage operations, and knows which specific companies, government agencies and computer networks are being targeted.
The NSA did not immediately respond to repeated requests for comment.