A fire at an ExxonMobil oil refinery in Texas left several people injured early Thursday after what officials and local residents suggested may have been an explosion.
At least three people were transported to hospital by air ambulance as authorities responded to the "major industrial accident" in Baytown, just over 25 miles east of Houston, officials said.
The Harris County Sheriff's Office said deputies were responding to the incident and that "some injuries" had been reported. It asked residents to avoid the area following the blaze, which broke out at around 1 a.m. local time (2 a.m. ET).
In a separate statement, Harris County Sheriff Ed Gonzalez said at least four people had been injured, with three taken to hospital by air ambulance. A fourth person was also being transported to hospital, he said.
Gonzalez said initial reports suggested that "some type of explosion" had occurred inside the plant.
He said that "for now" there were no indications that nearby residents would need to evacuate the area or shelter-in-place.
Speaking at a news conference at around 5:30 a.m. ET, Rohan Davis, a refinery manager at the ExxonMobil site, said that all four people in hospital appeared to be in stable condition. 
He said that all other personnel at the facility, which houses a chemical plant, an olefins plant and a 560,500 barrel-per-day oil refinery, according to Reuters, had been accounted for.
Davis said he could not confirm whether an explosion had taken place at the facility.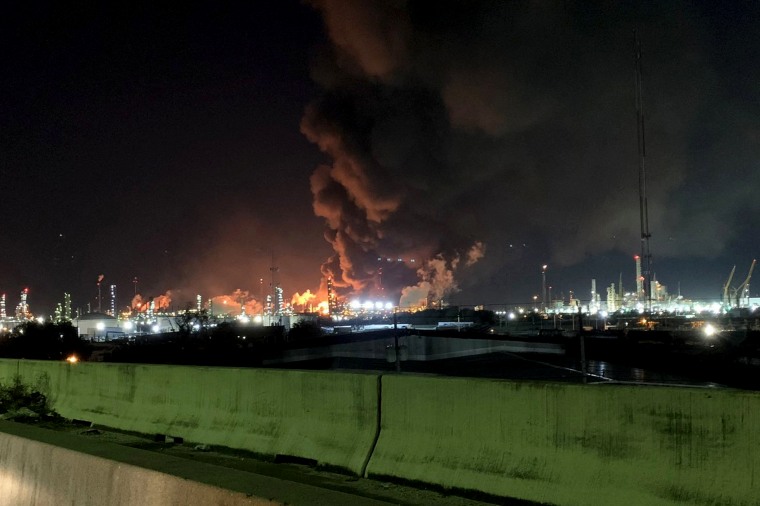 "At this time, we're still collecting all that information," he said, adding: "We will conduct a full and thorough investigation." 
Several residents in the area described feeling their homes shake after what they said appeared to be an "explosion."
"I was just laying in bed and then all of a sudden I felt. like, a wave," Sarah Martinez, who lives right across from the plant with her 4-year-old son, told NBC News. "It was like a weird feeling, like a wave and then there was a rumble in my apartment and then the next thing I know, all my pictures in my living room are on the floor."
"I got really scared," Martinez, 27, said. "I didn't know what it was. It was so loud."
Martinez said she stayed up for hours, watching the scene unfold. She said fire crews appeared to contain the blaze within a short time, but by around 10 a.m. local time Thursday morning, smoke was still visible.
Harley, a 22-year-old living with her boyfriend about two miles from the ExxonMobil facility, said she thought the blast was "a bomb or an earthquake."
"It was very startling," said Harley, who asked that her last name be withheld. She said her windows, air conditioning unit and television started rattling following what she believed was an explosion.
"I was nervous to go to sleep," she said. "I didn't want there to be an evacuation and I wouldn't know because I was sleeping."
Harley said the experience was reminiscent of a similar incident in July 2019, when an explosion and fire broke out at the same facility.
"But I feel as if this one was louder and bigger than the one in 2019," she said.
In that incident, more than 60 people were sent for medical evaluation following the blast. A shelter-in-place order was also issued, affecting around 5,000 people in the area.
Just months before, in March 2019, another fire had also broken out at the refinery. In that case, the blaze was extinguished hours after it began, but Harris County officials said it continued to release toxic pollutants for eight more days.
The county has previously sued ExxonMobil, accusing the company of violating the federal Clean Air Act.
Harley said she was personally concerned about the potential impact incidents like this one and the fire in 2019 could potentially have on air quality.
As someone who lives close to the refinery, she said, "it's very concerning. You have no clue what's being distributed and being released in the air that could possibly be extremely harmful and toxic."
Martinez said she too had concerns about the air quality, but said she was not worried about continuing to live near the plant following the incident.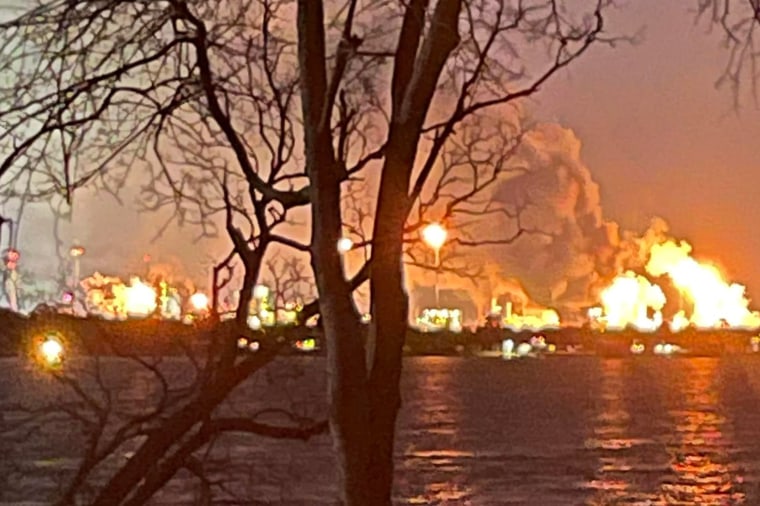 Davis said industrial hygiene staff were monitoring the air quality at the site and fence line following Thursday's fire. He said that so far, there appeared to be no adverse impact due to the blaze.
A number of other residents took to Twitter to share their concerns following what they too described as an "explosion."
Download the NBC News app for breaking news and politics 
In a statement several hours after the fire broke out, ExxonMobil said its emergency response teams were still working to extinguish the fire.
"Our first priority is people in the community and in our facilities," the company said.
It also apologized for "any disruption or inconvenience that this incident may have caused the community.
The Baytown Fire Department said its crews had not responded to the incident.