An explosion in Harrisonburg, Virginia, on Saturday morning sent huge plumes of smoke billowing into the air and left two people with life-threatening injuries, authorities said.
The blast occurred near a site where about 30 people from James Madison University's Army ROTC program were participating in a race, the university in Harrisonburg said.
Three students suffered minor injuries, including two who were were treated at the scene, and one who was taken to a hospital after the explosion. That student also had minor injuries and was expected to be released soon, the university said earlier Saturday.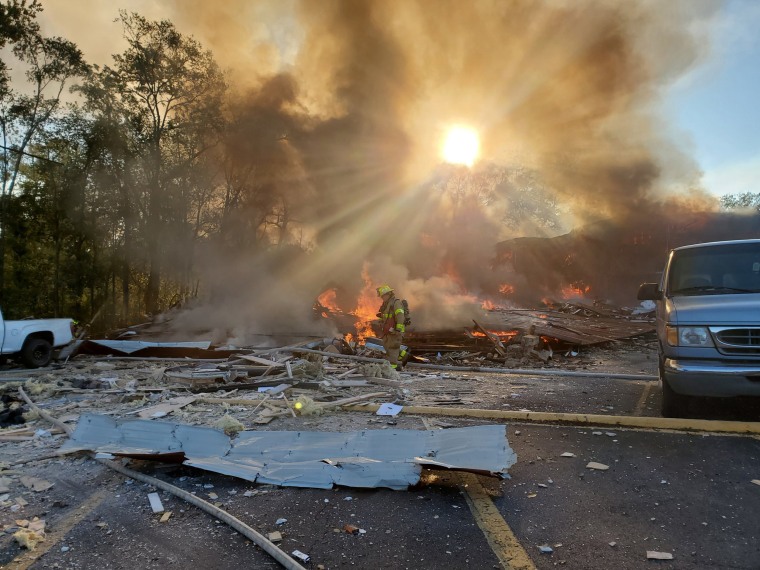 "Students involved in this incident are confirmed to be part of a group of about 30 individuals from JMU's Army ROTC Program that were participating in a U.S. Army Ten Mile race in Harrisonburg when a building within approximately 30 yards of the start and finish line seemingly exploded," the university said in a Facebook post.
The school said two others who were taken to the hospital after the blast were not students.
Harrisonburg is about 130 miles southwest of Washington, D.C., and the explosion occurred in a shopping center, according to the Richmond Times-Dispatch.
Officials said at a news conference Saturday that the cause of the blast was under investigation.
City Fire Chief Matthew Tobia said the fire was still active but contained, and there were no immediate concerns for additional explosions.
Gov. Ralph Northam said in a tweet earlier in the day that he was monitoring the situation, which he referred to as a gas explosion.
"First responders and firefighters are on the scene, and we have deployed state emergency personnel for additional support. Please avoid the area," he wrote.
Christopher B. Jones, a city councilman in Harrisonburg, told NBC News that he lives about a mile and a half from the explosion site and that the blast shook his bed.
"Our kids came running down the hallway. My wife came running back up the steps. The entire bed shook and rattled, and that's on the third floor of my home, which is completely brick, to give you some perspective," he said.
A video posted on Twitter showed smoke billowing from a building. The person who uploaded the video said the explosion was "heard and felt miles away."