An apparent natural gas explosion flattened a home in West Virginia on Friday, killing a girl, injuring three other people and damaging at least six other nearby homes, authorities said.
"There's nothing left of that house," Brooke County Sheriff Chuck Jackson said a news conference after the explosion Friday morning in the small town Follansbee, on the Ohio River near the Pennsylvania state line.
Authorities said that a girl was killed and that her parents and her sister were injured. They wouldn't confirm the girl's identity pending an autopsy, but they said the home belonged to George and Tracy Mozingo. Property records show that the Mozingos moved into the home about three months ago.
Neighbors told NBC station WTOV of nearby Steubenville, Ohio, that the Mozingos have two daughters, as well as a son, who they said wasn't home at the time of the blast.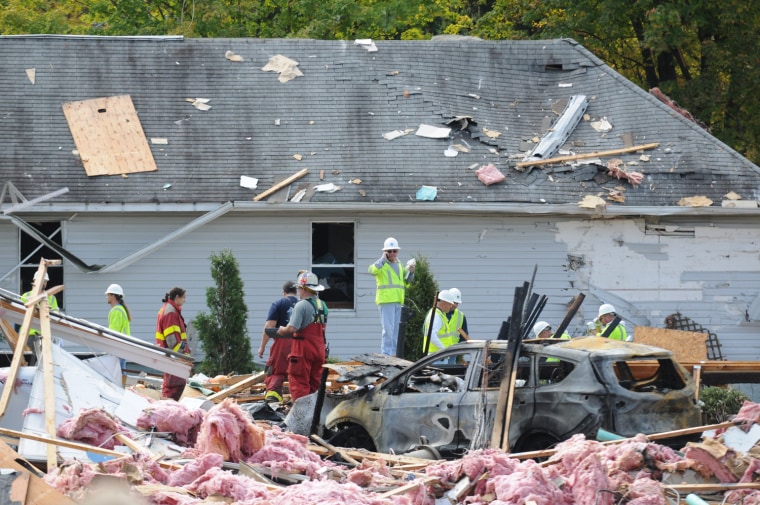 The Brooke County school system said crisis counselors were being made available for students and staff at Follansbee Middle School.
The explosion, which occurred about 7 a.m. ET, obliterated the house and could be heard by residents as far as 10 miles away. Some of the six nearby homes that were damaged were described as unlivable.
"I live in the valley below, and I have a stone house, and it blew five of the stones in," Sharon Stewart, 67, told NBC station WPXI of Pittsburgh.
Barbara Bottorf, 77, who lives two doors down from the house, said the explosion blew out several of her windows.
"I thought it was World War II," she told WPXI. "I thought our house fell in."
Jackson said a neighbor called 911 to report an odor of natural gas shortly before the explosion.
"We had fire companies here," he said. "It was under investigation, and within moments we had the explosion."
"I've been to a number of these natural gas explosions," he said. "This is as bad as anything I've ever seen. I don't have words to describe it."
In a statement, Mountaineer Gas Co. said it was "still too early to determine the cause."
"We have surveyed the area, and there do not appear to be any safety concerns at this time," the utility said. "While all the facts are being determined, we want to assure the public we are on the scene with the fire marshal and local emergency officials."