SEATTLE—The Boy Scouts of America on Monday banned an openly gay Scoutmaster from the organization, saying its national policy barred gay adults from membership.
Geoff McGrath, 49, leader of Troop 98 in Seattle's Rainier Beach neighborhood, is believed to be the first gay adult to be booted from the Boy Scouts of America since it held a controversial ballot last May allowing gay youth—but not adults—to participate in one of the country's most popular youth organizations. The Scouts had severed ties with gay adults in previous years, before the vote to admit gay youth, but McGrath, an Eagle Scout, had been hoping for a different response in this new era of Scouting.
"It's extremely disappointing to not be fully supported and defended in my membership," McGrath told NBC News. "They are complaining that the problem [his status as an openly gay man] is a distraction to Scouting and they don't seem to understand that the distraction is self-inflicted."
The BSA confirmed that the organization has "revoked" McGrath's membership.
"Our policy is that we do not ask people about their sexual orientation, and it's not an issue until they deliberately inject it into Scouting in an inappropriate fashion," BSA spokesman Deron Smith said in an email. Until NBC's inquiry, "he [McGrath] hadn't deliberately injected it into Scouting in an inappropriate fashion," he wrote.
"We spoke with Mr. McGrath today and based on the information he provided, the National Council has revoked his registration," Smith added.
Until Monday, McGrath believed himself to be the only openly gay Scoutmaster in the nation, having won approval last fall to run a troop despite the organization's ban against gay adults. McGrath said he didn't hide his sexual orientation from Scouting leaders, but Seattle's top BSA official told NBC News that she never knew he was gay.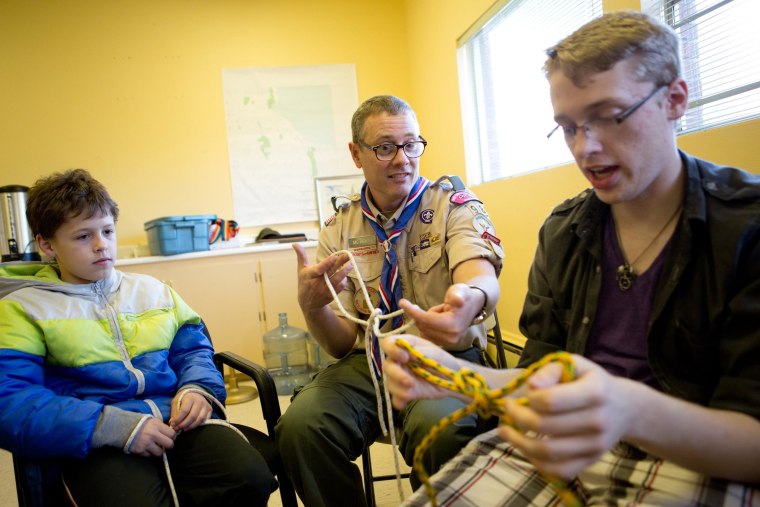 McGrath said starting the unit was not a publicity stunt but a bid to serve youth and rejoin the contentious discussion around gay and lesbian adult membership.
"If you don't participate, you're not part of the conversation," McGrath, a 49-year-old software engineer, said in an exclusive interview. "Yelling from the outside is not conversing. So we're on the inside doing good work. Talking about the gay and lesbian issue is not the biggest part of what we do—it's the smallest part."
In recent years, the Scouts have wrestled with the question of whether or not to allow gays into its ranks. The controversy came to a head last year after the Boy Scouts' National Council voted to allow gay youth as of Jan. 1 but not adults, a decision that left people on both sides of the debate feeling shortchanged.
"It's extremely disappointing to not be fully supported and defended in my membership," McGrath said.
McGrath's Troop 98 is part of the BSA's Chief Seattle Council, which said late Sunday that it didn't inquire about his sexual orientation—as directed by BSA policy—when he applied for a leadership position, according to Sharon Moulds, the council's top professional leader.
Moulds said she found out McGrath was gay only after NBC News contacted her. "It was then that we became aware of his intentions to make a public statement about his orientation and use our program as a means to further a personal agenda," she wrote in an email.
Troop 98 got its start not long after the contentious membership ballot. Local clergy wanted to start a new youth program since there were few in the neighborhood, said Rev. Monica Corsaro of Rainier Beach United Methodist Church. The clergy reached out to McGrath, a member of the Methodist church, to see if he could lead a Boy Scout unit.
McGrath, a married Eagle Scout who has been with his husband for 20 years, said he worried his sexual orientation would sink the effort since openly gay Scoutmasters in previous years—before the vote to admit gay youth—have been booted from Scouting.
And McGrath knows this from his own experience, too. At age 22, after revealing to the leaders of his Seattle-area troop that he was gay, McGrath said they rescinded an Asst. Scoutmaster post they'd offered him and told him he was done with Scouting. It was the most painful part of his decision to come out as gay, he said, and led to his excommunication the next year from the Mormon church that had sponsored his Boy Scout unit. That ended his relationship with the organization he had advanced through since he was a child—or so he thought.
After struggling with rejection from his Mormon elders, and after seeing his identical twin brother Dave, who is straight, campaign for gays to be admitted to Scouting, McGrath thought it was time he do what he could to help bring about change: He decided to start an inclusive troop.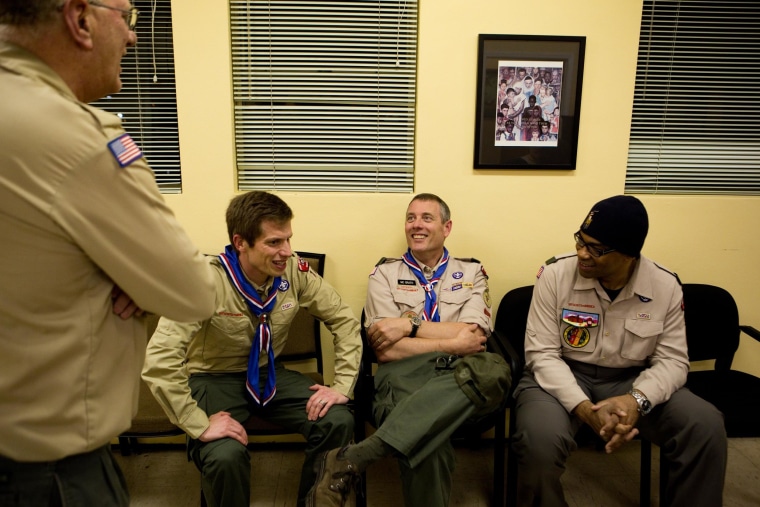 "Mostly it's about ending the silence," said McGrath, a former social worker. Speaking out about gay and lesbian concerns in Scouting "doesn't mean drowning out the other issues," he added. "It means becoming an equal participant with everyone else. That's all."
Rainier Beach United Methodist Church, which performs same-sex marriages, became the troop's charter partner. Corsaro said she insisted McGrath serve as Scoutmaster, though they knew it was against BSA policy.
"I wouldn't have a Boy Scout troop unless we did it this way," Corsaro said, noting that many gay couples live in the community. "This is who we are."
After winning approval last fall, the troop set about holding the meetings, campouts, hikes and work toward earning merit badges that make up Scouting. It was soon joined by a Cub Scout pack (led by another man) as parents with young boys heard about the new unit. The fact that McGrath is gay is among the first pieces of information given to parents whose children join. The troop is also described on the Boy Scouts' website as "fully inclusive."
"One of the things that's different now with our troop from when I was a youth in the Scouts, was there were no identifiable gay or lesbian adults," McGrath said, recalling the isolation and shame he felt as a teen when he thought he was the only gay person around.
Some parents and their boys gathered last Thursday at the church for the weekly Boy Scouts' meeting said they had no problem with McGrath's sexual orientation. Many said they were pleased with the program, looking on while their sons made knots, marched with flags and built a stretcher. A boy from Burma whose family recently immigrated to the U.S. came for the first time and immediately asked to sign up for Cub Scouts.
"Anyone who is willing to step forward and provide an opportunity for our youth should be supported, and Geoff has done an excellent job," said Denise Mimura, whose son, Jonathan, 14 and straight, is in the troop. "If anyone has an issue with this, then where are they?"
"Mostly it's about ending the silence. It means becoming an equal participant with everyone else. That's all."
Travis Beach, a 17-year-old who entered the Boy Scouts for the first time last fall, said he'd learned a lot from McGrath, like how to camp in snow caves. "It was exhilarating," Beach, who is straight, said of the unit's recent outing. He didn't think McGrath's sexual orientation was a big deal and said his being out was "setting a great example" by showing he wasn't afraid to be himself.
The unit currently counts only heterosexual boys among its ranks, but a gay teen, 17-year-old Koyle Kendrick, said he plans to join after he finishes his end-of-year exams. He'd left another troop in 2013 that he didn't feel was gay friendly and looked forward to having a gay Scoutmaster.
"I'll be more comfortable going back into Scouting and being in an inclusive troop," he said, adding of McGrath, "He'll understand where I'm coming from."
Corsaro, of Rainier Beach United Methodist Church, the troop's charter partner, said the church will continue with the Boy Scouts—and also support McGrath.
"We're going to stand with Geoff, and we're going to stand with the Boy Scouts," she said. "Because at the end of the day, this is about raising youth and having good role models."
Yet seeing another gay leader kicked out of Scouting was tough, said Zach Wahls, co-founder of Scouts for Equality, which advocates for including gay adults in the Boy Scouts.
"It hurts to watch this happen," he said. "This troop and this Cub Scout pack would not exist without Geoffrey McGrath and the fact that they would remove somebody who is growing Scouting just shows how out of whack this policy is."
The Boy Scouts have experienced declining membership in the last decade, though Smith said they couldn't attribute the drop to any one single factor. Enrollment fell 4 percent from 2011 to 2012, and 6 percent last year.
A group of ex-Boy Scouts who splintered off after the vote to form their own Christian-based youth program said talk of sexuality shouldn't have a place in organizations like Scouting.
"We just think that that's inappropriate," said John Stemberger, board chairman of Trail Life USA, which has 305 troops – some former Boy Scouts - in 44 states. He has previously said his group allows gay adults and youth to participate, but they can't "flaunt" their sexuality.
McGrath's dismissal touched a chord with Greg Bourke, of Louisville, Ky., who was forced to resign as Asst. Scoutmaster of his son's Troop 325 in 2012 because he is gay.
"It is shameful that the BSA would consider continuing these witch hunts against respectable and dignified adult leaders," he said in an email.
As for McGrath, he expects that "cooler minds will prevail," at BSA, "possibly in my case and certainly eventually, to the benefit of all of Scouting," he said. "That's what I believe. If it doesn't happen today, that will be disappointing, but it doesn't mean it won't ever happen."
The BSA has no plans to review its membership policy on gay adults, Smith said on Monday.
McGrath said he had prepared himself for the potential fallout from going public about his sexual orientation—even if that meant losing his post. "This is what Scouting prepares us for," he said, "to be prepared for contingencies and to move forward with confidence."
Are you a gay youth in Scouting? Have you come out to your troop since the change in membership policy on Jan. 1? If you want to share your story or have a general comment about the article? Email the reporter at miranda.leitsinger@nbcuni.com