A woman upset that a federal judge dismissed her $10 billion lawsuit against Georgia officials responded with a nine-page profanity-filled tirade against the judge — calling him "an old ... geezer" and saying he's on a "one-way ticket to hell" — according to remarkable court records made available this week in Atlanta.
In an order filed Wednesday in U.S. District Court, Judge Willis B. Hunt Jr. — who'd dismissed most of Tamah Jada Clark's claims on March 31 — recused himself from hearing the rest of her complaint "in light of Plaintiff's decidedly vitriolic pleading."
According to court records, the complicated case began almost five years ago when Clark, of Pensacola, Florida, and East Point, Georgia, showed up near the south Georgia jail where Jason Joseph Clark was being held after his conviction for aggravated assault, domestic battery and other crimes. Court records identified Jason Clark as the father of Tamah Clark's child, while Tamah Clark identified him as her husband.
Tamah Clark was arrested after Pelham police found her 1-year-old son, an AK-47 assault rifle, a .45 caliber pistol and wilderness survival gear in her car. Both Clarks were charged with conspiring to aid in an attempted escape after investigators described phone conversations in which they plotted his jailbreak, according to the court records, but there's no record that she was ever convicted or served any prison time.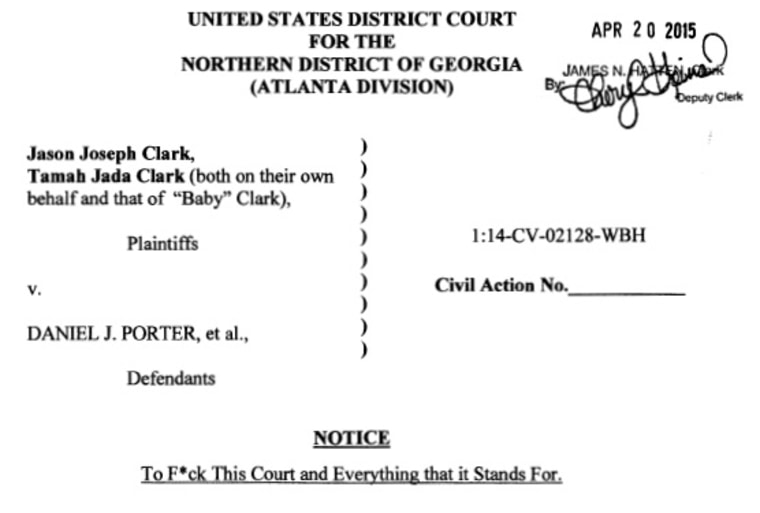 In July 2014, Tamah Clark filed her suit for $10 billion against a slew of Georgia officials for the wrongful arrest, conviction and incarceration of her husband. (The suit was filed in Atlanta, in the Northern District of Georgia, because Jason Clark was held in a Gwinnett County jail to help relieve crowding in south Georgia facilities, the Gwinnett County Sheriff's Office confirmed.)
Hunt dismissed the bulk of the case late last month, on the legal ground that it was filed after the two-year statute of limitations to bring such an action had expired but also because, he said, it was "nonsensical." As a believer in the so-called sovereign citizen tax-protest movement, Clark claimed not to be a U.S. citizen and couldn't bring the action on Jason Clark's behalf, he wrote.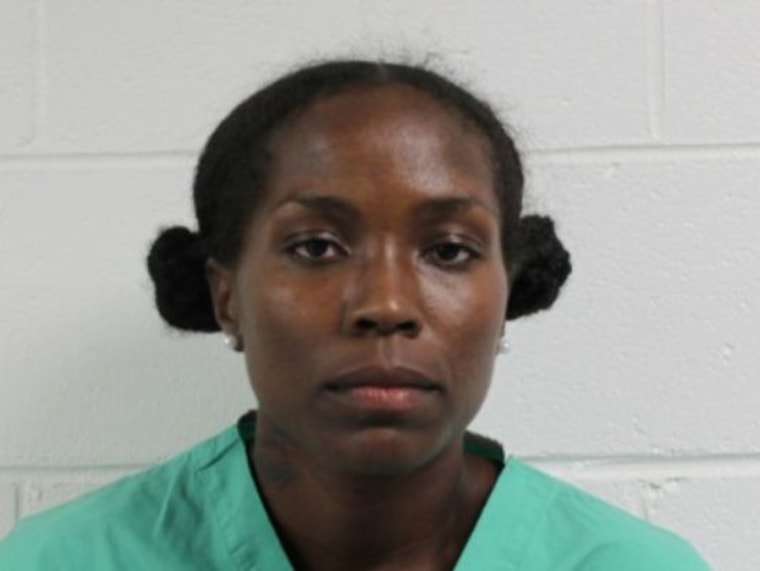 Cue Clark's response Monday, pungently titled "To F--- This Court and Everything that It Stands For."
"Don't you ever again in your motherf-----g life attempt to disrespect me, my family, or our status again. Keep our names out of your unworthy mouth," the papers state.
Clark couldn't be directly reached for comment, but she referred reporters Thursday to a Facebook posting where she wrote that she would address the matter at a later time.
"There is a lot of ambiguity and confusion as to what exactly has taken place heretofore to provoke what may appear to some to be a 'rant' of sorts," she wrote, adding:
"The court will not allow me to say anything on record. Instead, it has allowed the Defendants free range to attack me without recourse on my part. I was tired of that bull and realized that the court and judge only have power so long as the matter is kept quiet and secret. So ... what can I say? I had had enough. I let him have it."
In a one-page order filed Wednesday in response to a related claim, Hunt — who is 83 — didn't address any of Clark's insults, saying only that "in light of Petitioner's decidedly vitriolic pleading that she directed against the undersigned in another action ... the undersigned concludes that he must RECUSE from this action."
Hunt's after-hours contact information isn't public. The court didn't answer a call for comment late Thursday.