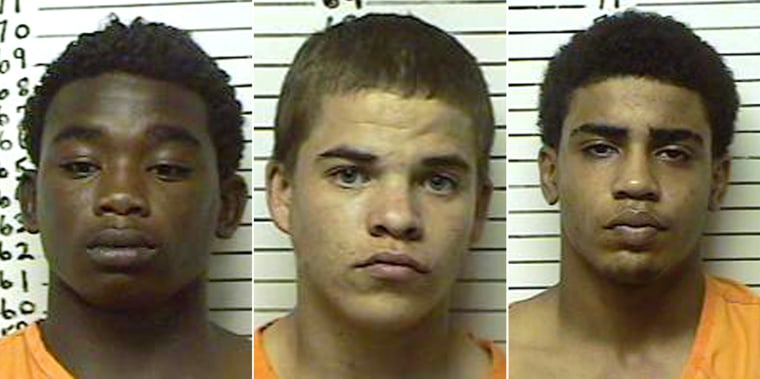 "Thugs," "murderers" and "fake gangsters" -- those are some of the words law enforcement officials are using to describe the three juveniles allegedly involved in the Aug. 16 shooting death of Australian college athlete Christopher Lane in Duncan, Okla. But with no evidence linking the shooting to either gang violence or a hate crime, authorities are at the same time portraying the suspects as misguided, attention-seeking small-town teens.
James Edwards, Jr., 15, and Chancey Luna, 16, were charged with the murder in the first degree of Lane, 22, a baseball player with Oklahoma's East Central University.
The third juvenile, Michael Jones, 17, was charged with using a vehicle to facilitate the discharge of a firearm and accessory after the fact to murder, according to a press release by the district attorney's office. All were charged as adults.
"They were individuals that liked attention," Duncan Police Chief Dan Ford said. "I'd say they were fake gangsters."
Authorities said one of the teens said they targeted Lane because they were bored and had nothing to do.
District Attorney Jason Hicks said Friday that there was insufficient evidence to establish that race was the primary motive in Lane's murder. Hicks also said there is nothing to indicate the act was related to gang violence, which he said doesn't take place in Stephens County. 
"I feel like we're getting a bad rap and I feel like we're getting a rap we don't deserve," Hicks said. "Because of all the attention, it's done nothing but motivate me that much more to ensure that these three thugs get exactly what they deserve."
Duncan, a calm, peaceful and quiet community that can go years without seeing a slaying, has been shaken to the core by Lane's killing, Hicks said. The three teens were known to police in the past for theft, simple assault and intimidation, authorities said.
But lately, racist comments and talk of guns and money had taken over some of the teens' social media feeds. Ford said the three boys began portraying themselves as gang members who demanded to be feared and respected.
"They market theirselves (sic) very well," he said. Eventually, when that status was perhaps challenged, they felt the need to take action, Ford added.
"They felt like they had to escalate to maintain that status," he said.
Ryan Benton, a youth minister at First Christian Church in Duncan who has known Edwards for years, said he had never seen his aggressive side and thinks of him as a boy who had a hunger to be important and to fit in somewhere.
Benton said Edwards had great leadership skills but also enjoyed being the center of attention.
"He was loud, he was witty, he was funny," Benton said. "Sometimes, his mouth would get to speak before his head even worked."
But Edwards also struggled with his identity, Benton said, and would sometimes cry on the minister's shoulder when feeling conflicted about choosing between right and wrong. 
"I wish he heard the voices that were calling out to him to be all that he could be," Benton said. "He was a great wrestler. And he had hopes and dreams of doing something with that."
If convicted of first-degree murder, Edwards and Luna could face life in prison. Jones faces a lesser sentence of 45 years.
Related stories
DA: Teens accused in ballplayer's slaying won't be charged with hate crimes
US gun culture is 'corrupting the world,' Australia's ex-deputy PM says