To the faithful, it's a road sign on the highway to hell.
The American Atheists group has continued an annual tradition by putting up billboards in Albuquerque, New Mexico, and Dallas-Fort Worth, Texas, that state "Just Skip Church… It's All Fake News" alongside an image of the Christian nativity scene.
An attempt to put up two of the same signs in Oklahoma was stymied by the billboard company.
Nick Fish, a spokesman for American Atheists, claimed the signs aren't meant to offend, but to spark a dialogue by adding a topical tag line.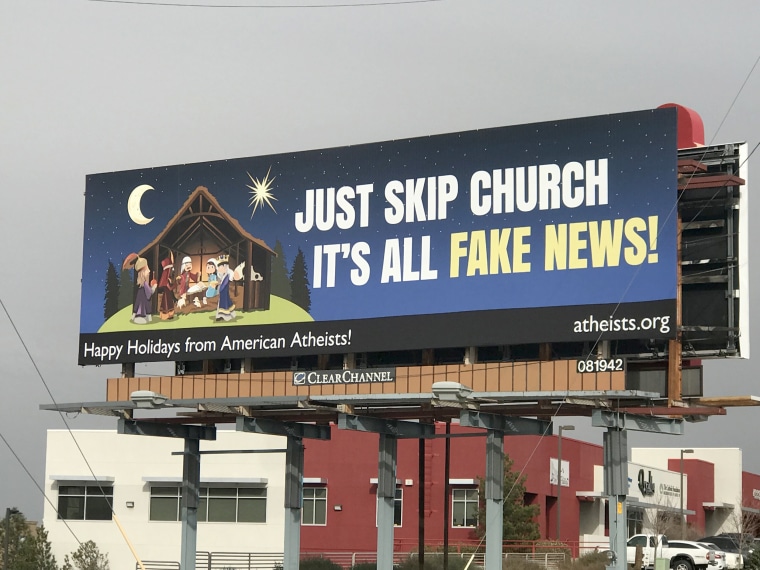 "It's a way of starting a conversation not just with this organization but within a community," Fish told NBC News on Wednesday. "The choice is often between being provocative or not being heard at all. If we can start that initial conversation, then we're doing our jobs to get the ball rolling and get our foot in the door."
Since the signs were put up on Nov. 30, many atheists in the affected areas have come forward in support of them, Fish said. These atheists claimed that the billboards made them feel as though they weren't alone in their community.
American Atheists, which has gone after Christian groups as well as other organized religions since they formed in 1963, specifically targeted areas that they felt were particularly religiously homogeneous.
"It's about targeting areas where religious identity is assumed. Albuquerque is not necessarily a conservative place," Fish said, "but there is a lot of religious expectation there and we want to challenge that."
Fish said the billboards will stay up through the end of December, and they plan to put up more ahead of their national convention that takes place over Easter weekend in Oklahoma City.

Lamar Advertising Company told American Atheists that they could not put up their "Fake News" sign in Oklahoma City or Tulsa because they said it did not meet their standards. Instead, the nonprofit put up a billboard that proclaimed, "Just Like Santa Claus, the Atheists Are Comin' to Town!" — which "was deemed acceptable, but given the nature of this market, it is still considered to be sensitive."