Residents of San Francisco and surrounding cities woke to inhale terrible air on Friday, choking on smoke from the deadly Camp Fire more than 150 miles away, officials said.
The Air Quality Index, a measure of dangerous smoke and exhaust particulates in the air, reached 246 in Oakland and 239 in San Francisco by late Friday afternoon, well into the zone of "very unhealthy."
Those AQI measurements from San Francisco and Oakland on Friday are the worst in the 20 years of their recorded air-quality history, according to Kristine Roselius, a spokeswoman for the Bay Area Air Quality Management District.
An AQI reading of 35 to 70 should force most people to consider staying indoors. An AQI of 150 is considered "unhealthy" and 200 "very unhealthy."
"Once you get to 150, that's mask-wearing stuff," said Stanley Young, spokesman for the California Air Resources Board, the state agencies that measure pollution.
The damaging particulates measured by AQI are so small, they can get past a human being's natural filters and infiltrate the lungs, possibly causing long-term heart and breathing issues, according to the Environmental Protection Agency.
These poor conditions even forced postponement of Saturday's "Big Game," the annual football meeting between arch rivals UC-Berkeley and Stanford. The game has been rescheduled for Dec. 1 at Cal Memorial Stadium.
Cal Athletic Director Jim Knowlton said in a prepared statement that, "we made the decision to postpone for the health and safety of our student-athletes, coaches, gameday staff, students, band and spirit groups, alumni and fans."
Officials at major Bay Area hospitals like San Francisco General Hospital and UCSF and Oakland Medical Centers said Friday they hadn't seen an immediate boost in patients suffering breathing issues. But they urged Bay Area residents to stay indoors in possible.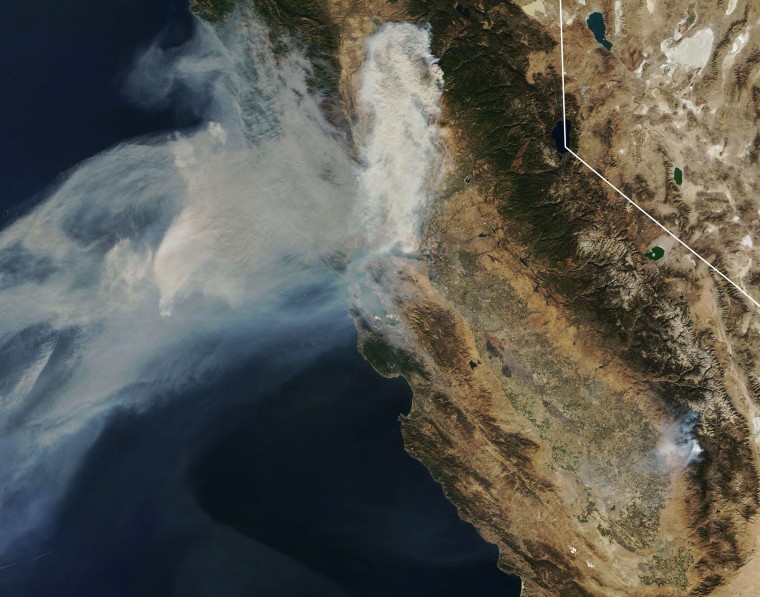 "It's unbreathable when you're walking outside," said Kristen Bole, a spokeswoman for UCSF Medical Center. "We're walking around with masks right now."
San Francisco General Hospital spokesman Brent Andrew said the city is like a ghost town.
"Everyone is staying indoors and the people who are outside are wearing masks of one kind of another. It's totally weird to see. This is a creepy feeling."
Even though millions of Bay Area residents are playing it safe, Dr. John Balmes — a pulmonary specialist and air pollution researcher — said he fears this unhealthy air will lead to premature deaths of some elderly and other at-risk people.
"We'll find out in the future, but based on what we know about air pollution, we would expect to see this level to be associated with a rise in cardiopulmonary mortality," said Balmes, who teaches at UC-Berkeley and UCSF and practices at San Francisco General.
"There will be a significant spike," he said.
While the Camp Fire, which has been burning for more than a week and is the deadliest fire in state history, seems so far away from the Bay Area, strong gusts are bringing fallout of the deadly blaze to their doorstep.
"The problem is the winds are blowing the smoke south, it's like a conveyor belt straight to the Bay Area," said Young.
Education officials across the Bay Area saw the bad air coming on Thursday night and canceled Friday classes throughout the region.
The Bay Area Air Quality Management District has banned burning wood until at least Tuesday of next week.