A cargo plane carrying the bodies of four fallen U.S. soldiers landed at Dover Air Force Base on Wednesday, greeted by loved ones whose grief is laced with outrage that even they have not been spared from the government shutdown.
The solemn transfer ceremony is expected to take place in an atmosphere of tearful silence about 100 miles from the political bickering in the nation's capital, where a death benefit for the families of service members killed in the line of duty has fallen victim to the budget impasse.
The chaplain of the Senate, Barry Black, directly invoked the denial of the benefit in his daily opening prayer before the chamber.
"Lord, when our federal shutdown delays payments of death benefits to the families of children dying on far-away battlefields, it's time for our lawmakers to say enough is enough," he said. "Cover our shame with the robe of your righteousness."
In an apparent effort to stem the furor, Defense Secretary Chuck Hagel traveled to Dover for the arrival of the bodies.
A white-gloved honor guard carries four flag-covered cases out of the belly of the military jet, past waiting relatives and into a mortuary vehicle so the bodies of the three men and one woman who made the ultimate sacrifice in Afghanistan can be prepared for their final resting place.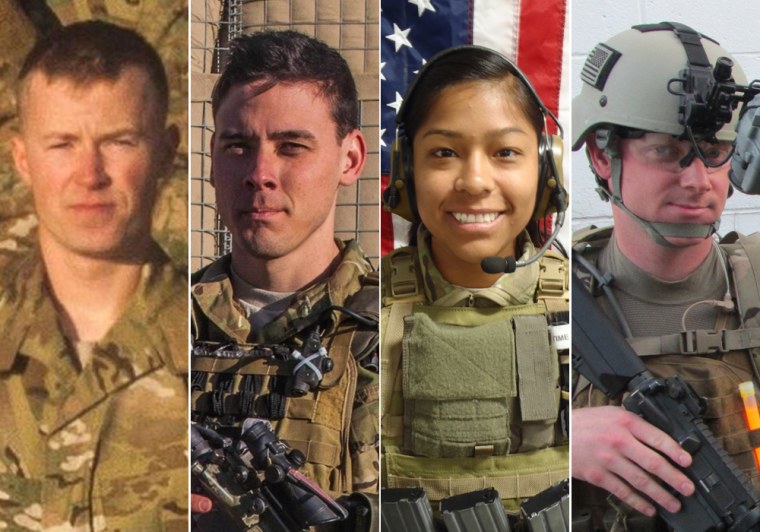 At least two of the families who will be in attendance say their heartache has been compounded by a repercussion of the shutdown: the government withholding a $100,000 "death gratuity" normally paid out to help tide them over until survivor benefits kick in, as detailed in a series of NBC News stories over the past two days, beginning with an Andrea Mitchell report on TODAY.
"It is upsetting because my husband died for his country, and now his family is left to worry," said Ashley Peters of Springfield, Mo., whose husband, Joseph, was a special agent assigned to the Army's 5th Military Police Battalion and was among the four killed. "My husband always said if something happened to him we would be taken care of."
A senior administration official told NBC News that President Barack Obama was "very disturbed" to learn of the suspension of the benefit, and that he had directed the Defense Department to work with the executive branch on a solution.
The House is expected to approve legislation Wednesday afternoon, perhaps unanimously, that would restore the benefit. Some members of Congress were surprised that it was not covered by a law passed just before the shutdown that authorized "pay and allowances" for the military.
The House will use a procedure that allows legislation to go straight to the floor without committee hearings. Because of that procedure, the bill will need a two-thirds majority to pass.
"They are going to be restored, without any question," Senate Majority Leader Harry Reid said Wednesday.
The father of one of the fallen soldiers, Pfc. Cody Patterson, 24, of Philomath, Ore., noted that members of Congress "are still getting paid" a week after the government shut down.
"If Congress were trapped in a car that sunk down in a river, I would swim to the window, and I would look them all in the eye and say, 'Suck water,'" Randall Patterson said Tuesday as he prepared to fly to Delaware to retrieve his son's body.
Peters; Patterson; 1st Lt. Jennifer Moreno, 25, of San Diego; Sgt. Patrick Hawkins, 25, of Carlisle, Pa.; were killed Sunday by an improvised bomb in Zhari district, according to the Pentagon.
Twenty-six service members have died since the government shut down Oct. 1, a senior defense official said, including five killed in combat. None of the families of the 26 has received the death benefit.
Also suspended is a year's worth of housing allowance, typically paid in a lump sum to the surviving spouse or dependent children of a soldier. For a sergeant in the Washington area with dependents, it could amount to more than $2,000 a month.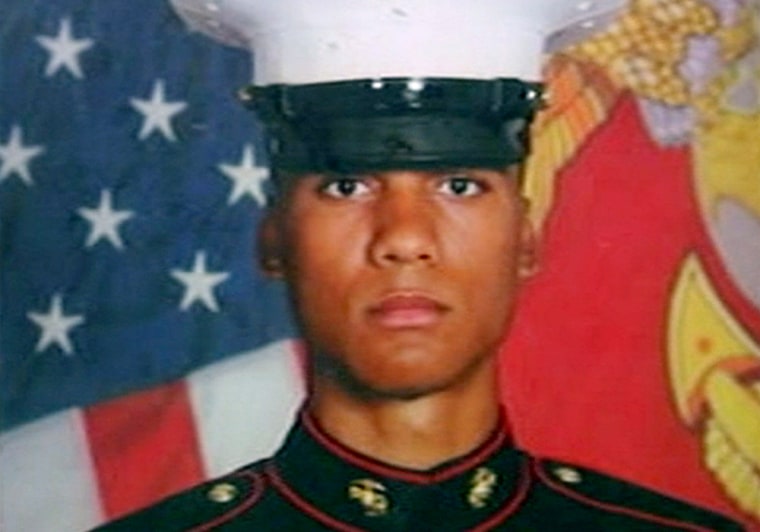 And survivors are not receiving a reimbursement specifically aimed at burial and related expenses. That benefit is $9,000 for burial in a private cemetery and $6,000 for burial in a national cemetery.
"The government is hurting the wrong people," said Shannon Collins, whose Marine son, Lance Cpl. Jeremiah Collins, died Saturday while supporting combat operations in Helmand province.
"Families shouldn't have to worry about how they're going to bury their child," she said. "Families shouldn't have to worry about how they're going to feed their family if they don't go to work this week."
Veterans groups and members of Congress from both parties have expressed disgust over the delay in the payments.
Sen. John McCain, R-Ariz., a veteran, told his colleagues they should be ashamed.
"Shouldn't we as a body, Republican or Democrat — shouldn't we be embarrassed? Ashamed?" he asked. "What do American people think when they see that death benefit for those who served and sacrifice — they're not eligible?"
Waving a print-out of a news story about the suspension, he said: "I'm ashamed! I'm embarrassed. All of us should be."
Senate Majority Leader Harry Reid also denounced the shutdown's denial of death benefits in the Senate -- and mentioned NBC News' Andrea Mitchell by name as he recounted the story.
"The law passed last week to continue paying civilian members of the military during the shutdown but does not allow for payouts of the death benefits to families of the fallen, officials told Andrea Mitchell of NBC," Reid said.
Congressional aides said they believed that last week's law had covered the payment.
"We gave broad authority to the Department of Defense to pay all kinds of bills, including this," House Speaker John Boehner, R-Ohio, said Tuesday afternoon. "And frankly, I think it's disgraceful that they're withholding these benefits. But again, tomorrow, the House is going to act specifically on this, and I hope the president will sign it."
In the meantime, a Maryland foundation stepped into the breach to potentially cover the death benefits. The Fisher House Foundation of Bethesda, Md., has offered the families of fallen soldiers advance grants until the government can make reimbursements to the foundation.
The grants will also cover flights, hotels and other incidentals, it said. 
Katie Distler, Kasie Hunt, Courtney Kube and Jim Miklaszewski of NBC News contributed to this report.