Relatives of the victims of an explosion at a chocolate factory in Pennsylvania last month are demanding answers about the deadly blast and mourning their loved ones, which include a thoughtful mother of two and a beloved husband and mentor.
Seven people were killed in the explosion at the R.M. Palmer Company plant on March 24 in West Reading, Pennsylvania. Authorities have identified them as: Michael D. Breedy, 62; Diana M. Cedeno, 44; Domingo Cruz, 60;  Susan H. Halvonik, 63; Judith Lopez-Moran, 55; Xiorky D. Nunez, 30 and Amy S. Sandoe, 49. 
The explosion is being investigated by the National Transportation Safety Board.
Diana Cedeno was a "total sweetheart" who became a caretaker to her siblings after their mother died, her brother Frankie Gonzalez said. Cedeno was also devoted to her two children, he said, and she and her husband both worked hard to provide for their family.
Gonzalez said that when he learned Cedeno was inside the factory at the time of the blast, he ran over to the site, yelling at a member of law enforcement, "My sister's in there!"
"My first reaction was to immediately try to go in," he said.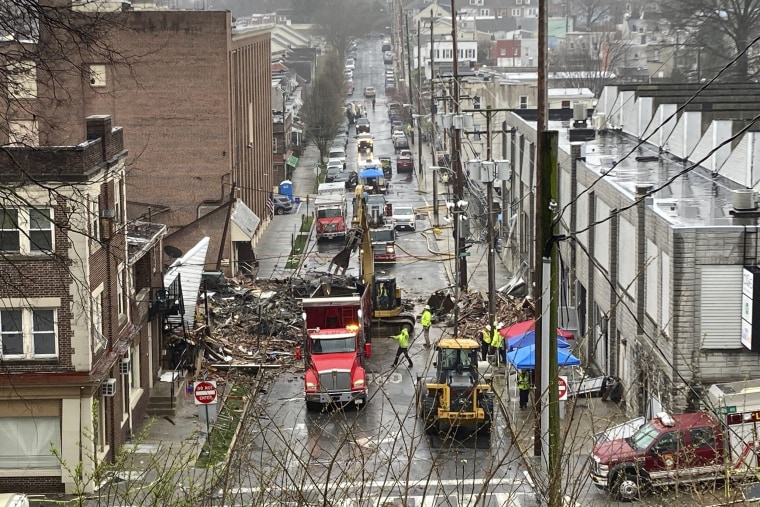 Gonzalez said he is seeking accountability from the R.M. Palmer Company after reports that workers at the facility complained of smelling gas earlier in the day. He said that two other family members had also previously smelled gas at the factory and had since quit.
Gonzalez said that in the meantime he is waiting for answers on what caused the deadly blast.
"No amount of money is ever going to bring my sister back," he said. "I lost my heart. My sister wasn't collateral damage."
Keith Holloway, a spokesperson with the National Transportation Safety Board, said in a statement that as part of its investigation, the board is examining a natural gas pipeline and gathering "evidence about how the building was supplied with natural gas and point of ignition, interview witnesses, examine the pipeline for fractures, any damage to pipeline, a chronology of events leading up to the explosion, among other issues that may come up as the investigation continues."
Holloway said it was still early and information was still being gathered, but that the investigation "will focus on what, how and why the explosion occurred."
UGI Utilities, which served the factory, said in a statement on its website that it is working with local, state and federal authorities to determine the cause of the explosion. The utility company did not immediately respond to a request for comment.
R.M. Palmer said in a statement on April 3 that it "continues to grieve for the incomprehensible loss of our friends and colleagues" and sends "our heartfelt condolences to all of those who have lost loved ones, and hope for the speedy recovery of all who were injured." The company also did not immediately respond to a request for comment.
Patricia Borges, a factory worker who was pulled from the rubble of the explosion, told The Associated Press that she believes she would have burned to death as flames engulfed the building if the floor had not given way beneath her, causing her to fall into a vat of liquid chocolate.
"When I began to burn, I thought it was the end for me," Borges, 50, told the AP.
Borges said that she and others complained about the smell of gas and that she was angry that the company did not order an evacuation. Now, she is seeking accountability.
One of the victims was her close friend, Judith Lopez-Moran.
"I wanted to speak so that this will be prevented in the future," she said. "For my colleague Judy, I want there to be justice."
Elizabeth Breedy, 74, the wife of Michael Breedy, said her husband was a maintenance mechanic at the factory and had been working there for about a decade. 
"Everyone loved him," Breedy said. "He was a wonderful person. He was the best husband. He was a mentor to everybody."
The two were married for 35 years. She said her husband often would come home and "go into technical detail about what he was fixing" at work that day. She said at night the two of them would watch renovation shows on HGTV together. 
"We had a very, very happy life," she said.
"I miss him every single minute of every day. He was my rock. He was my life," she said. "He was the best thing that ever happened to me. I don't know how I'm going to get through the rest of my life without him."