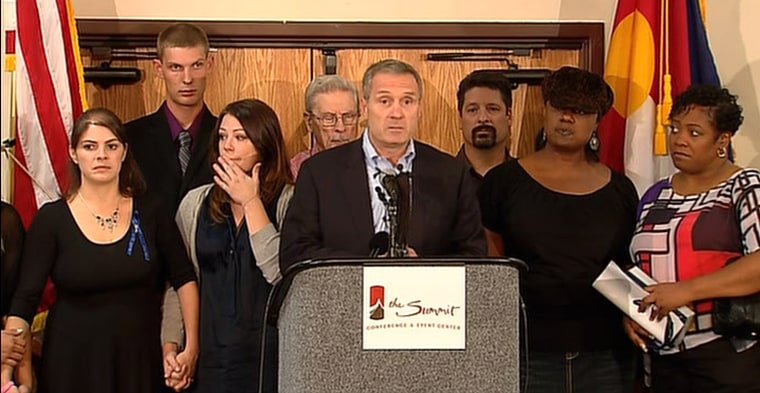 The families of victims of the Colorado movie theater massacre said Tuesday at an emotionally charged news conference that although a fund intended to help them had raised more than $5 million, they had been shut out of the decision-making process.
Family members in Aurora, Colo., tearfully decried what they called state officials' and the Colorado Organization for Victim Assistance's lack of leadership and organization and said their treatment had added insult to injury.
They pleaded for urgent financial help and for more of a voice in determining what to do with the money already donated to the fund, which they said topped $5 million.
"Every desire that we have has to come under a microscope," said the mother of one victim, responding to a question about the particular financial needs of victims' families. Deidra Brooks, whose 19-year-old son Jarell was recovering from his wounds from the July 20 shooting rampage, said that scrutiny had added insult to injury.
"It's more than a slap in the face. It's going through the 20th over and over and over," she said.
Other victims' relatives said that COVA's disorganization had left them all in the dark about the fund and deprived them of a much-needed sense of community.
"We come to speak as one voice," said Tom Teves, whose 24-year-old son, Alexander, was killed in the attack.  "We are here because we want the public to know what has happened within days of the shooting."
Teves said money had been solicited for The Aurora Victim Relief Fund using the names and pictures of those slain. "I am certain that the public intended 100 percent of those donations to go to the families of victims, and to use that money to help the healing process," Teves said. "Unfortunately, that does not appear to be the case."
Teves said the families believed the funds would help all the victims, who Teves said included people in the theater or in the shooter's apartment complex who suffered physically or emotionally.
The 12 who were killed included 18-year-old recent high school graduate AJ Boik, Air Force cyber-systems operator Jesse Childress, aspiring sportscaster Jessica Ghawi, community college student Micayla Medek and mother of two Rebecca Wingo.
Alexander Teves, Matt McQuinn, U.S. Navy veteran Jonathan Blunk and Navy sailor John Larimer all died shielding their friends or girlfriends.
The massacre's oldest victim was 51-year-old Gordon Cowden, whose teen children survived it, and its youngest was 6-year-old Veronica Moser-Sullivan, who had just learned to swim. Alex Sullivan, no relation to Veronica Moser-Sullivan, was celebrating his 27th birthday and his first wedding anniversary on the night he was killed.
Watch US News videos on NBCNews.com
The conference came as lawyers in the murder case against accused gunman James Holmes wrangled over what should be made public.
Holmes is accused of unleashing the July 20 shooting rampage at an Aurora movie theater. Police say the 24-year-old, wearing body armor and a gas mask and heavily armed, opened fire on an audience of the opening night of "The Dark Knight Rises," killing 12 and injuring 58.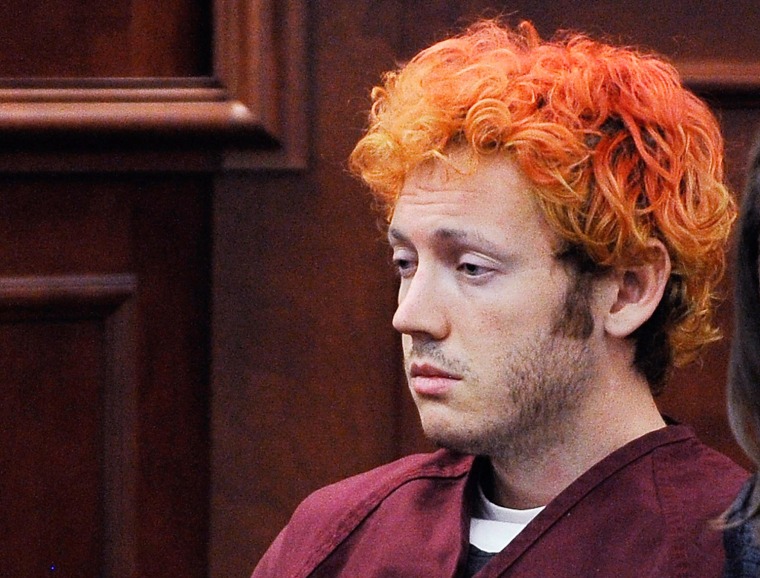 Police apprehended Holmes, who had recently withdrawn as a neuroscience Ph.D student from the University of Colorado, outside the theater and said they later removed explosives from his booby-trapped apartment.
Thanks to a court-imposed gag order, little has been publicly said about the case — despite the intensity of prosecutors' legal battle with defense lawyers, who maintain Holmes is mentally ill, over access to his university and medical records.
Stay informed with the latest headlines; sign up for our newsletter
Prosecutors want access to Holmes' school records as well as to the contents of a package he sent to his psychiatrist, Dr. Lynne Fenton. News reports citing anonymous sources indicated that package contained a notebook with writings that reportedly described a violent attack.
Defense lawyers argue the contents of the package are privileged, as Holmes' confidential communication with his doctor, and say Holmes is mentally ill.
In the weeks following the shooting, details of Holmes' past have slowly trickled out but have left victims' families few clues as to a motive.
The New York Times reported Sunday that weeks before the massacre, Holmes had text messaged a classmate about a psychiatric condition common in patients with bipolar disorder and had warned her to stay away from him, saying, "I am bad news."
Prosecutors said in court filings that in May he had shown another classmate a semiautomatic pistol he had bought "for protection" and that in March he had told another that he wanted to kill people "when his life was over."
A hearing on the question of access to the contents of the package Holmes mailed to Dr. Fenton is scheduled for Thursday, and Fenton is expected to testify.
More content from NBCNews.com: