The family of an 18-year-old California woman who was fatally shot when a school safety officer opened fire on a car she was riding in has reached a multimillion-dollar settlement with the school district.
Manuela "Mona" Rodriguez's family was awarded $13 million from the Long Beach Unified School District in connection with her death in 2021, attorneys for the family announced Tuesday.
"This is step one of accountability," Rodriguez's brother, Omar Rodriguez, said at a news conference aired by NBC Los Angeles on Tuesday. "I'm really hoping that we get true justice. You know, my sister was robbed of that. We were robbed of our sister."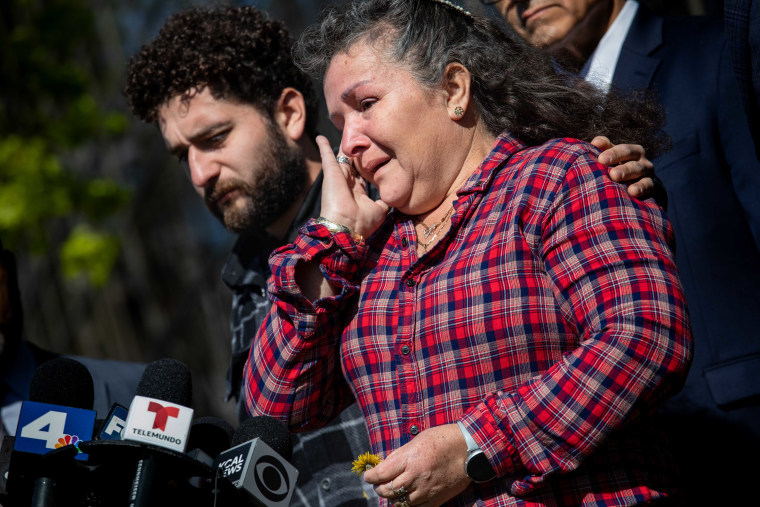 Rodriguez, who was the mother to a then-5-month-old baby, was taken off life support in October 2021, more than a week after officials said Long Beach Unified School District Safety Officer Eddie F. Gonzalez fired at a car she was in.
Gonzalez had been driving a school safety vehicle near Millikan High School when he came upon a fight between Rodriguez and an unidentified 15-year-old girl, Long Beach police have said.
Police said Rodriguez had known the girl and alleged that she started the fight. When Gonzalez intervened, Rodriguez got into a vehicle occupied by two other people, who authorities said were "also involved in the assault."
Video showed Gonzalez trying to get the teenagers to stop. As the vehicle sped off, he drew his weapon and fired from behind the car.
Rodriguez was hit and taken to Long Beach Medical Center in critical condition before she was taken off life support days later.
Gonzalez was fired shortly after the shooting, and he was subsequently arrested and charged with murder. He pleaded not guilty in December 2021 and is awaiting trial.
Gonzalez's attorney had argued that he had feared for his life and acted in self-defense, NBC Los Angeles reported.
"This was a homicide," Arnoldo Casillas, a lawyer for Rodriguez's family, said at Tuesday's news conference. "Anyone who sees the video and looks at it honestly sees it for what it is. He was not in danger. The car had gone by, and there was no reason to shoot."
Rodriguez's mother, Manuela Sahagun, sued Gonzalez and the Long Beach Unified School District in December 2021, alleging wrongful death, excessive force, negligence and civil rights violations, NBC Los Angeles reported.
In a statement, the school district told the station that "settlements like these include language that there is no admission of liability on the district's part."
"However, we again share our sincerest condolences with everyone who was impacted by this terrible event," it said. The school district did not immediately respond to an overnight request for comment from NBC News.
Previously, the district had said that its policy outlines several instances in which school resource officers should not fire their weapons, among them if a person is fleeing or in a moving vehicle, "unless circumstances clearly warrant the use of a firearm as a final means of defense."
Superintendent Jill A. Baker had said Gonzalez violated the policy "and did not meet our expectations," saying the decision to terminate his employment was "warranted, justified, and, quite frankly, the right thing to do."