A 6-year-old Missouri boy was led to believe he'd been kidnapped, shown a gun, and threatened with being sold into "sex slavery" — and it was all part of an alleged plot to teach the boy a lesson because he was "too nice" to strangers, authorities said.
Deputies from the Lincoln County Sheriff's Office on Wednesday first questioned the boy's aunt, mother, grandmother and a 23-year-old man for their alleged roles in child's four-hour ordeal on Monday, the sheriff's office said.
The sheriff's office said the boy's aunt, Denise Kroutil, 38, enlisted the help of a co-worker, Nathan Wynn Firoved, 23, to stage a kidnapping to scare the child, and that the boy's mother, Elizabeth Hupp, 25, and grandmother, Rose Brewer, 58, agreed with the scheme.
On Monday, Firoved allegedly kidnapped the child after he got off a school bus and said he would never "see his mommy again," authorities said. Firoved also showed a handgun to the now-sobbing boy, then drove around in his truck, and finally tied him up and covered his face with a jacket when the child wouldn't stop crying.
The blindfolded child was then taken to family's home, put in the basement, and his aunt allegedly removed the child's pants and told him he could be sold into "sex slavery," the sheriff's office said. The boy was eventually led upstairs and lectured about the dangers strangers could pose.
Family members told deputies Wednesday they only wanted to educate the boy, according to the sheriff's office. The sheriff's office said in a statement that the boy was "terrorized."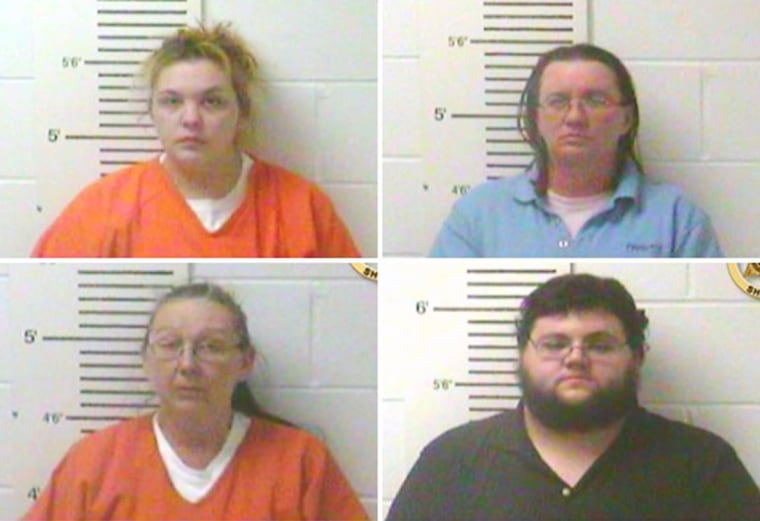 All four were charged Thursday with felony kidnapping and child abuse, and were being held in lieu of $250,000 bail, according to police and court records. Firoved, Brewer and Kroutil were also charged with felonious restraint. Court records online did not list attorneys for any of the four. Attempts to contact family members were unsuccessful.
Deputies were called to the home Wednesday after the boy told officials at school, and they contacted the state Division of Family Services, the sheriff's office said. The child was taken from the home.
— Phil Helsel