An explosion that leveled part of a Washington motel may have been triggered after a stepfather stood on a gas pipe while helping his stepdaughter escape the building amid a family dispute, police said.
The blast at a Motel 6 in Bremerton on August 18 critically injured a gas-company worker trying to stem the leak. Firefighters at the scene were blown back 20 feet.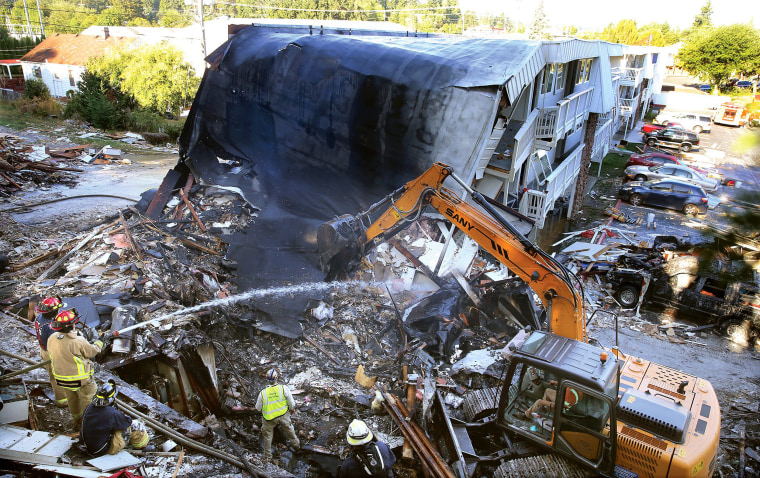 The Bremerton Police Department said Wednesday the events leading up to the incident likely began with a juvenile female fleeing her home in Brownsville, six miles north of Bremerton, following a family argument.
Her stepfather called her cellphone and took her to the motel "to let everyone cool down and keep her away from her mother," police said in a statement.
The girl's mother also showed up at the motel and the stepfather, along with another man, tried to get his stepdaughter out of the building, according to police.
In trying to aid her escape, however, "the stepfather has admitted that he stepped on the gas meter to assist his stepdaughter out of the second-floor window," police said.
The stepdaughter also may have come into contact with the meter and pipes. The stepfather said they heard a "loud hissing sound" before immediately leaving and driving away, the statement said.
Police were called to reports of a domestic dispute at the motel and officers arrived just as the gas leak was being reported. The manager and others heard the hissing noise and guests were evacuated from the building.
The blast happened over 30 minutes later and leveled part of the motel. Larry Jennings, a 57-year-old Cascade Natural Gas employee responding to the reported leak, suffered a broken back, neck and severe burns, according to NBC station KING 5.
Officials have not released the names of the family members involved and prosecutors have yet to decide whether to bring any charges in relation to the incident.