The family of an airport ground worker who stole a commuter plane from a Seattle airport Friday night and flew it around before crashing on a small island say they are "stunned and heartbroken" over the act that ended with his death.
"This is a complete shock to us," the family of Richard Russell, who was known as "Beebo," said in a statement read Saturday evening by a family friend. "We are devastated by these events, and Jesus is truly the only one holding this family together right now. Without him, we would be hopeless."
Russell, 29, who worked for Horizon Air as a ground service agent, took off in an empty Q400 turboprop plane from Seattle-Tacoma International Airport without authorization at around 7:30 p.m. Friday and performed aerial maneuvers that included what appeared to be a loop during the around hour-long flight before the plane crashed on sparsely populated Ketron Island, officials said.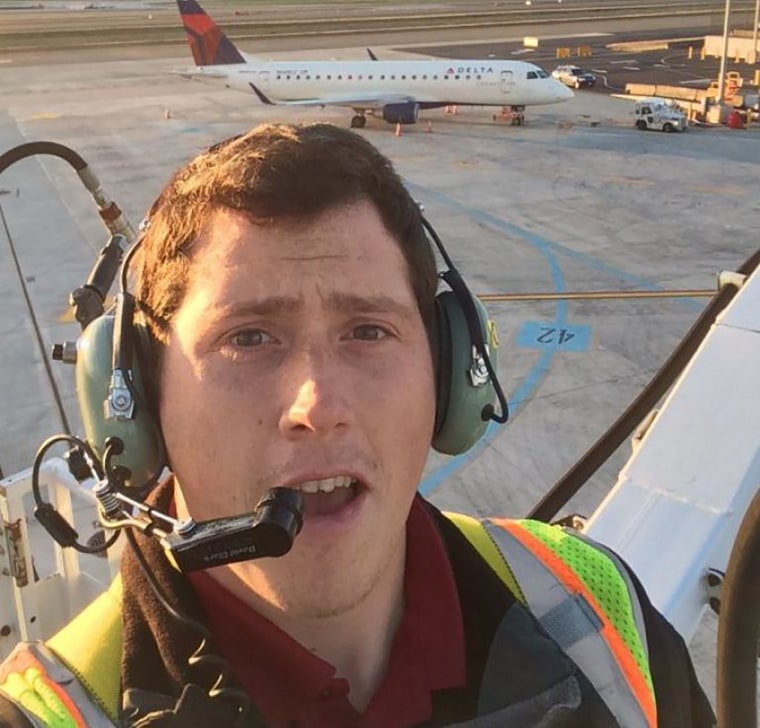 In recordings of air-traffic control radio, Russell appeared to tell controllers that he was surprised by how much fuel he'd burned through.
At another point he says,"I've got a lot of people that care about me. It's going to disappoint them to hear that I did this," and "I would like to apologize to each and every one one of them. Just a broken guy, got a few screws loose, I guess — never really knew it until now."
The family referenced that and other conversations in Saturday's statement, saying Russell "was a faithful husband, a loving son, and a good friend."
"As the voice recordings show, Beebo's intent was not to harm anyone. He was right in saying that there are so many people who have loved him," the family said in the statement.
Military jets followed the plane as it was in the air. The crash caused a fire on Ketron Island, which is southwest of Tacoma and off the coast of Steilacoom and is sparsely populated with only about 20 year-round residents, officials said.
There were no reports of any injuries on the ground, and on Saturday the Washington State Department of Natural Resources said the fire was contained at 1.8 acres.
The FBI in Seattle tweeted Sunday night that it had recovered the flight data recorder and components of the cockpit voice recorder from the plane, and they were turned over to the National Transportation Safety Board for processing.
The FBI also recovered human remains among the aircraft debris, the tweet stated.
"While the focus of our investigation thus far has centered on Richard Russell, 29, of Sumner, Washington, the FBI is awaiting the results of a review by the Pierce County Medical Examiner's Office," the agency said in the tweet.
Russell worked for Horizon Air for 3 ½ years and was a ground service agent, Alaska Air CEO Bradley Tilden said. Horizon is a subsidiary of Alaska Airlines.
Gary Beck, the president and CEO of Horizon Air, said Saturday that to their knowledge Russell did not have a pilot's license, and it is unclear how Russell knew how to start the plane's engine, which involves a series of switches and levers.
"We don't know how he was able to do that, we don't know how he learned to do that," Beck said.
Tilden said that Russell had passed multiple criminal background checks. The airport said he was fully credentialed and had access to the area from where he took the plane.
The aircraft was parked in a maintenance position and was not scheduled for a flight Friday night, and Russell used a machine called a pushback tractor to rotate the aircraft 180 degrees so he could taxi the aircraft into "the active surfaces" and take off, officials said.
Rick Christenson, who retired in May as an operational supervisor with the airline, told The Seattle Times that Russell was "a quiet guy.'
"It seemed like he was well liked by the other workers," he told the newspaper. "I feel really bad for Richard and for his family. I hope they can make it through this."
In a blog believed to have been written by Russell that has its last entry in December 2017, there doesn't appear to be any indication that he would take a plane.
It says he was born in Key West, Florida, and moved to Wasilla, Alaska, when he was 7 years old, and that one of the benefits of working for an airline was flight benefits, which "were my last hope of seeing my beloved family and state on a regular basis."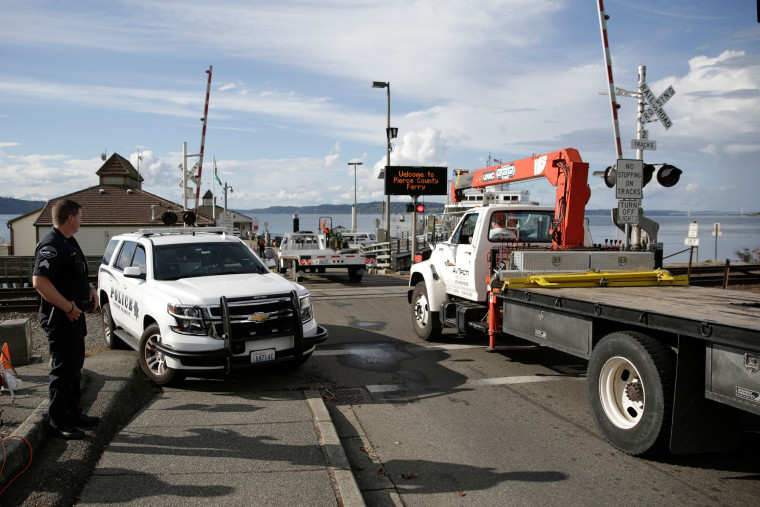 In the blog, he says he never thought he'd be a ground service agent, but "I would like to dedicate this blog to the life of a 'ramper,' and highlight the remarkable contrast between our work and rest."
In a video that appears to have been posted by Russell to YouTube in December, he talked about his job as a ground service agent, saying in a humorous tone: "That means I lift a lot of bags. Like, a lot of bags. So many bags."
The video says that while he has to often work outside in Seattle's notoriously rainy weather, "it allows me to do some pretty cool things, too." The video then shows footage of a sight-seeing plane tour in Ketchikan, Alaska, and of trips to France and Mexico.
A law enforcement source familiar with the case said that investigators are looking at the blog and other social media posts.