The family of an 8-year-old Ohio boy who committed suicide in January after a bullying attack accused the child's school on Monday of "withholding" critical details about the assault and covering up the "treacherous" environment that led to his death.
In a 41-page lawsuit filed in federal district court in Cincinnati, lawyers for the family of Gabriel Taye said that the school only notified the boy's mother after he had recovered completely from an assault inside a bathroom at Carson Elementary School on January 24, 2017.
That "concealment," the suit says, "prevented his mother from seeking appropriate treatment. Had she known of the extreme violence at Carson, she never would have continued to send him to school there."
During the incident, a classmate knocked the third grader unconscious, the suit says. In the seven minutes that Gabriel remained on the floor, other students kicked, poked and stepped over him, according to surveillance video released in May.
Two days later, Gabriel used a necktie to hang himself from his bunk bed, the suit says.
The suit also describes a culture of "aggression, violence, bullying, intimidation and harassment" among students at Carson Elementary School — even though its district reported only a handful of bullying incidents there during the 2016-2017 school year.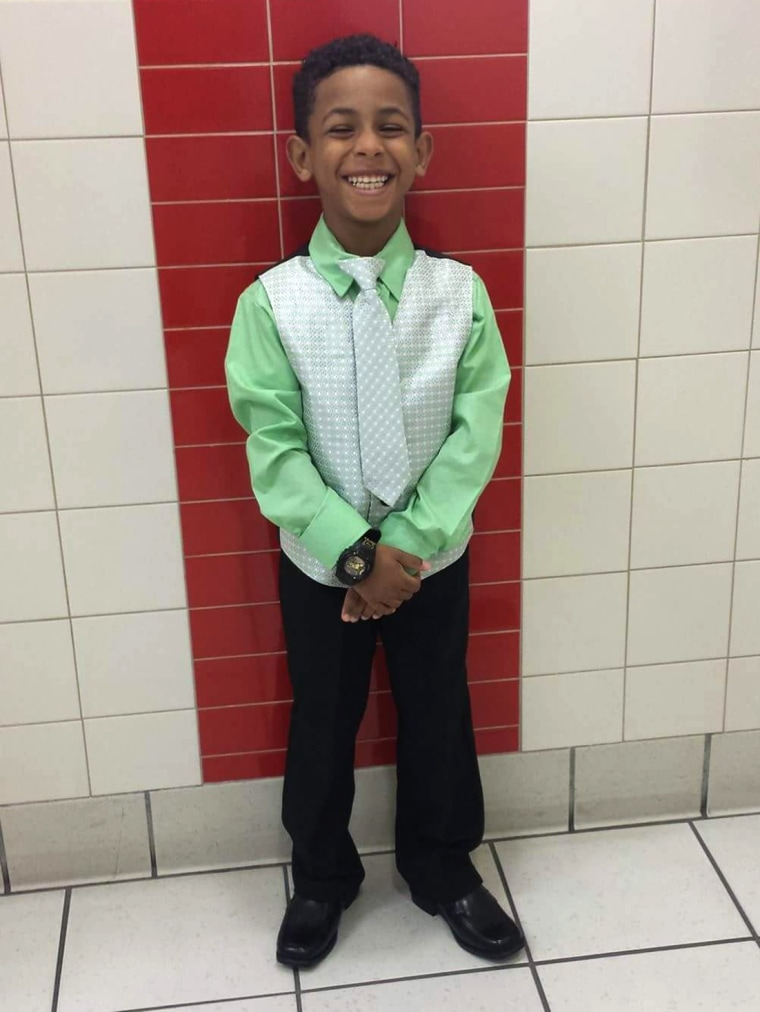 In a report on bullying released by the Cincinnati Public Schools district, which includes Carson, the assault on Gabriel and its aftermath were not mentioned, the suit says.
The lawsuit points to Carson's own behavior logs — which include examples of students choking, threatening, taunting, punching and harassing other students — to show that bullying was routine at the school.
Related: Suicide Searches Increased After Release of '13 Reasons Why'
In one episode, the lawsuit says, a third grader threw a chair at a girl and said: "I wish I had a gun so I could rape her." In another, a student stomped on a classmate as she tried to flee.
Cincinnati Public Schools did not immediately respond to a request for comment. The district has previously said that school officials didn't know Gabriel was attacked, and that he initially told a nurse that he fell.
"At no point did Gabriel indicate that he had been hit, yanked, pulled, pushed or assaulted in any way," the district said in a statement in May. "He had no visible abrasions and there had been no report of a fight of any kind."
Gabriel's family only discovered that he'd been assaulted after their lawyers reviewed police documents that described the surveillance video. No criminal charges have been filed in connection with Gabriel's death.
The lawsuit comes one week after relatives of 12-year-old Mallory Grossman said that they also planned to sue the girl's New Jersey school district over her June 14 suicide.
Administrators at Rockaway School District "ignored months of pleas" from Mallory's family over alleged cyberbullying, the Grossmans' lawyer, Bruce Nagel, said during a news conference last week.
"[Mallory's] life tragically ended when her own classmates used this cellphone to drive her into this tragedy," Nagel said. "For months there were texts, Snapchat and Instagram — she was told she was a loser, she had no friends. She was even told, 'why don't you kill yourself.'"
Mallory began to experience chronic headaches and stomachaches, and she refused to go to school, said her mother, Dianne, adding that administrators only seemed interested in academics.
"They weren't concerned with her emotional health," she said.
Rockaway Township School District Superintendent Greg McGann declined to discuss the allegations with NBC News.