A family visiting Kalamazoo for the weekend ended their Saturday night in a bar, where someone told them to be careful: a killer was on the loose.
In town from Indianapolis, the family had considered walking back to their hotel.
Instead, they called Uber — to be safe — one of them, who identified himself only as Derek, told local NBC affiliate WOOD.
A driver named "Jason" picked them up.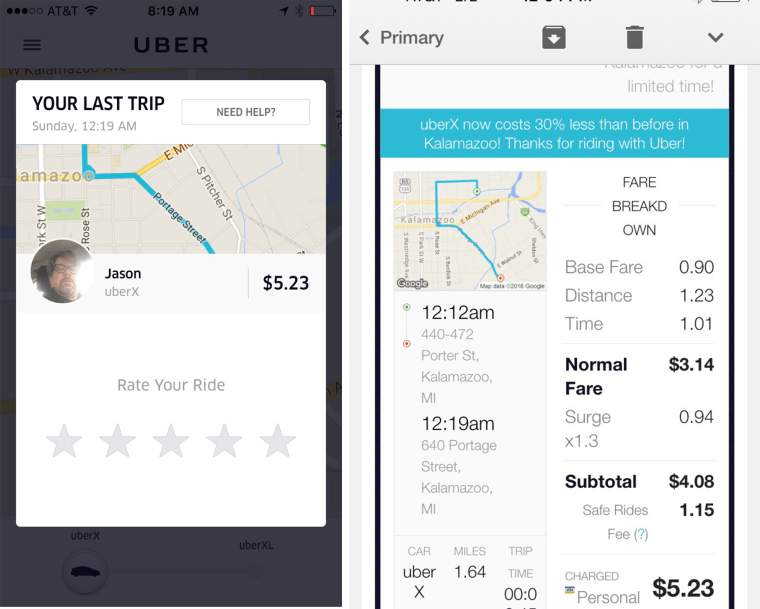 Derek said he got into the front seat. His father, in back, mentioned news of a series of shootings that evening in which six people died.
"I kind of jokingly said to the driver, 'You're not the shooter, are you?' Derek told the station. "He gave me some sort of a 'no' response."
"Are you sure?" Derek recalled asking.
"No, I'm not, I'm just tired," the driver replied.
"And we proceeded to have a pretty normal conversation after that," Derek said.
The mile-and-a-half ride from Bell's Eccentric Cafe to the Radisson Hotel on Portage Street last seven minutes, ending at 12:19 a.m. Derek said he noticed nothing unusual — until the next morning, when they saw the alleged killer's picture.
The suspect's name was Jason Brian Dalton. He'd been arrested about 12:40 a.m., not long after they were dropped off.
"It was the same guy," Derek said.
Their Uber receipt, with the driver's name and picture, seemed to confirm that.
They told detectives their story.
"It's a little jarring. I don't think that it's really set in yet," Derek said.