The family of the pregnant Seattle woman who was shot dead by the same cops she had called to her home for a possible burglary demanded answers about her death on Tuesday.
"I want to get people to know who my sister really was," said Tiffany Rogers, the younger sister of Charleena Lyles, who was killed by cops at her home on Sunday. "She was a very kind person. She was a very loving mother — there's nothing she wouldn't do for her kids.
"We're still trying to wrap our heads around why she was murdered," said Rogers, who spoke to NBC News as she was on her way to a rally at the scene of her sister's death.
Lyles, 30, was three-months pregnant and already a mother of four, family members said.
Officers were dispatched to Lyles' apartment complex in Northeast Seattle shortly before 10 a.m. PT Sunday (1 p.m. ET) after she reported a break-in at her home, officials said in a statement.
But when police arrived at the apartment, Lyles began talking about the burglary calmly but then allegedly suddenly came at officers with a knife yelling "you ready? Motherf---s," according to an audio recording of the incident released by the Seattle Police Department.
Family attorney James Bible said Tuesday that family members have questioned why police didn't use a non-lethal option when they knew Lyles had been struggling with mental health issues.
Lyles' cousin Kenny Isabell said she was depressed but not violent and "was going through some things in her life."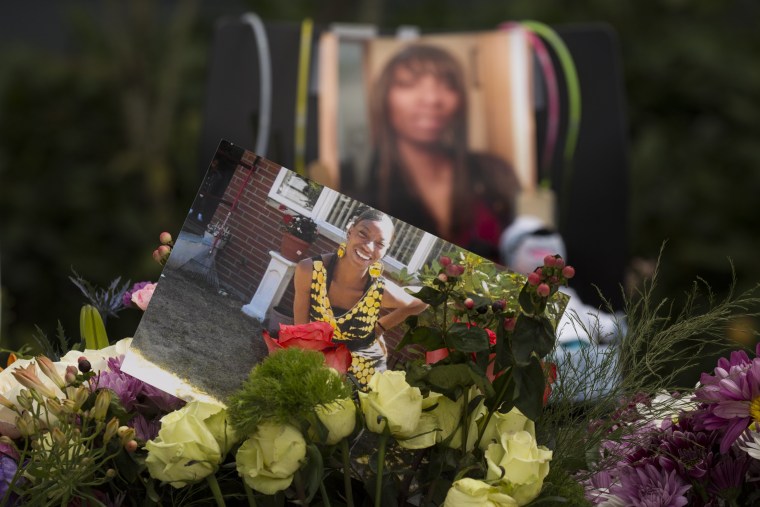 "Do our lives really matter to them?" he asked. "What do you want from us? We try to comply and this is still happening. You're killing our young men and now a young woman has died."
Lyles was black. Officials later identified the officers involved in the shooting as Steven McNew, a nine-year veteran of the Seattle Police Department, and Jason Anderson, who joined two years ago. Their races were not given.
A police spokesman said the two cops were equipped with a less-lethal option, but were not carrying Tasers.
Detective Patrick Michaud also said Tuesday that both officers had undergone crisis intervention training to deal with people showing signs of mental illness or other crises.
Michaud said officers are required to carry a less-lethal option and have a choice between a Taser, baton or pepper spray. He said he did not know which option the officers carried at the time of Sunday's shooting.
Meanwhile Seattle Municipal Court records show that Lyles was arrested June 5 and booked into King County Jail. She pleaded not guilty to two counts of harassment and obstructing a police officer.
She was released from jail Wednesday on the condition that she check-in twice a week with a case manager and possess no weapons, jail records show.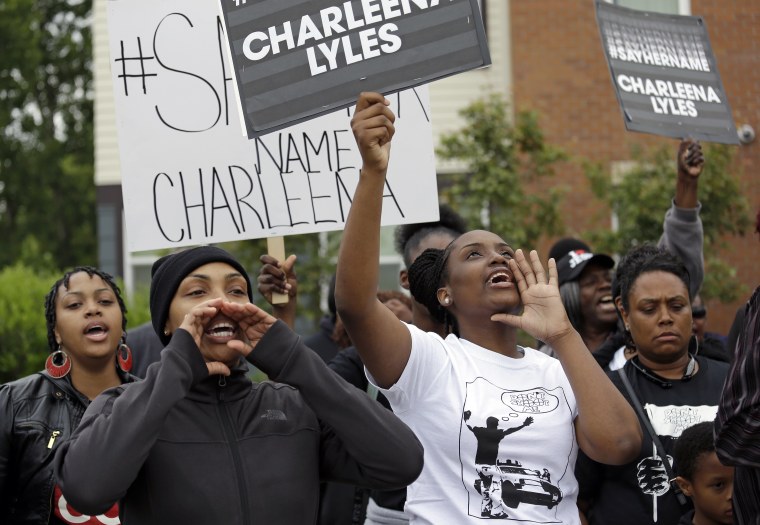 During the June 5 incident, Lyles spoke about wanting to "morph into a wolf" and made "several unusual religious comments talking about how the police officers were devils and also members of the KKK," Officer Davidson Lim wrote in a police report.
On that day, she finally dropped the shears after two officers drew their guns and repeatedly asked her to do so.
"After talking with Lyles' family, we learned that Lyles has experienced a recent sudden and rapid decline in her mental health," Lim wrote.