The family of a young girl in Maryland who suffered severe brain damage when she was electrocuted upon touching an illuminated handrail at a resort has filed a lawsuit.
Zynae Green was 6 years old when, while with her family at the MGM National Harbor resort and casino on June 26, she grabbed a "dangerously electrified" staircase railing as she and her siblings made their way down to a large outdoor fountain, according to a complaint filed Monday by the family's lawyers.
She, her younger brother, Carlos Green Jr., now 5, and Monya Rosier, now 16, were all electrocuted by touching the handrail, says the complaint filed against the resort's owners and operators and two contractors who allegedly did work at the venue.
Zynae went into cardiac arrest and had to be resuscitated before being transported to a hospital. She suffered "severe and permanent neurological injuries," the complaint said.
The boy lost consciousness, and both he and Monya had to be hospitalized, according to the complaint filed by Benedict P. Morelli and David T. Sirotkin of the Morelli Law Firm in New York and Denis C. Mitchell from Stein Mitchell Cipollone Beato & Missner in Washington, D.C.
The handrail at the resort had 120 volts of electricity going through it, more than 10 times the amount needed to power its lights, according to the complaint.
Zynae, who turned 7 on Sunday, spent two months in the hospital before she was released to a medical facility. She now requires around-the-clock care, according to the complaint.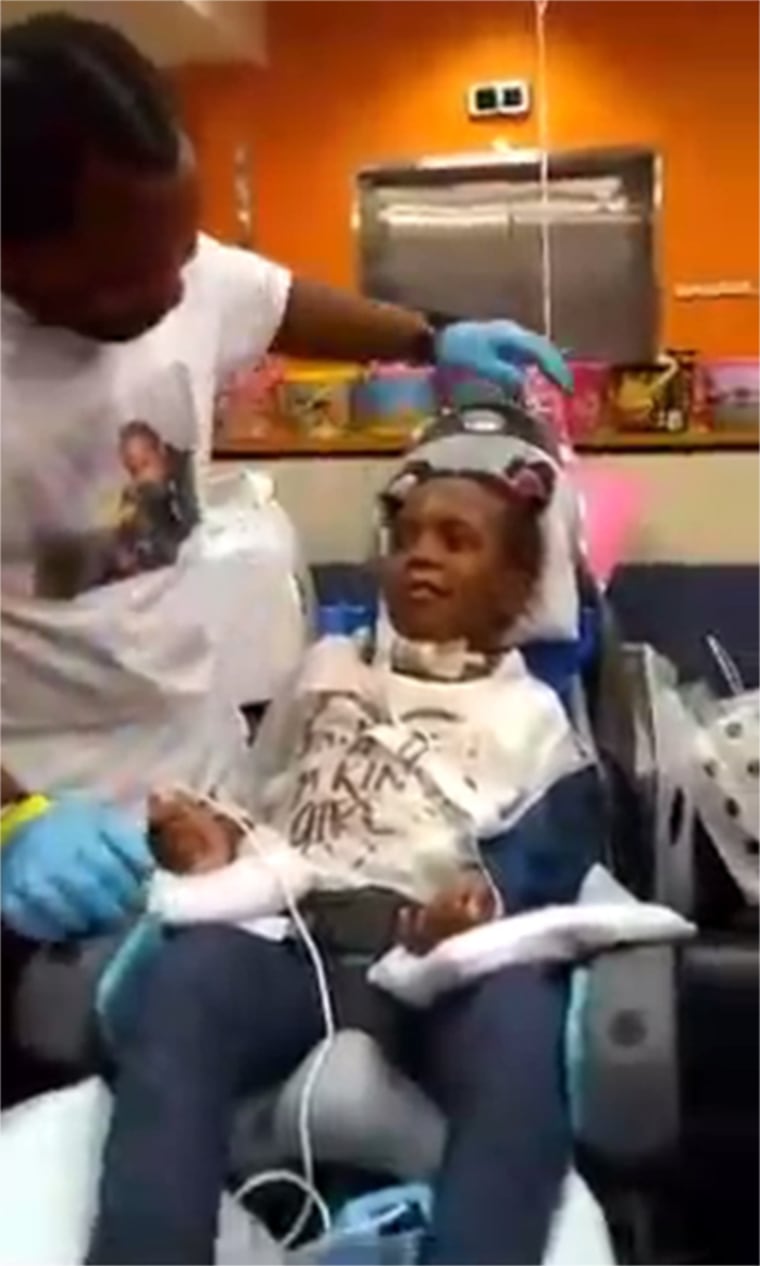 "Her life-altering injuries will tremendously impact her and her family's lives moving forward," the complaint said. "She is permanently and totally disabled."
MGM Resorts said the incident was a "tragic disaster."
"We are all heartbroken that Zynae Green and her family continue to suffer. We are committed to continue working with the family's representative to reach a resolution. In the meantime, we will respond to this lawsuit in the appropriate venue, which is in court," spokeswoman Debra DeShong told NBC News in a statement.
The company also said a county finding of faulty wiring shows that its high construction standards were not upheld by contractors.
"MGM Resorts hires licensed, reputable construction and inspection companies to perform work that meets or exceeds state and local building codes," the statement read. "The findings of faulty wiring contained in a report released by the county shows that the high standards that MGM Resorts expects of those contractors were not upheld, which is very disturbing and disappointing. We do not compromise safety when constructing our facilities."
The resort also told NBC News it offered to help the family with medical expenses, but was turned down.
The complaint claims the wiring for the lights was done in a "reckless manner" and said the defendants "urged the electrical inspector to approve the electrical work performed as safe and compliant" so the hotel could open quickly. The resort opened to the public in 2016.