New Hampshire officials are considering billing an 80-year-old hiker and his family for the costs of his hourslong rescue mission, saying he was unprepared to hike in dangerous weather.
They are also weighing criminal charges after two family members left the man to hike alone.
James Clark was found Thursday night on Mount Washington in New Hampshire in a fetal position and showing signs of hypothermia "to the point of not being able to speak any clear or discernible words," the New Hampshire Fish and Game Department said in a press release.
Clark, of Dublin, Ohio, was attempting to climb Lion Head Trail in Sargent's Purchase with two family members when they left him behind, officials said. Clark told the New Hampshire Union Ledger he was climbing with his teenage grandsons, who ascended the summit of Mount Washington without Clark and later descended using a different trail.
They became worried and called rescue personnel around 7:45 p.m. Thursday when Clark had not reached the summit. The teens told authorities that Clark did not have overnight gear and was not carrying a cellphone or a light.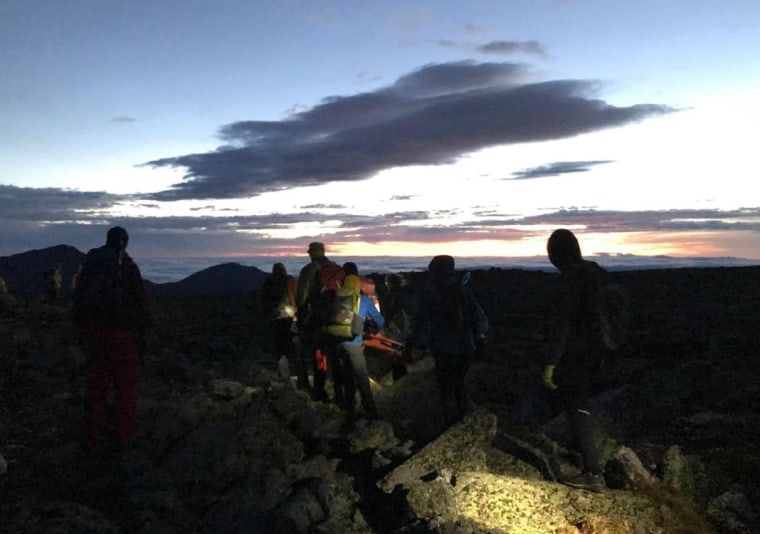 Temperatures on the summit were below freezing with a wind chill of 12 degrees Fahrenheit, officials said. Rain and dense fog led to icy conditions.
New Hampshire Fish and Game Lt. Mark Ober said Tuesday that Clark was not prepared to make the hike in those weather conditions and was not wearing proper clothing. Ober told The Associated Press that his agency may recommend to the attorney general's office that Clark and his family pay the cost of the rescue mission.
The cost of the mission has not yet been determined.
Fish and Game Major Dave Walsh told the Union Leader that criminal charges are also possible because Clark was left to hike alone and his family members did not go back to check on him.
"That may be something that we look at when we ask the attorney general about the negligent hiking," he said. "They should have been better prepared in terms of equipment and clothing and never should have left him alone. I don't know his physical shape, but he's 80 years old."
Clark was found late Thursday night on the Lion Head Trail. He had to be changed into dry clothes and placed in a sleeping bag for warmth, the Fish and Game agency said.
"Three rescue personnel continued to keep Clark warm and alive as volunteer rescuers were called to assist in the lifesaving event," the agency stated in its press release.
Another rescue team reached Clark around 1:15 a.m. Friday and carried him almost two miles to a road, from where he was taken by ambulance to a hospital for injuries that were not life-threatening.
Fish and Game conservation officers, the Appalachian Mountain Club and the Androscoggin Valley Search and Rescue Team all assisted in the rescue.
Clark told the Union Leader he had planned for his grandsons, ages 19 and 14, to hike at their own pace and he would catch up later. He said they had done that before while hiking in New York and Vermont.
"If anybody's at fault, it's definitely me and not those boys," Clark said. "I'm the one who has insisted that they go ahead. So any negligence was on my part."