The government shutdown ground Washington to a halt for 16 days, furloughed hundreds of thousands of federal workers, and put the spotlight on various political players, many of whom weren't exactly household names before D.C. turned out its lights. Here are some of the stars of the shutdown: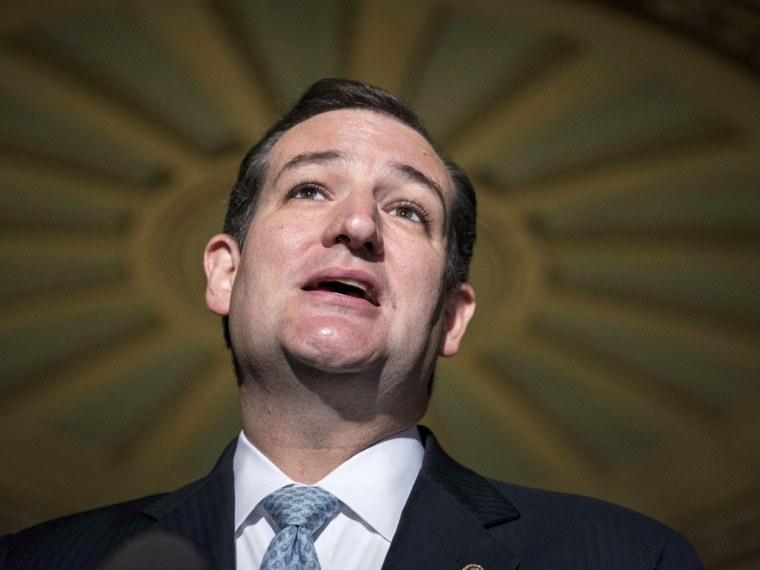 Ted Cruz, R-Texas: The freshman senator has received lots of attention — both positive and negative — since he started in the Senate in January. But he entered a new realm of fame at the end of September when he gave a marathon 21-hour filibuster-style speech intended to push defunding President Obama's health care law as part of any budget agreement.
When the Senate announced on Wednesday that it had struck a deal to reopen the federal government and extend its power to borrow money, all eyes turned to Cruz to see whether he would be willing to play along. He said he would not block the vote — even though he opposed the deal because it didn't address Republican objections to Obamacare.
While an NBC/Wall Street Journal poll found Cruz's popularity, along with that of the Republican party as a whole, has taken a hit because of the government shutdown, Cruz was the overwhelming favorite among conservative activists over the weekend in the Values Voter straw poll.
Senate Chaplain Barry Black: The Seventh-Day Adventist and retired Navy vice admiral who leads the Senate in its daily morning prayer decided to use his platform to chide senators for refusing to compromise on a way to reopen the government, asking God to "save us from the madness" and "Deliver us from the hypocrisy of attempting to sound reasonable while being unreasonable."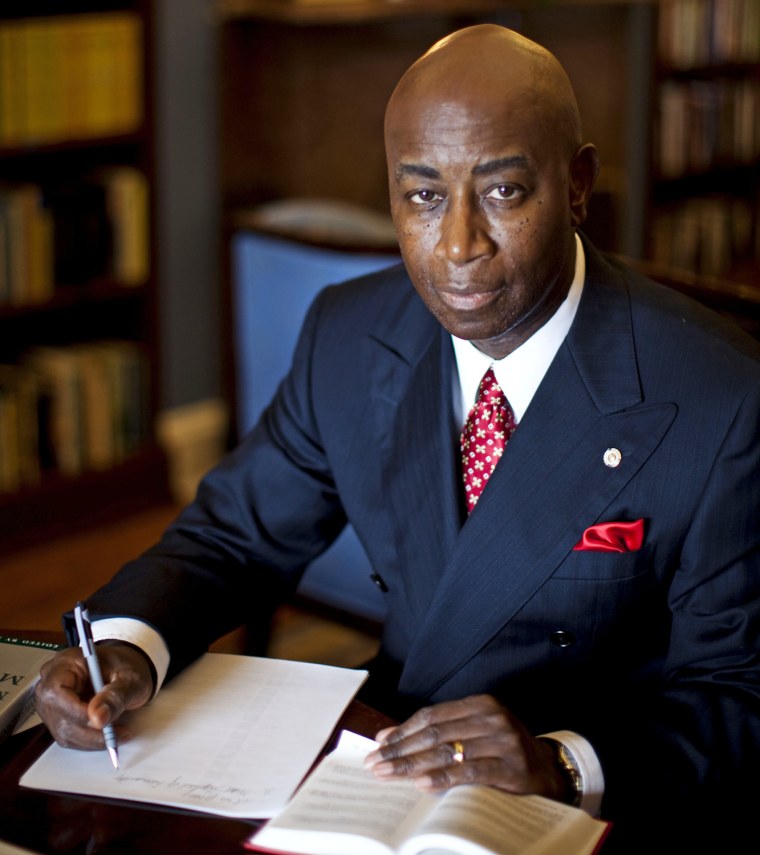 His prayer last Wednesday, in which he called for the reinstatement of military benefits to families of fallen servicemembers that were being denied due to the shutdown, made particularly large waves.
"Lord, when our federal shutdown delays payments of death benefits to the families of children dying on far-away battlefields, it's time for our lawmakers to say enough is enough," Black said. "Cover our shame with the robe of your righteousness."
Responding a few minutes later, Sen. Dick Durbin, D-Ill., said, "What Dr. Black said to all of us this morning, all of those who believe that a government shutdown is just another political gambit, what he said, we should remember, and his words were direct and simple. Enough is enough. Enough is enough."
Texas Lieutenant Gov. David Dewhurst: This Republican lawmaker turned "Obama impeachment" into the second most-searched term on Google Trends Hot Searches on Tuesday after he called for Obama to be impeached at a Tea Party candidate forum in Bedford, Texas, on Monday night.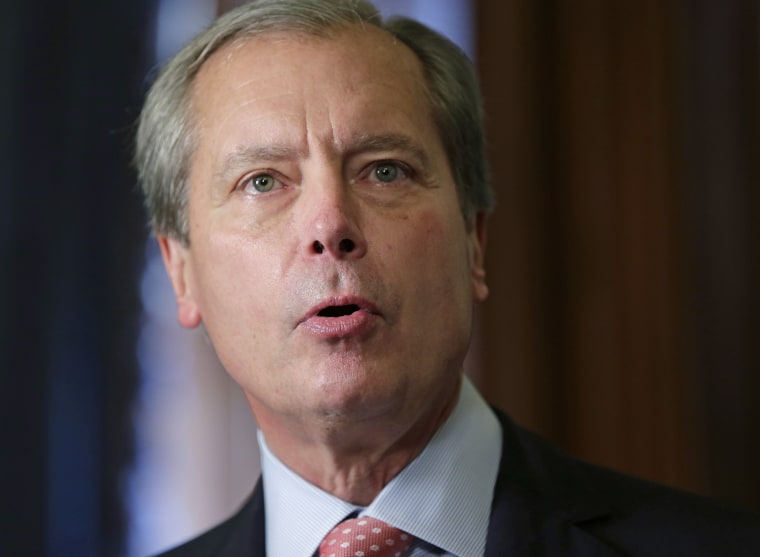 "This election is about protecting you and your freedoms, which are given to you by God, but which are being trampled on by Barack Obama right now. I don't know about you, but Barack Obama ought to be impeached," he said to an applauding crowd, reported TexasObserver.org. "Not only for trampling on our liberties, but what he did in Benghazi is just a crime."
After the rally, Dewhurst told the Observer that Obama has "disregarded federal law" and said, "He's created winners and losers out of Obamacare where he has no authority, such as allowing for the unions and big businesses to postpone their mandates for a year."
Dewhurst ran in 2012 for the U.S. Senate, but lost to Ted Cruz in the primary election.
Sen. Susan Collins, R-Maine, and Sen. Joe Manchin, D-W. Va.: The two moderates led a group of about a dozen senators who were desperately trying to find a solution to end the government shutdown while other bipartisan pushes failed.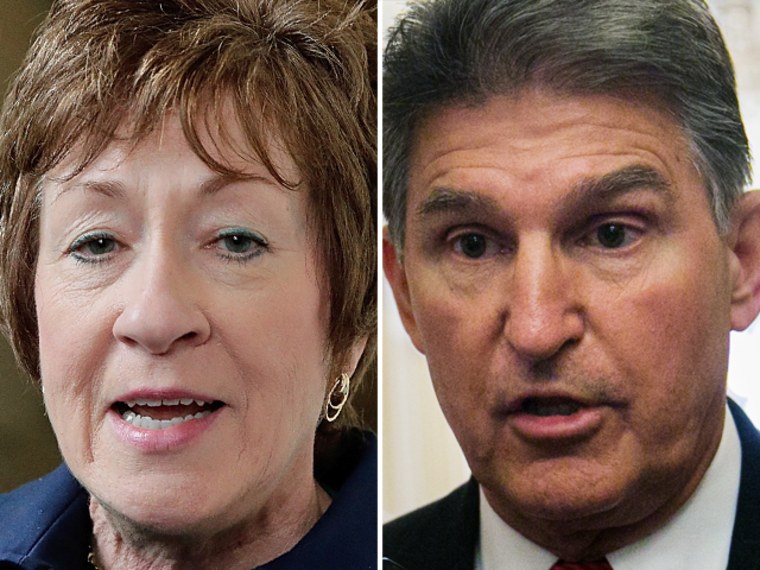 Collins put forward a plan that would extend government funding for six months, raise the debt ceiling through January, and delay the medical-device tax — which generates a significant amount of revenue under Obamacare — for two years. Manchin worked with Collins on a "template" for the plan, telling MSNBC on Wednesday morning, "It's a template of what we've put together, and we're very encouraged that Reid and McConnell" are moving ahead.
"Before I went to the Senate floor, no one was presenting any way out," Collins told The New York Times. "I think what our group did was pave the way, and I'm really happy about that."
Rep. Ted Yoho, R-Fla.: The freshman House member caused some confusion — and outrage — when he told a town hall meeting that he doesn't think furloughed government workers should receive back pay, even though less than a week prior, he voted to give it to them.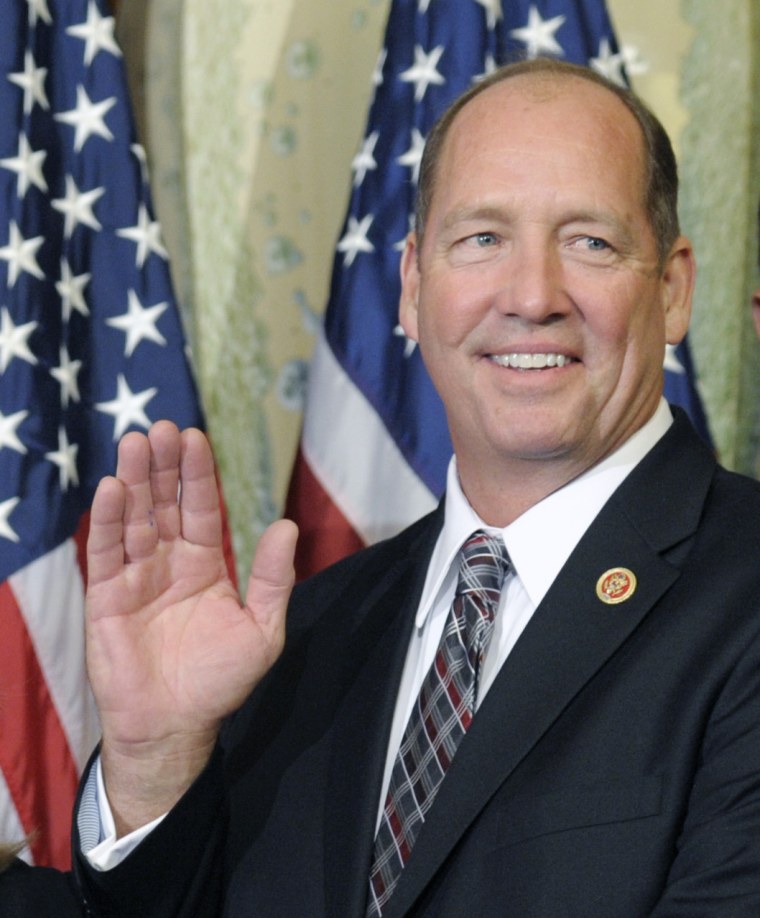 "But the people that are home watching Netflix and whatever, I'm not sure that we should be sending them checks," a caller at the town hall said.
"Well, when we voted on that, they were supposed to come back to work as part of that deal," Yoho responded. "I agree 100 percent with you. If they're not working, they shouldn't get paid."
Yoho also received criticism last week for a remark he made that if the U.S. defaults, the economy could actually see some benefits. Speaking to the Washington Post, Yoho said the country needed "to have that moment where we realize [we're' going broke."
"I think, personally, it would bring stability to the world markets," he said.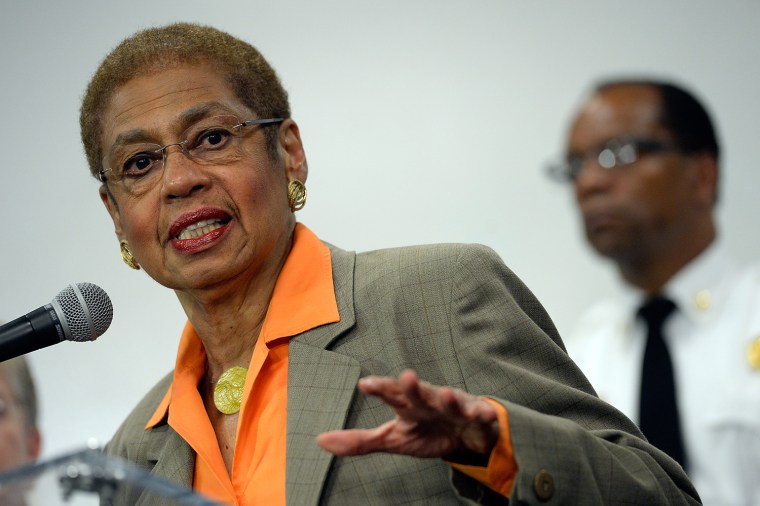 Rep. Eleanor Holmes Norton, D-D.C.: The non-voting delegate to the House from Washington grabbed headlines when she reportedly interrupted President Obama numerous times during a meeting last Wednesday when he was answering her question about a bill to fund D.C.
Norton, called upon in the meeting, pressed Obama to support a House-passed bill that would allow Washington to use its locally raised tax funds to keep operating until Dec. 15.
A lawmaker who attended the event told The Washington Post that she refused to give up the microphone and spoke over the president as he held firm in his stance that Republicans should come to an agreement to reopen the entire government — not pass piecemeal funding bills.
"I wasn't picking a fight with the president, I think the people of the District would expect me to have a conversation with him rather than just asking a question," Norton told The Post.
She noted that she didn't mean to disrespect him. 
"He's a big boy and I'm a big girl."
The World War II Memorial in Washington: The closed World War II Memorial, one of the most popular spots on the National Mall, became a frequent spot of rally cries during the shutdown, with Republicans using it as an opportunity to throw blame back at Democrats.
On Sunday, demonstrators — joined by Republican Sens. Cruz and Mike Lee of Utah, as well as former Alaska Gov. Sarah Palin — pushed past barricades to protest the memorial's closing.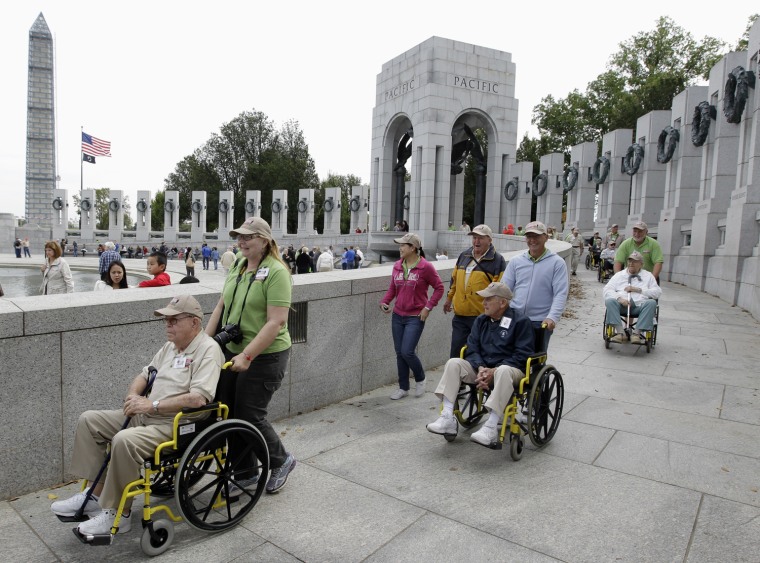 "Our vets have proven that they have not been timid, so we will not be timid in calling out any who would use our military, our vets, as pawns in a political game," Palin told the protesters.
Earlier rallies at the memorial during the shutdown have been more focused on Veterans. Vets of all ages rallied to express their fears that their benefits could run out if the shutdown persisted.
On Oct. 3, Rep. Randy Neugebauer, R-Texas, confronted a U.S. Park Service Ranger who was guarding the closed memorial, demanding to know from her, "How do you look at them and... deny them access?" 
"The Park Service should be ashamed of themselves," he told her, to which she replied, "I'm not ashamed."