A baseball fan has died after falling from the upper deck at Turner Field during an Atlanta Braves game Saturday, the team said.
"The Atlanta Braves offer their deepest condolences to the family," the team said in a post to its Twitter account at around 11:17 p.m. announcing that the person had died.
The fall occurred in the seventh inning of game against the New York Yankees. The man fell from the upper deck and landed in an area of the stands behind home plate, police and a witness said.
The man was later identified as 60-year-old Gregory Murrey, of Alpharetta, Georgia. There is no indication of foul play, police said. An autopsy was expected to be completed later Sunday.
"I was facing the field when Alex Rodriguez came out to pinch hit. The stadium was going crazy. I saw the wires that hold up the backstop netting shaking crazily and assumed it was due to fans grabbing and shaking them," another witness, Michael Wade, told NBC News.
"I then turned around and saw everyone gathered around a spot in the stands," he said.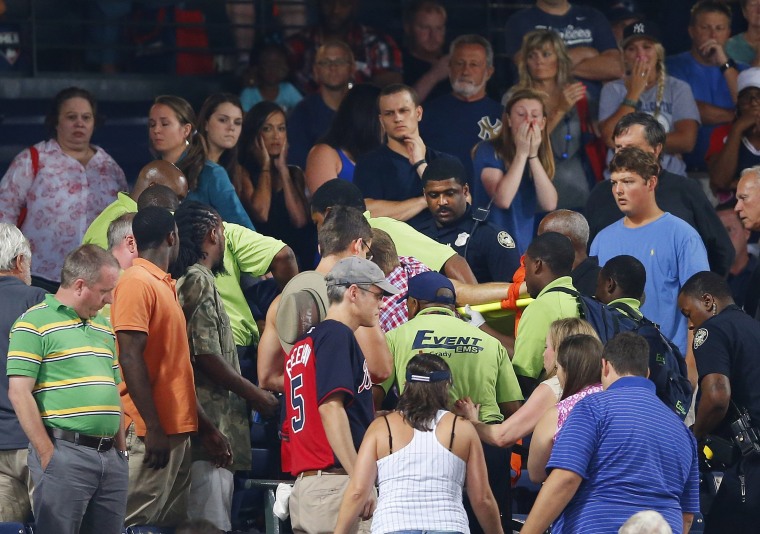 A local surgeon was sitting nearby and began administering CPR until paramedics arrived, NBC station WXIA reported.
"It was pretty nerve-racking," he told the station. "People were pretty much in shock."
The fan was rushed to a local hospital where he later died, the team said. Police are investigating what caused the fan to fall.
Yankees shortstop Didi Gregorius was standing on second base, following his double, when he saw the man fell.
"I was thinking about it the whole time," Gregorius said after the Yankees won 3-1. "All I can say is my condolences to the family. It was right in front of the camera in the press box. He hit the wires."
Major League Baseball said it had been in contact with the Braves and was monitoring the situation. A sellout crowd of 49,243 was the largest of the season at Turner Field.