Police and protesters clashed during a right-wing rally and counter-demonstration in Seattle on Sunday, but there were no immediate reports of serious injuries.
The dueling events came one day after a woman was killed and 19 other people were injured in a white nationalist protest and counter-protest in Virginia.
Seattle police said in a statement that three men were arrested on suspicion of obstruction and assault. Confiscated weapons included ax handles, 2-by-4s and balloons containing an "unknown liquid substance," the statement said.
The rally's organizer, Joey Gibson of the pro-Donald Trump group Patriot Prayer, told a crowd gathered at Westlake Park in downtown Seattle that he was against white supremacy and wanted everyone to have his or her chance at the microphone.
A parade of people denouncing Trump and white supremacy — and chanting "Black Lives Matter" — followed. So did a woman who identified herself as a pro-Trump Kurd.
"America is the greatest country in this world," another unidentified woman wearing a glittery red, white and blue hat told the crowd. "What's happening today is awesome."
On the street — on the other side of a metal barricade — counter-protesters faced off with police. One image showed black-clad demonstrators inches from officers in black tactical gear who were draped in pink and green Silly String.
A protest organizer told NBC affiliate KING that police attacked and blocked them from entering the rally.
"I think what they did today was actually a huge disgrace," the unidentified organizer told the station. "Their job is not to protect Nazis."
The police statement said officers kept the groups separate "in the interest of safety for all those involved." The statement added police pepper-sprayed protesters after they tried to force their way past a police barricade using a makeshift shield.
Later, some protesters hurled fireworks and possibly rocks at officers, the statement said.
Earlier, Gibson said he would urge his supporters to remain nonviolent during the so-called "Freedom Rally," which was billed as an event to "promote freedom, free speech, and the power of the human soul."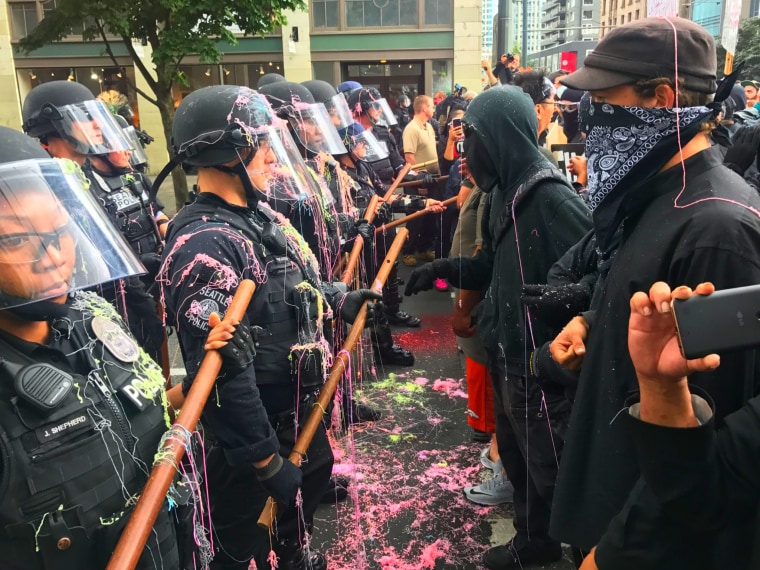 As of Sunday afternoon, about 200 people said they would attend Gibson's event. More than 1,000 said they planned to attend a counter-protest organized by the leftist Greater Seattle General Defense Committee.
"I don't want huge brawls," Gibson told NBC News. "If you're having brawls in the street, it looks like a bunch of crazy people fighting."
"We need to treat them with love and kindness," he added.
One of Gibson's previous events, a "free speech" rally in Oregon, was attended by Jeremy Christian, the man charged in May with stabbing two people to death aboard a Portland train amid an anti-Muslim outburst.
During that rally, on April 29, Christian was captured in a photograph giving a stiff-arm salute.
Related: After Portland Killings, Mayor Wants to Cancel 'Alt Right' Rallies
Gibson has previously compared Islam to the Ku Klux Klan, according to the Southern Poverty Law Center, and another Patriot Prayer event featured Kyle Chapman, a self-described "American nationalist" famous on the alt-right for his violent take-down of an "anti-fascist" protester in Berkeley, California.
A Patriot Prayer event last weekend in Portland also spiraled into violence, according to NBC affiliate KGW.
Gibson has said that Christian had nothing to do with Patriot Prayer, and he said that people who attend his rallies need to be able to defend themselves from anti-fascists.
He also criticized Saturday's "Unite the Right" event, saying event organizers "teamed up with white supremacists" and calling James Alex Fields Jr., who is charged with killing one person and injuring 19 others when he plowed into a crowd of anti-fascist counter-protesters, a "terrorist."
"It was a horrible day," he said.
In a statement early Sunday, Seattle Mayor Ed Murray said the "racist and hateful messages of protesters in Charlottesville do not reflect the values of our country or Seattle."
"While we expect protests in Seattle Sunday," Murray added, "we must also condemn hate speech and violence."